On Sunday the 25th of May, Thames Valley University contributed to a historic event which took place at Sri Guru Singh Sabha Gurdwara Southall to commemorate the unique contribution of the fourth Guru to the heritage of Sikh music. The 'Partaal Darbar' was an afternoon of mystical sounds played in varying rhythms; a style that is not heard in today's mainstream devotional Sikh arena. The congregation was filled with curious ears and with Sikhs who had never seen the instruments that were created by their Gurus. Many well known faces of the community also attended to witness the launch and hear kirtan in the style of Partaal.

The Darbar began with a Partaal recital in Rág Ramkali by students of Raj Academy. The students demonstrated how the poetic structure of Gurbani is intended to be sung and gave an example of the intricate fusion of 16, 12, and 14 beat taals within the shabad to complement the poetry.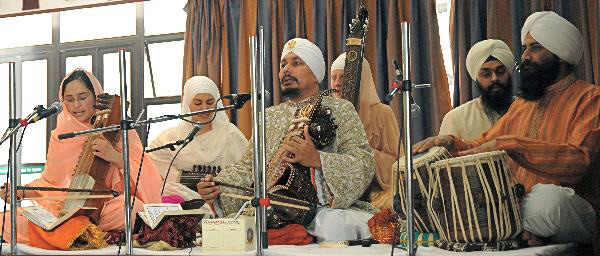 Surinder Singh and Raj Academy students reciting melodiously a shabad from the new Partaal album at Sri Guru Singh Sabha
This was followed by Partaal kirtan by Professor Surinder Singh who sang a shabad in Rág Suhee which hit a note in everyone's heart. He then went on to explain in detail the concept of Partaal and why we as Sikhs must continue to preserve this tradition. He finished with a Partaal in Rág Dhanasri – the carefree nature of this rág charmed the sangat to sing along.

The event came to a close with the official release of 'Partaal – the Rhythms of Life' CD and DVD set. This educational album by Professor Surinder Singh aims to get every household singing in the ancient Sikh style and comes with a booklet containing detailed information of Partaal and the history of Sikh music, which can help inspire the entire family.
One member of the gathering observed: "I had no idea that this type of music existed, nor that my forefathers were so musically gifted".

N_S Shergill, Dr_ Garcha, Peter Rudnick, Tej Kaur, Lawrie Walker, Prof_ Surinder Singh, Jasvir & Achint Kaur and Bahadur Singh 
"A little symbol of a big venture" Lawrie Walker of Thames Valley University
.

The event had two goals; to educate the community about their Sikh history, and to launch Raj Academy's third CD. 'Partaal' is preceded by two award-winning albums that contain music that was written and prescribed by the Sikh Gurus.

The album was officially launched by Lawrie Walker of Thames Valley University and Dr. Parvinder Singh Garcha general secretary of Sri Guru Singh Sabha Gurdwara in the presence of Professor Surinder Singh and many dignitaries present from local academia and professional groups such as Peter Rudnick of Thames Valley University; Sarabjit Singh Gupta the Chairman of Duncan and Lewis; Ravinder Singh Khera of the Sant Singh Maskeen Trust UK; Tej Kaur Grewal, Tejinder Singh Samra & Bahadur Singh Kalha of Sri Guru Singh Sabha Gurdwara; international journalist Nirpal Singh Shergill and Bob Singh of Chess International. Dr. Garcha commented, "Professor Surinder has changed the face of our future with his great contribution and hard work in the community to revive and maintain Sikh heritage, we wish him further success for all his upcoming projects".

The response from all who had attended highlighted the individuality and unique content of this valuable CD set. It was understood and recognised that no such event has ever been made before in all of Sikh history, and that this is the first attempt in history to preserve the concept of Partaal.