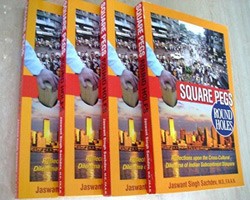 India Post News Service:  To write a book you must be passionate about your subject, and author Dr. Jaswant Singh Sachdev, a board certified fellow of the American Academy of Neurology, is determined to write about the challenges and the empowerment of living in a Western country.

The 237 page paperback "Square Pegs; Round Holes" is a provocative, perceptive, candid and observant reflection upon the Cross-Cultural Dilemma of the Indian Subcontinent Diaspora.

The book is a collection of 38 essays (most of them previously published) bringing into sharp focus the polarity of cultural differences from adoption, shaking hands, accents, domestic servants, funerals and health issues to culture, faith, alcohol abuse, architectural treasures in India, and more.

The doctor quite simply is concerned with us - immigrants who are trying to integrate and adapt to an adopted country while maintaining one's culture. Can a square peg be fitted in a round hole? Can East and West meet and live peacefully no matter where one was born and where one lives now?

In one of his essays he elaborates, saying a good amount of effort is required, for the edges of the pegs have to be smoothed out or else the round hole will require widening.

The distinct contours of the peg symbolizing the previous cultural lifestyle of an immigrant will have to be smoothed and maybe even remolded to a certain degree to allow the transition into an alien Western culture.

Thus embracing immigrants, you and me, in a delightfully charming anecdotal fashion and reminding us of contrasting behavior Dr Sachdev says that" many readers have told him that what is being stated in the articles is what they had always wished to communicate. 
There is no definitive book about the transition of moving from India to the West, or about living one life at the work hub and metamorphosing into another lifestyle at home as many Indians do. The first essay on adoption caught my attention right away when the author states that "our faiths do not specifically speak against adoption and yet adoption is not considered to be normal or acceptable "by many Indians.

He stresses that there is a real need for childless Indian couples to consider adoption as an option. In another essay, entitled "And Tomorrow It Could Be Your Child or Mine," he details the bone marrow donor project cause and the difficulty of finding volunteers in the Indian community.

Get in shape, he urges seniors who ease into an indolent unhealthy style, because they imagine they are fading away. "The show is still on," he motivates. He writes of his visits to India and bemoans the fact that we do not give respect to blue collar jobs and trades, and that may be the reason for unemployment in India.

Young people who have no jobs are "oblivious to the amount of hard work put in by their counterparts in the Western world and are sweating it out in kitchens of restaurants, washing dishes, or stacking boxes in warehouses and grocery stores" he writes.

These young immigrants would not have been able to put themselves through school or send money back home if they had not realized the dignity of work. In another essay, he talks about our chameleon personalities when returning to India.

Why is it that we who are so courteous and polite in the USA shockingly revert to ill mannered, pushing, jostling crowds when getting off the plane in an Indian airport? On another note, why do we insist on speaking in our mother tongue when those around us do not comprehend?

One of the essays that struck a chord was about funerals and cremations. Dr Sachdev reminds us that whereas a cemetery is well kept, crematoriums are usually stark, clinical and soulless. He asks Indians to petition for a hall where prayers could be held, and mourners could gather.
Usually they stand around in clumps outside the mortuary and are unable to join in the proceedings. Environments can be customized to our needs, he urges. "Various Indian associations who are concerned about political issues back home fail to realize that the respectful cremation of our remains in foreign lands should also be on top of the agendas."

The concept of family in the West is not defined the same manner as in India. In the West, first names are used for addressing elders, even if they are your in-laws. There are no specific names for the sister-in-law on the mother's side or the father's side, In India we have Saali Sahiba, Nanand or Bhuji or Bhabhi, distinguishing the individual in a special way.

"The language of the West" according to the author, "seems to give us a hint that such family relations do not mean much in the Western culture. Something to ponder about. One of the hilarious incidents the author describes is in the essay on safety and our indifference to it, particularly in India.

He recounts that he once hired a taxi cab on one of his visits. The seat belt was broken. The driver handed him a thin black rope, less than one centimeter in diameter hanging from the passenger side door and asked him to tuck it into the belt of his pants. The author questioned the driver on the fragility of the rope and insisted it was not going to protect him.

The driver responded that "since the original seat belt was broken, he was using the black rope to avoid getting a traffic fine. Working or not, strong or weak, the policeman will have some excuse to let me go after taking care of his pocket and will not pursue me further."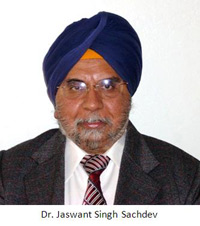 The style is easy, beguiling and entertaining, leading you from one essay to the next, expressing viewpoints and pitfalls and redefining the concept of success as an immigrant. "Put your best life forward," says the doctor "and pursue your passion without succumbing to the pressures of being a stranger in a foreign land."

The book is brimming with good ideas and it both startles and shakes you awake. The titles of the essays are intriguing: "To Shake hands or Fold hands," "Laddos vs. Ansoos," "Snakes in the Hole or Snacks in the Hall," "About Indian Parties and Gifts" and they lure you to read further.

When we come into a country so different from our homeland, India, it seems everything changes, but we must develop self worth, and each of us has the opportunity to grow.

It may be a hard-scrabble life at first and there is pressure to compromise, but Dr Sachdev emphatically states that his purpose is to "reinforce what we all know and yet prefer not to know."
                 
The topics in this collection are ever-refreshing, current, pertaining not only to the cross-cultural dilemma of South-Asian Diaspora but also to the Western culture as seen through the eye of an Easterner.

The readers, on either end, will find enough useful information to understand the ingrained cultural assets as well as deficiencies of the South-Asian immigrants, all stated in a bold yet, in a delicately balanced way. The book has been published by Horizon Unlimited, L.L.C. of Phoenix, Arizona and is manufactured in United States of America by Sirspeedy Printers, Tustin, California. It is available by email or calling the telephone number below:


[email protected]                                                                   
THE COST OF BOOK IS $ 14.95. HALF OF THE COST WILL GO TO THE CHARITY OF YOUR CHOICE