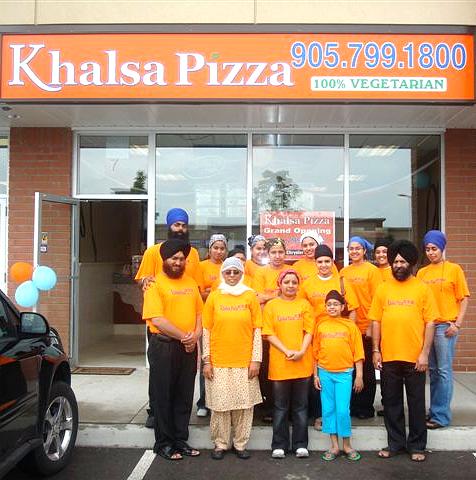 Last month I traveled to Toronto with my family. As vegetarians living in Montreal, it is always a treat to be in a city that is so much more vegetarian friendly. This last trip, however, offered us a completely new and different experience.
I had received an email about a vegetarian pizza place that opened up in Brampton. I was so excited at the idea of having an entire pizza menu to choose from, rather than always settling for the ordinary "veggie pizza". I'm sick of green peppers, onions, mushrooms and tomatoes. There are so many other delicious options for toppings and I felt like vegetarians were getting the short end of the stick: no creativity in creating vegetarian pizzas!
Khalsa Pizza fulfilled on so many different levels. First of all, the establishment itself is unexpectedly impressive. It is not an eat-in restaurant so, really, the owners had no reason to put so much care into the designing of the store. The fact that they did was greatly appreciated. The walls are painted beautifully; the ochre of the wall you see as you walk in makes me wonder why more pizza restaurants don't think to add a bit of colour to their stores. There is a very artfully designed graphic on both side walls and the place was spotlessly clean; no easy feat when you're baking pizzas all day! There is more space at the storefront than you would expect at a take-out pizza place; another thoughtful feature that the owners could have opted against but didn't, for the customers comfort.

We walked in and received very attentive and helpful service. The woman working at the front counter (who I think may have also been an owner as the place is currently a family run venture), explained how their menu works and what their combo deals are. Here, I'll break it down: they have a list of toppings (a very long and apparently, growing, list) that you can choose up to three toppings per pizza for. Then, you choose your pizza crust: whole wheat, stuffed, classic or thin. They also have combo deals for two or three pizzas. For these pizzas you have a total number of toppings you can have, distributed between the pizzas however you choose. They also have a variety of different sides, ranging from paneer poppers (breaded soft cheese) to completely vegetarian potato wedges (the breading on a lot of potato wedges has chicken in it). You can order panzerotti or sub sandwiches as well. The person working there told me that they are still expanding their menu, hoping to add a veggie burger (with the possibility of an in-house made patty!) and also more protein choices for toppings.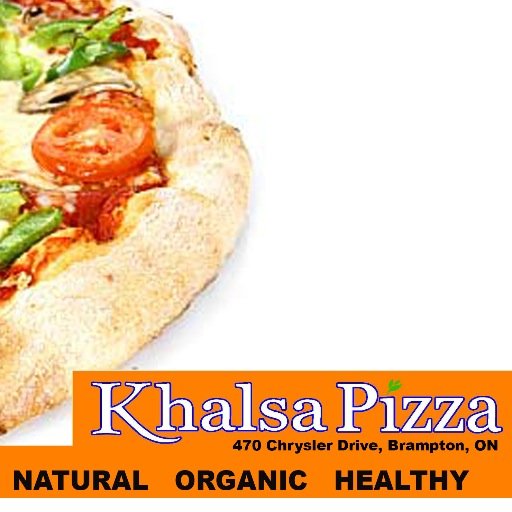 At first I wasn't sure how I felt about being limited to three toppings per pizza (you can choose more at an additional cost) or deciding for myself what toppings I thought could come together to make a good pizza. I realize now though, that completely addresses my complaint about not having creativity in vegetarian pizzas and this feature of their menu could really work to their advantage. One of the biggest complaints I have about being a vegetarian is how little selection we have when eating out at restaurants. Khalsa Pizza offers so many options! You can try countless different combinations and cater to whatever your cravings are that particular day.
The most important test, however, was if their pizza could satisfy both myself, the other two adults dining with me, and my two children. I am pleased to say that they did! It was comforting to know that they use 100% rennet-free cheese, which in itself allowed me to enjoy my food more. I don't know if it was that reassurance or just something particularly special about their pizza, but somehow the pizza at Khalsa Pizza felt healthier than most; eating it didn't leave me feeling heavy and lethargic. The crust was perfect, even their classic crust was not too yeasty and doughy. The toppings we chose that day (caramelized onions, feta and pineapples for the kids and sundried tomatoes, grilled eggplant and spinach for ourselves) made two equally delicious pizzas. I only wish I lived close enough so that I could try more of the different topping combinations! Khalsa Pizza is definitely going to be a regular stop every time we visit Toronto.
-By R. Kaur