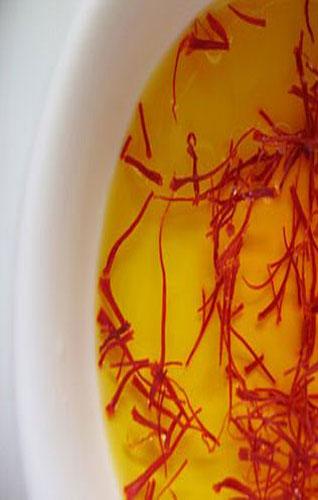 Saffron is worth more than platinum by weight and yet its ethereal nature can carry you across continents simply by its exquisite uplifting taste and bewitching aroma.

Last autumn, my husband, Nick, went to Kashmir to photograph the saffron harvest.

His stories of how the soil suddenly blooms forth into a myriad of purple parcels, each containing those beguiling stems, richly enchanted us all. He's recently returned from another month there, again bringing us a small pot of dark red saffron stamens.

It is the king of spices and it seemed most appropriate to make for lunch today the most majestic of desserts with it: Shrikand.

I remember the first time I tasted shrikand.

Nick and I were in a hotel restaurant in Delhi, confronted with the usual menu of delicious, yet usually excruciatingly spicy, vegetarian dishes. Out of habit, I asked the waiter before we ordered if they actually had any fresh desserts on the menu, embittered from too many Indian restaurants in England only serving pre-fab ice-creams (even if they are from an Indian recipe), or canned once-exotic fruit.

"Yes, Madam", he quietly replied, "we have shrikand!"

Anything with the prefix "Shri", meaning great and saintly, definitely deserved to have some room left for it.

When it arrived, hot foot on the heels of the saag aloo and daal, it had an air of the sublime about it. Oh so simple, yet masterful in its radiant gold, delicate in its soft fluffiness, and serene in its aroma.

Even that did not prepare me fully for that first mouthful. Woohoo, that results was the fast track to heaven, the shatabdi train of nectar.

Shrikand is exceptionally easy to make and delivers stunning results every time. Of course, having the best possible saffron is a wise precaution, but don't overlook the investment in live full-fat yoghurt and gorgeous runny hunny.

Here's how to transport you and your guests:

A 250 ml pot of yoghurt makes enough for three people.

 Put the yoghurt inside a double layer of muslin lining in a sieve and place it over a bowl to drain overnight
 The next morning, place the strained yoghurt curd in a small mixing bowl and keep the whey (it's very good for you)
 Heat a couple of tablespoons of full fat milk and add some strands of saffron, a pinch of the royal stuff and a couple of less noble ones
 Leave the saffron to infuse for about 20 minutes
 Whisk the milk with the saffron threads into the yoghurt curd
 Add in honey, although I personally prefer to drizzle the honey on later (I really don't like things too sweet)
 Put in the fridge for at least a couple of hours to chill

For lunch today, we had it with fresh blueberries. If you like, you can sprinkle on some chopped nuts.

It's up to you. I love it plain and simple.

Now for the whey.

Whey is extraordinarily good for you, especially if you're dehydrated. Gandhi lived on it. I love whey, fresh lemon juice, salt and pepper, all whisked together.

We often had this in Indian villages, and it is so delicious, lighter than lassi, and less acidic on the stomach than nimbu paani (lemonade).

Next time, during this forthcoming summer, you find yourself reaching for the ready-made ice-cream and bottled fizzy drink, stop, please, stop for a moment and ask yourself this very simple question. Am I not majestic enough to make myself shrikand and then to share it with others?

I promise you that if you say yes, your life will take on a whole new meaning.

- Guru Kaur runs the Be the Woman You Were Born to Be... Online Course and Community, and is the host of the new series of Regally GracefulTM Teleseminars which offer you, for free, better solutions to traditional challenges.  For more info, visit http://www.gurukaur.com/, http://www.be-the-woman.com/ and http://www.regallygracefulteleseminars.com/.

Nick Fleming's other photographs of his recent Kashmir journey, and his blog are at http://www.nickfleming.com/.]