She is one of the world's most beloved New Age artists, performing at more than 100 venues from across the U.S. and South America to Asia and Europe each year, and selling more than 50,000 albums annually, all of them retaining an impressive perennial hold on the Top 20 lists of New Age Retailers.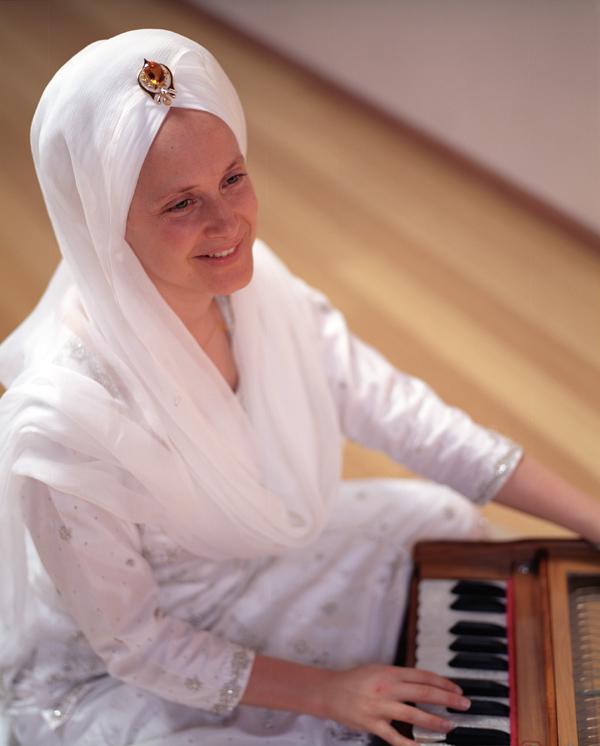 Yet Snatam Kaur, chant artist and peace ambassador, takes little credit for her success. That the music she performs, a blend of traditional Sikh mantras and contemporary sacred songs, has profoundly affected thousands who've heard her — one, a veteran of the Iraq war, wrote to Kaur confessing that it was through her music that she was first able to cry over her experiences — she attributes to a power well beyond her talents.
Our music is dedicated to opening the heart and healing and giving people the opportunity to sing and to pray for peace on the planet," says Kaur, who performs her Celebrate Peace concerts with guitarist and vocalist GuruGanesha Singh, master tabla player and composer Manish Vyas and multi-instrumentalist Ram Daas Singh. "The experience of praying for peace has very, very deep effects. When that prayer comes from your heart, you not only feel its energy in what you're praying for, but you heal yourself in the wake of the wave.
It's completely within the sacred chants and I know that," she says of the presence that seems to pierce right through the heart of listeners and connect them with the Divine. "That's why I keep very humble. I keep my head bowed.
"There's a real magic that happens when we chant these words and I don't question it anymore. At times I'll sing the translations or be inspired to sing lyrics that relate to the translation, but for the most part I just let the sacred chants do their work. It's kind of a medicine balm, a healing balm. I believe that we bring these sacred chants to life when we sing them and that these chants have lived for thousands of years before me and will continue to live for years after that."
Kaur, who was raised in Trinidad, Colo., and Bolinas, Calif., grew up in the Sikh lifestyle, practicing yoga, meditation and chanting from a young child and studying with the late Yogi Bhajan, renowned for introducing Sikhism and Kundalini yoga to the West. It was Bhajan, in fact, moved to tears after hearing Kaur sing when she was 18, who encouraged her to continue spreading the Sikh teachings and lifestyle through music. Yet for Kaur, the chants she grew up with were such a natural part of her every day that she never considered sharing them as a career, even though she also studied music, taking up classical violin in school and teaching herself guitar.
"I was fortunate to grow up in a household where my mom sang the Sikh chants every day. So I grew to know that hearing and listening and saying the sacred chants would bring me joy and I grew to know that when there were times of challenge, I could go to those sacred chants for healing," she says.
A trip to the Golden Temple, the spiritual and cultural center of the Sikh religion, in Amritsar, India, when she was just six years old reinforced those beliefs.
"Growing up in America, I went to public schools and generally I was the only Sikh child in the whole school but through these experiences of going to India and listening to the sacred music and just feeling the heart and the warmth of the people and learning about the Sikh history, I gained a real sense of my identity," she says.
Since her father served as the manager for the Grateful Dead for several years, music remained an influential part of her upbringing beyond the Sikh tradition. She even wrote and performed a song, "Save Our Earth," with the help of the Dead's Bob Weir, at an Earth Day concert in San Francisco before thousands while still a teen. But with her intentions set on a career in health care, Kaur got her degree in biochemistry and landed a job as a food technologist with the Oregon-based Peace Cereal after college. Inspired by her commitment to bring the practices of her tradition to others outside of her work and by her voice — Kaur would often sing on the factory floor — the company's management encouraged her to embark on a recording career.
For Kaur, the process of making her first album, "Prem," a collection of chants inspired by the sacred writings of the Sikhs on the experience of love, proved transformational.
"It was a really powerful time in my life because I realized how important it is to love yourself and to have that inner connection of love for your own soul and for the light of divinity that is within each of us," she says. "When I got into the studio and experienced making music, it was very, very healing for me on a personal level and I just had an aha moment, an inner discovery of 'Wow, this is something I could give to other people because of the great gifts they had given to me."
Today, Kaur, who lives in New Mexico with her husband, serves as an ambassador for the United Nations affiliate 3HO (the Healthy Happy Holy Organization) and spends much of the year on the road doing concerts and workshops.
Her music is a stirring blend of Eastern and Western influences that both soothes and uplifts, her crystalline vocals evoking a radiant purity of heart and spirit, while her words, whether sung in Gurumukhi, the sacred language of the Sikhs, or English, resonate with the possibilities of a life of greater peace, love and devotion. Her CDs, which include "Anand," "Grace" and the latest "Live in Concert," are intended, she says, to allow audiences to continue that inner awakening and celebration of divinity experienced at her performances.
"I really believe in the power of people singing and singing positive affirmations. Essentially that's what we share with people, through the music and through our prayer for peace. And it's with those positive self-affirmations," she says, "that we become agents of change."
- By Naila Francis
Naila Francis is an editor and writer with a Philadelphia area daily newspaper and an ordained interfaith minister.