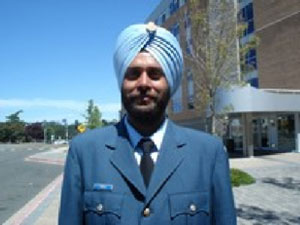 Lieutenant Jasbir Singh Tatla, 35, is the first turbaned Sikh to become a regular officer in the Canadian Air Force as Air Field Engineer.Tatla was born in Dhothar village in Ludhiana district of Punjab, India. He attended Central School, Halwara, and G.H.G Khalsa College, Gurusar Sudhar,

Tatla earned his Bachelor of Engineering from G.N.E. Engineering College, Ludhiana, and Master of Technology from Punjab Agricultural University, Ludhiana.

Tatla immigrated to Canada in June, 1999. He completed a one-year Architectural Drafting certification from Kwantlen University College in Surrey and worked in different fields, including as an Engineering Technician in PMC Sierra in Burnaby.

He became director of Blacktop and Checker Cabs Ltd. Company in Vancouver in 2007.

Tatla's great-grandfather, Inder Singh, took part in the First World War, his grandfather, Mall Singh, took part in the Burma War, and his father, Gurdarshan Singh, retired as an Honorary Flying Officer. An uncle of his, Sukhdev Singh, was a brigadier in the Indian Army.

With that illustrious background, Tatla, in 2003, passed the Canadian Forces entrance examination and waited four years for a security background check from India. He was detailed to undergo training at Venture Naval Officers Training Center Esquimalt, Victoria, in April. His graduation ceremony was held on July 12.

After a struggle of five years, Tatla not only achieved his goal, but has also brought honour to his community.

Tatla gives all the credit to his mother Hardial Kaur and father Gurdarshan Singh Tatla for their dedication. He has two sisters, Jasvinder Kaur Mann and Kamaljit Kaur. He is married to Pawandeep and the couple have two sons, Sahib and Jugraj.