New Westminster, BC, August 5th, 2008 - On Sunday August 3rd and Monday August 4th 2008, the Khalsa Diwan Society New Westminster held its second annual Kabaddi Tournament at the Queensborough Community Center, in New Westminster B.C. Over 700 people attended this two day event, which was dedicated to those Indo-Canadian Pioneers that settled in Canada over 100 years ago.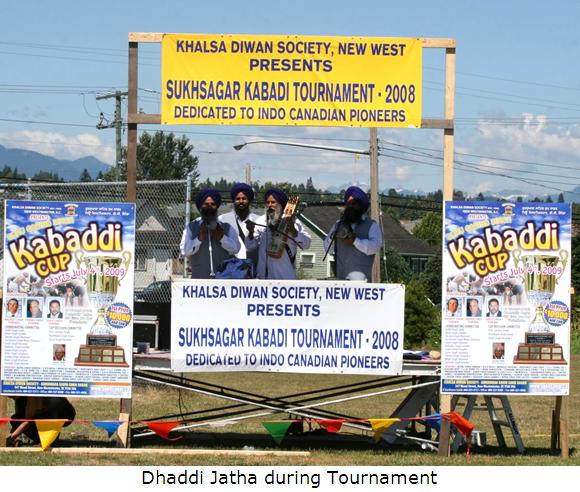 The long weekend festivities began with Wrestling & Tug-O-War matches and youth Kabaddi on Sunday, followed by Basketball, Kabaddi & Final Wrestling and Tug-O-War matches on the holiday Monday.
The highlight of the tournament was the youth Kabaddi where players aged 16 and under battled it out on the Kabaddi field and this year the first non-British Columbia team, Shaheed Bhag Singh Kabaddi Club from Edmonton, Alberta participated in the Open Kabaddi competition.

The 3 on 3 Basketball Tournament took place on August 4th inside the Queensborough Community Centre where over 20 teams participated in the 3 on 3 basketball tournament which youth and adult divisions. For the Kabaddi there were 5 clubs from B.C. and Alberta that participated in addition to local wrestling and Tug-o-War clubs. The Sukh Sagar Gatka Team also performed the Sikh Martial Art in the afternoon and wowed the crowd with their skills.
The tournament guests of honor were Principle Sarwan Singh of Toronto and Professor Makhan Singh both have been involved in Kabaddi for a long time.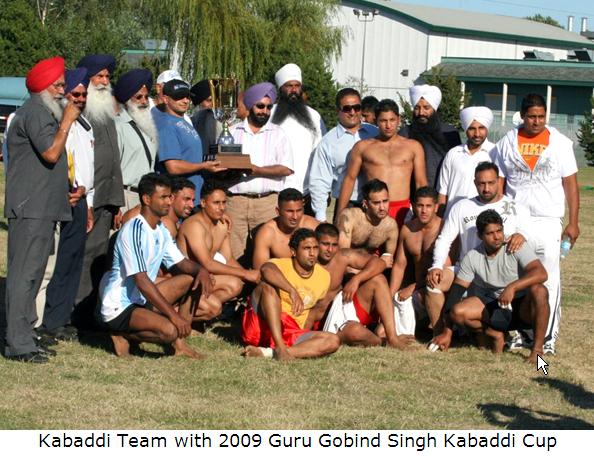 The highlight of the tournament was the spectacular atmosphere which was enjoyed by all the spectators, especially the families and some of the local Queensborough residents who came to watch the tournament on the invitation of the Gurdwara Sahib and watched the Kabaddi Tournament for the very first time.
In addition to this the Guru Gobind Singh Kabaddi Cup was announced, which is a new yearly event and takes place on Saturday, July 4th 2009 and will have a first prize of $10,000 generously sponsored by Purewal Blueberry and Family and hosted by Khalsa Diwan Society New Westminster. After many months of careful planning the concept of the cup was created to recognize and develop the sport of Kabaddi and encourage local youth to become Kabaddi players.
The recognition ceremony for the tournament was held late afternoon Monday, where trophies and prizes were handed out to the winning teams and all players were commended for the sportsman like attitude throughout this family event .