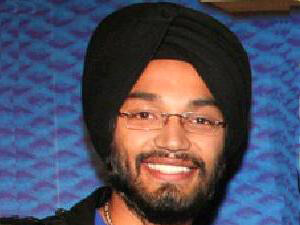 Friday, August 1, 2008: (Ludhiana) - Nineteen is a young age to attain celebrity status and definitely too young to die. But that reality of life came home to millions mourning the sudden death of reality singing contest Voice of India winner Ishmeet Singh.

With so many reality shows on television, stars are made and unmade almost everyday. But Ishmeet was different. This singer from a modest background from Punjab's industrial city of Ludhiana touched the hearts and minds of millions of music lovers not just by winning the Voice of India contest last November but living up to his image of a "gentle Sardar" till last Tuesday.

It took just one moment of excitement at the deep end of a swimming pool in faraway Maldives to drown not just the high hopes that Ishmeet had for himself but also of the music fraternity in Bollywood and millions of his admirers who wanted him to make it big as a crooner.

"We went to the pool at the Maldives resort together. He kept egging us to come into deeper water even though none of us knew swimming. He even mocked his drowning once and laughed it off. The second time, which we realized later that he was actually drowning, we didn't take it seriously. We shouted for help but it was too late," fellow performers Viyom and Arunima, who went with Ishmeet for the Maldives event, told the media on Thursday.

"This place (Maldives) is so beautiful. Mujhe toh koi yahan naukri dey de, main toh yahan hi reh jaunga (If someone gives me a job here, I will live here only)," Ishmeet told his companions Tuesday as they arrived in the Indian Ocean island country, just a couple of hours before he drowned.

The drum beats, 'bhangra' steps and bursting of crackers November last year in Ludhiana and all over Punjab were drowned when tens of thousands turned up once again for the singer - this time to say a final goodbye.

His popularity could be seen from the stampede-like situation at the cremation ground and also the fact that a few TV news channels telecast his funeral live.

Prime Minister Manmohan Singh had called up his shattered family here to condole his death. Punjab Chief Minister Parkash Singh Badal not only got a special plane to bring his body from New Delhi but came to pay his last respects too.

Music world and television biggies - singers Abhijeet, Mika, Hans Raj Hans, Harbhajan Mann and Shreya Goshal and reality show producer Gajendra Singh - lined up like commoners at his cremation.

"It is hard to believe that the Voice of India, Ishmeet Singh, is no more. Like a shooting star, he's come and gone ... in a blink of the eye!" wrote columnist Jessi Kaur as she recounted her encounter with him at an international Sikh youth camp at Khandala near Pune.

"He promised that his first album would be of shabads, because he took his role as an icon for the Sikh youth seriously. Ishmeet, to me, was really special because his success had not gone to his head and, at heart, he remained the sweet, simple boy from Ludhiana with the love of Sikhi swelling in his heart."

"He saw himself as blazing a trail for his young Sikh brothers and sisters who he hoped would follow their dreams, achieving great successes while proudly displaying the Khalsa form and spirit. He felt that he had been given a great responsibility: to inspire and to coax the best out of the Sikh youth," she wrote.

Though the family of Ishmeet and singer Abhijeet want a probe into his death by drowning, doctors here, who conducted his postmortem examination, said that preliminary investigations revealed that he died of asphyxiation from drowning.

Ishmeet, who had left his college studies (he was a second-year student in a college here) last year much against the wishes of his family to enter the Voice of India contest and finally for a career in singing, was elevated to his celebrity status by the entertainment industry. Perhaps, it was the same industry that took his life away too!

-By Jaideep Sarin