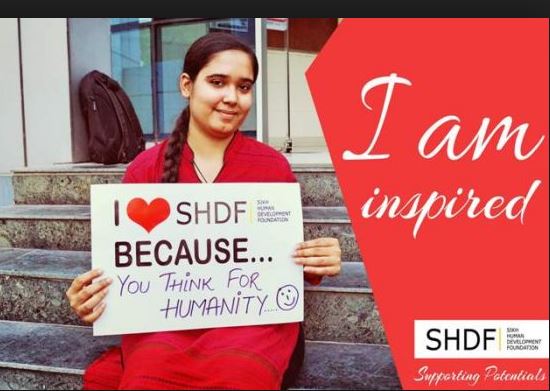 Those who are fortunate enough to shell out large sums of money on Sikh institutions are often reluctant if they don't know how their money is being spent.

Pavanjit Kaur Sawhney, a physician from Baltimore, Md., was one of those donors. She went to India last year to see the work of the Washington-based Sikh Human Development Foundation, which awards meritorious scholarships to underprivileged students of Punjab. She is its biggest donor.
One of her stops in Punjab was Guru Nanak Dev University in Amritsar where she met 12 scholarship recipients, mostly women.
I remember their faces, so eager and enthusiastic," Pavanjit Kaur said. "They spoke good English, they were well dressed and they were very thankful."
One student, who was in her final year, told of how her father had died and her mother did not work. Without the four-year scholarship, she would not have been able to attend college, she said.

"I remembered when I was a child in ninth grade, I did not want to be dependent on anyone," she said. "I wanted to be able to live on my own."

She went to India with this aim in mind: to make sure that scholarship recipients become financially independent after graduation.

"Once you develop the roots, the branches and leaves flourish for generations," she said. "Education is the most important instrument to eradicate poverty."

Pavanjit Kaur was satisfied with the students' professional outlook, but she also wanted to see how well the foundation managed its funds.

"In India, you never trust anyone," she said. She found that about 5 percent of the total donations goes to lawyers and an independent accountant, the rest, 95 percent, goes directly to the students, she said.

In India, Nishkam, a non-governmental organization, takes care of the administrative needs. Nishkam was founded shortly after the 1984 pogroms to train the widows and their children in an income-earning trade.

Three of its unpaid volunteers are responsible for placing advertisements in local newspapers, accepting applications, selecting students for interviews and making final recommendations to the foundation.

The foundation also collaborates with three universities: the Guru Nanak Dev University in Amritsar, Punjab Agricultural University in Ludhiana and the Punjabi University in Patiala.

The foundation, based in North Potomac, Md., was launched in 2000 by a few World Bank retirees to ease the financial burden of bright yet underprivileged students of Punjab.

World Bank statistics during that time showed that fewer students were enrolled in higher education in the region, said Gajinder Singh Ahuja, a foundation spokesman, now retired from the World Bank.

"Even if it is just a drop in the ocean, we have to start something," he remembered thinking.

College tuition in India varies from Rs. 10,000 to Rs. 200,000 per year, depending on the college and the course of study. The average cost is Rs. 50,000, which is usually met with the help of the students' families.

"We look at the family's income and the number of family members to see how much they can contribute towards the student's education," Gajinder Singh said. "It's a combined effort."

For a low-income family making Rs. 100,000 per year, with one or two kids in college, the foundation may ask them to contribute 15 percent of their income towards the student's education. But for the very poor families earning less than Rs. 60,000, the foundation looks for additional money from colleges and universities.

The average scholarship is about Rs. 17,000 ($427) per student, annually, and the maximum is Rs. 20,000.

The foundation awarded 200 scholarships last year. It had raised a record of about Rs. 3.4 million ($85,000), most of which went towards the scholarships, Gajinder Singh said.

This year, Sikhs with deep pockets shelled out more than $200,000 during its annual fundraiser-dinner in April.

"Every scholarship brings a welcome journey from potential destitution to dignity - such is its magic," said Amar Jit Singh Sodhi, chairman of the charity, at the event. "This program not only brightens the lives of the scholarship recipients, it also brightens the lives of their families and raises the status of the community."

Many donated large sums during the event, from $5000 to $10,000, according to the foundation's news release.

It expects to award more scholarships, but also to invest part of that money in an endowment fund to make the flow of money more stable, Amar Jit Singh later said.

"By forming an endowment, organizations… can create a long-term financial safety net that can help them manage their costs, even when annual giving is down," according to an article in Just Grants, a guide for Arizona's grant community. "Typically, the principal in the fund is not touched, but a percentage of the investment earnings is available for the nonprofit organization's use. Professional money managers usually oversee endowment funds, investing the money in stocks, bonds, and other instruments."

The Sikh Human Development Foundation has been increasing its fundraising every year. It granted 22 scholarships during its first year. Of the total 778 scholarship recipients in eight years, 178 have graduated in various disciplines, according to the foundation's Web site. Some have found jobs with large companies like Infosys.

Note: Top image: Pavanjit Kaur, top donor for the Sikh Human Development Foundation; courtesy, the foundation.

By Anju Kaur
Sikh News Network staff journalist
[email protected]