"Sikh Environment Day"
is celebrated across the six continents as a tribute to Guru Har Rai, the seventh Sikh Guru, who is remembered in the Sikh history for his deep sensitivity to nature and its preservation. March 14 marks the enthronement day of Guru Har Rai ji and opening of new year per our traditional Indian calendar.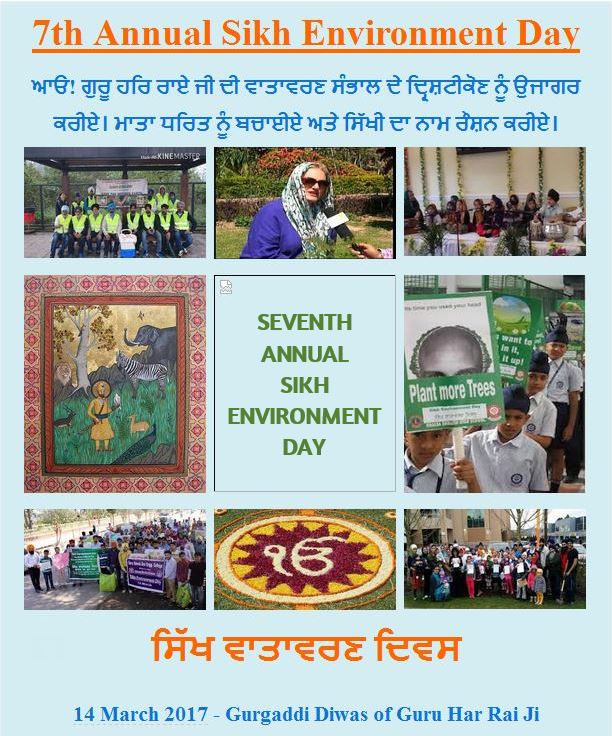 Sikh Environment Day strengthens the bonds of brotherhood and solidarity between human beings and nature. Lets unite together and put our efforts together for better future.
Celebrate the Sikh Environment Day and
create positive image of Sikhs and Sikhism across the world!

Environmental Chemistry of Punjab by Dr. Rajwant Singh

See action Around the World - Sikh Environment Day 2017
Last year, over 3500 Gurdwaras, organizations and educational institutions from six continents were involved in Sikh Environment Day. Hundreds and thousands of Sikhs shared organic langar at the Golden Temple, planted trees, participated in bicycle rallies, katha-kirtan on nature theme, seminars on health, environment rallies, clean-up drives and so on. The entire episode is meant to pay tribute to the seventh Guru, Sri Har Rai ji for the environmental vision he established in his lifetime.

Your Role: Spread the message of 'Pavan Guru Pani Pita Mata Dharat Mahat' and also
dedicating to Guru Har Rai Ji, celebrate Sikh Environment Day 2017 by following seven easy steps below:
EcoSikh Team from India sharing
SEVEN EASY STEPS
to celebrate Sikh Environment Day

EcoSikh Team from India sharing SEVEN EASY STEPS to celebrate Sikh Environment Day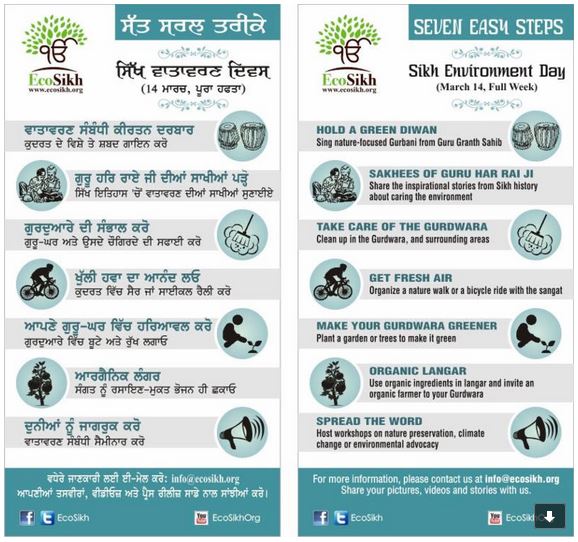 EcoSikh Team from India sharing Seven Easy Steps to celebrate Sikh Environment Day
For more ideas, refer the Toolkit or check below.
Toolkit for Gurdwaras, Organisations, Clubs, Schools and Family groups
For Children:
Gurbani on Environment: Click to download Gurbani on Environment: a booklet, "Eak Bageecha" with over 30 gurbani shabads on nature theme.
Materials and Handouts for Sikh Environment Day: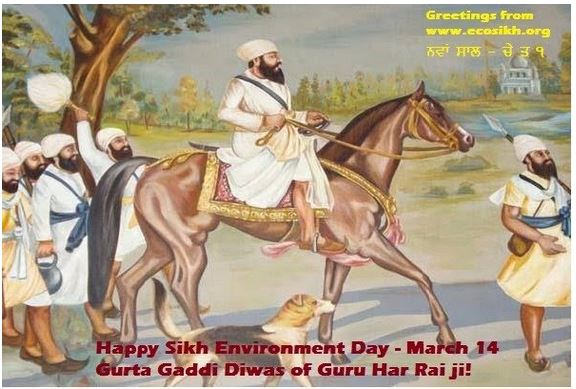 Use Hash Tag for FaceBook and Instagram: "#SikhEnvironmentDay2017"or #SED2017 all the 2017 celebrations and announcements shall use #SED2017 to share their effort.
Your participation in this worldwide event will definitely be a huge contribution for the Mother Earth, looking forward to hear from you soon.
Regards,

Dr. Rajwant Singh (Washington DC)
President, EcoSikh
Email: [email protected]
Contact No: 001(202)460-0630
Website: www.ecosikh.org
For any questions you can contact:
Ravneet Singh at [email protected]
Gurpreet Kaur at [email protected]