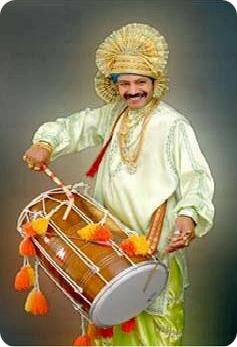 Gurcharan Mall is 57 years old but he looked much younger and fitter than that as he recently left the crowd at a wedding ceremony aghast, bewildered and amazed. His vivacious and cheering personality was infectious, and the crowd just got mesmerised by the dhol group rather than focusing on the married couple. GM stole the limelight and deservedly so. The beauty of GM was that despite a heavy schedule he always has  the patience and time to talk to others, young or old. The dhol bhangra dance is a very lively and cultural traditional cultural folk dance and music from the Northern Indian fertile state of Panjab, The Land of Five Rivers and the Homeland of the Sikhs. He comes from Hakim Pur, a village near Bhanga, Dist. Jalandhar, Panjab. He has a younger brother, Madan Mall along with two sisters named Ram Pyari and Lakhsmi.

Sikhi is about the creation of a casteless society, the Khalsa Panth, begun by Guru Gobind Singh Ji and as a born Panjabi, he aspires to spread the word of the faith and to remember the history of the Guru Sahibian and their sacrifices and values of humility, equality and tolerance. He is very keen on the idea that such seeds are sown in the minds of young Sikh children and inspires them to strive to serve society rather falling prey to drugs and alcohol. He inspires young Sikh youth to play the dhol and he stands back to reveal their talents in the dhol beat. The display by the youth mirrors the unique skills of GM

Dholi Gurcharan Mall is one the most prolific musical personalities in the Bhangra industry anywhere in the world since 1968. His warmth and effervescent personality radiates his true inner self and I just wonder how he is able to sustain a perpetual smile on his face at all times? His unique talent, achievements and persona bring forth the core roots of Bhangra. He is truly, without a shadow of doubt, the first pioneer of making the Dhol popular around the world and he plays it adeptly not only with great finesse and perfection but with great passion.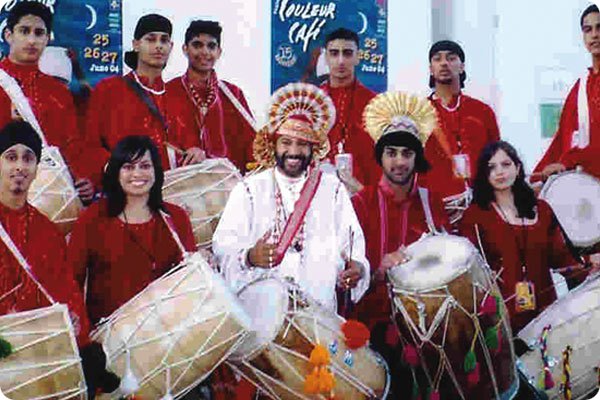 He is popularly called "the King of Dhol" and also the Godfather of the world's Dhol players. He is the most loved, respected, adored and cherished of the world's legendary players and has performed live in front of crowds, with great celebrities like Gurdas Maan, Kuldip Manak, Harbhajan Maan, Han Raj Hans, Surinda Shinda, Jamla Jatt and many more.  He has been a special guest to the current monarchy, Queen Elizabeth 2, and is currently teaching Finnish groups to play the dhol. They are so inspired that they are singing in Panjabi.

It is fascinating hearing all this from GM itself. He is now without any doubt, the most respected and cherished of the world's legendary Dhol players. Truly, he is a living legend and has the indefatigable energy and the bounce to play at several different venues in a given day. How he does it is unbelievable but only God knows how he does it as he always mentions Waheguru with clasped hands in the air and remarks, "it is all by Gurprasad."
 
As a young child, he was fascinated by rhythmic sounds and during his early childhood in the late 1950's he assimilated all the cultural values and beliefs of the Panjabi society. In the early 1960's, his family moved to the UK and he successfully adapted to the transition from rural Panjab to Westernised way of life whilst retaining the values, beliefs and culture which now gives him recognition as an outstanding personality. He is very articulate both in Punjabi and English and his communication skills are admirable as he talks with a perpetual smile on his face. He wins the heart of others by his humble demeanour and warm hugs.
 
He qualified as a Mechanical Engineer and studied Dholak during his spare time. He continued to develop his innate talents and developed his skills as both dholak and dhol musician. He is fastidious and constantly striving for perfection, which is evident in his performances. His unique style of dhol playing has won the hearts and mind of the entire generation of music lovers achieving global recognition. Although humble, his is a household name,nowadays. Recently, at a wedding, he was described as popular and his self-effacing and humble personality was admired by the crowd. Many took the opportunity to take photos with him and his radiating warmth brings others close to him and fans just love his dhol and his personality.
 
He is constantly innovating by creating new ideas for improving the beat of the dhol at all times. Recently, he created the world's first dhol bhangra dance troupe (The Bhangra Blasters) and his website shows his popularity in photos and music.

He has his own Dhol Academy where he teaches dhol and he is actively involved with several institutions and universities. This great dhol maestro was in the Biggest Show 2005, where over 200,000 were in the audience and over four million viewers watched him around the world playing on Live 8 with UB 40 at the famous Speakers Corner, Hyde Park, in London.