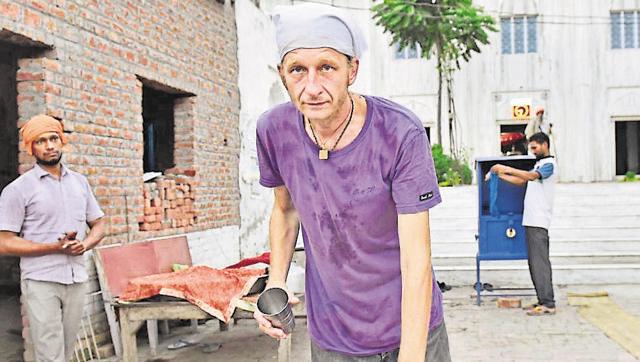 Holgar Misch at the Beas gurdwara on Sunday. (Gurpreet Singh/HT Photo)
---
Sep 05, 2016 - Beas (Amritsar): Stuck in India with broken ribs after a brawl at Manikaran in Himachal Pradesh, Germany's Holgar Misch (44) says he wouldn't have survived without the shelter and support he received at gurdwaras.
Since Himachal Pradesh Police released him on bail after keeping his passport, he has been denied help at many places, including the German embassy. He has now approached external affairs minister Sushma Swaraj on Twitter.
"In July, a group of local boys in Himachal Pardesh attacked me," he said at a gurdwara in Beas. "I fought them in self-defence. Even I got injured in the fight but nobody listened to me. My embassy didn't support me and there's no reply even from the Union minister."
---
"With broken ribs and no money, it was tough for me to survive without the help for which I want to thank the Sikh community. They give me food, a place to live, and unconditional love. When I get back to Germany, I will tell my people about it." (Gurpreet Singh/HT Photo )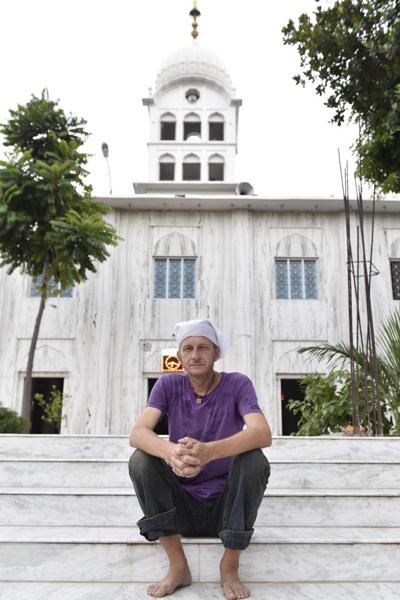 Misch claims he was denied treatment. "I kept asking the hospital for my original X-ray showing the broken ribs but they kept it from me," he said.
"With broken ribs and no money, it was tough for me to survive without the help for which I want to thank the Sikh community. They give me food, a place to live, and unconditional love. When I get back to Germany, I will tell my people about it."
From Beas, Misch plans to move to the Golden Temple in Amritsar to beg for survival. "I am collecting money for my medical scans to prove that I had my ribs broken in the fight. It will take that report to the court and my embassy." Beas gurdwara granthi (Sikh priest) Daya Singh said: "He is free to stay here as long as he wants. We will provide him with food."
Regular visitor Prabhjit Singh of Raiyya is trying to find him help on the mobile internet. "I will find an NGO (non-government organisation) to gather money for his treatment and scans. I have posted to them on the social media," he said. As for what Misch wants, it's only "justice and a quick trial, so that I can return to my country". "I request the Indian government to help me."