Washington, DC, USA: The White House and the Sikh community celebrated the 540th Gurpurab (birth anniversary) of Guru Nanak Sahib Ji by holding a celestial musical performance yesterday.Washington, Saturday, Nov 14, 2009 –'Welcome to the White House' was the greeting with which Christina M. Tchen, Top official of President Obama and head of the White House office of Public Engagement office, greeted a room full of Sikh men with all kinds of colorful turbans and ladies with traditional Punjabi dress, gathered to celebrate Guru Nanak's birth-anniversary for the first time on Friday afternoon.  She reiterated, 'This is your White House and this first event is the just the beginning and it will be part of many gatherings of your community here. We want to you stay in contact with us."
 
Senior officials at the White House greeted 125 Sikhs at the entrance to the White House complex. The program, which began at 3:15 pm, started with a Sikh prayer by Sarabjit Singh, Granthi of NY Gurdwara in Glen Cove in Long Island.  Sarabjit Singh offered prayers for President Obama and his administration in addition the prayers for the well-being of entire humanity. Traditional Kirtan with harmonium and tabla was performed by Ragi Nirmal Singh Nagpuri, and Sukhjeevan Singh of the Golden Temple, India, and translation of hymns was provided. They were accompanied by talented Tabla player Sucha Singh of Jalandhar. In addition, Guru Sangat Singh and Gursangat Kaur, American Sikhs sang a song of Nanak in English which was accompanied by Guitar.
 
Speeches of senior officials of President Obama's administration were interspersed by series of Sikh greetings Bole So Nihal and thunderous response of "Sat Sri Akal" which means - 'whoever calls the Timeless Being is true, is blessed'.
 
Religious representative of President Obama, Paul Monteiro, said, "It is truly a privilege to host this event and it is special day for the White House to mark this significant occasion for the Sikh community. We welcome you to be involved in everything that President is involved."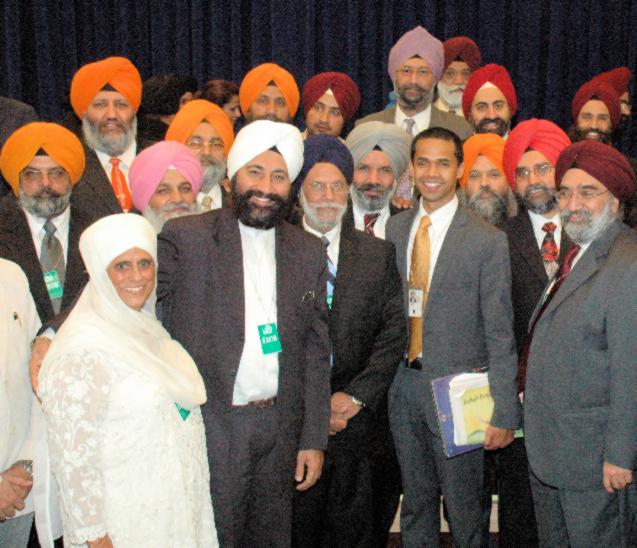 Dr. Rajwant Singh, Chairman of the Sikh Council on Religion and Education (SCORE) who organized this first Sikh event in collaboration with the White House, said, "It is a great day for the Sikhs in the United States and for the entire community worldwide to see that the most important day of our lives is being celebrated at the invitation of President Barack Obama. This event is a tribute to all the pioneers of the Sikh community who worked hard to lay the foundation of our community in America. It is a great accomplishment for the entire Sikh community. We are thankful to President and his administration for opening their hearts and the doors of the White House for Sikhs. We have been in America for over 100 years and this definitely sends a strong signal that this White House recognizes the Sikh presence in the U. S."
 
He added, "This is a historical day for the entire community in America and my personal dream come true."
 
Among the officials who spoke and intermingled with the Sikhs at this event were: Chris Lu, Cabinet Secretary for President Obama, Kalpen Modi, a Hollywood actor and now Associate Director of Public Engagement office, President Obama's top science adviser, John P. Holdren, Michael Strautmanis Chief of Staff to the Assistant to the President for Intergovernmental Relations and Public Engagement, Adolfo Carrion , Director of the White House Office of Urban Affairs, and officials from the Justice Department working on the discrimination cases related to Sikhs in US. They all expressed support for the Sikhs.
 
Some of the other Sikhs who attended were: Bibi Inderjit Kaur, wife of Late Harbhajan Singh Yogi, from Espanola, New Mexico, Tehel Singh, President of Sikh Cultural Society, the largest Gurdwara in New York, Satjiv Singh Chahil, a top official of computer giant company Hewlett-Packard, Baldev Singh Grewal, owner and publisher of large Punjabi newspaper, Sher-e-Punjab, Dr. Kanvarjit Singh Bedi from Cleveland,  Kartar Singh Khalsa from Virginia, Rana Singh Sodhi  from Phoenix, Arizona whose brother Balbir Singh Sodhi was killed after 9/11 in a hate crime, Surinder Singh Raheja from Virginia, Harpreet Singh Sandhu from California, Harpreet Singh Everest from Yuba City, California, Bhupinder Singh Bhurji, representative of Namdhari community in US, Dr.  Charn  S Nandra, Mohinder Singh Taneja, Darshan Sing Bajwa, Gurbhej Singh Waraich,  Madan Mohan Singh,  Bhupinder S. Boparai, Jatinder Singh Sabharwal from Texas, Gurcharan Singh from the World Bank, Paul Kandhari and Inderpal Singh Dhall, officials of Long Island Gurdwara in NY, Amandeep Singh Sidhu of Sikh Coalition and Harpreet Singh of the United Sikhs.
 
There are close to half million Sikhs in the U.S and they have now established a thriving community in the United States and continue to make significant contributions to American society as physicians, high-tech professionals, academics, entrepreneurs, cab drivers and convenience store workers. They are amongst the most hard-working, educated and prosperous groups of Americans. The first Asian American to be elected to U. S. Congress in 1962 was a Sikh from California.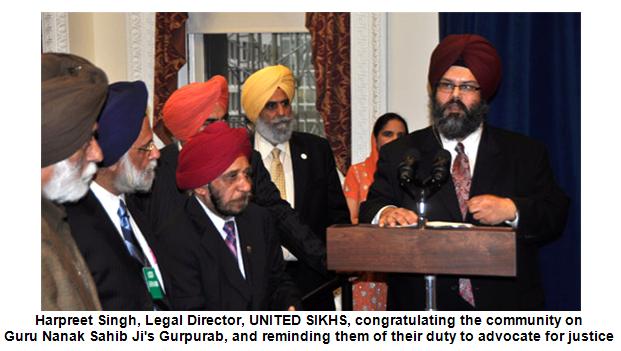 Harpreet Singh, Legal Director, UNITED SIKHS spoke at the event, stating, "The Sikh community remembers that Guru Nanak Sahib Ji's teachings emphasized speaking forcefully against social evils and injustices. It is pertinent that Sikhs follow Guru Sahib's teaching and speak out against civil, human and religious rights violations of Sikhs and others. Sikh Americans must be pro-active in advocating for their rights and press the government to address issues of employment discrimination, bullying in schools against Sikh children, hate and bias crimes, and religious and racial profiling at airports and borders. Finally, Sikhs must work together to be able to practice their faith freely and wear all five kakaars (articles of faith), including the kirpan (religious sword), at all times, whether in the military, law enforcement, at school, or at events like this one." We will be having meetings with high level administration officials regarding the kirpan in the weeks to come.
Ex-City Councilman Richmond, California and Executive Board Member of the California Democratic Party, Harpreet Singh Sandhu also spoke at the event, commenting, "we greatly appreciate the recognition of this important day where millions of Sikhs around the world celebrate the founding of the Sikh faith; it was pleasure to see officials speak so highly of the Sikh community and our identity."

Commenting on the event, Harbans Singh, a Sikh community leader from New York stated, "We appreciate the White House's outreach to the Sikh Americans and recognition of this important day for the Sikh community."

Gurdial Singh, President of Gurdwara Ravidass of New York, stated, "President Obama has brought new hope for the equal protection of civil liberties for all Americans, and we are thankful of his support for the Sikh community."
Again, we would to like to remind the Sikh Community that it is through overcoming our differences and working together that we will be able to overcome challenges to religious identity and our honorable way of life as prescribed by Guru Nanak Sahib Ji.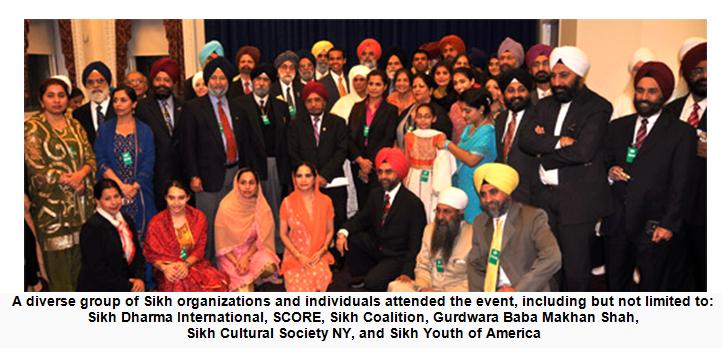 We thank all Sikh organizations and leaders for participating in this event, and extend our deepest gratitude to the White House for celebrating Guru Nanak Sahib Ji's 540th Gurpurab. We especially thank Paul Monteiro, Associate Director of the Office of Public Engagement, for inviting a diverse group of organizations and individuals to the meeting.