Waheguru Ji Ka Khalsa Waheguru Ji Ki Fateh
Dhan Guru Gobind Singh ji has said "Sawa Lakh Se Ek Ladaun, Tabe Gobind Singh Naam Kahaun ...." This is the saying we have all heard since our childhood. Every Sikh should have participated in all events and been recognized. We should have been the pride in Olympic Games, in politics, on television, in the media, etc.
Yet, I feel we are all sleeping and Guru ji has lost his hope in us. Every now and then you hear about one of the Sikhs who, after great struggle makes it to the top. Yet it is only our Sikhs who, instead of being supportive and proud, smother mud on him.
9-11 changed my life. I prayed to allow me to do something for the community. In 2005 I started a small magazine for the community titled: "Aasra-Connecting Communities." In the last 6 years it has done ok. Yet, I feel how far we are in achieving our goal. I have seen jealousy and hatred. I have suffered discrimination and favoritism at work yet I, wearing my turban, carry myself with dignity and respect. I have been helped by lot of Sikhs and non-Sikhs members of the community. Lot of Sikhs and non-Sikhs have contributed to the magazine for articles and poetry.
Since childhood I had inclination towards writing and poetry. However, like every parent in India, my parents also wanted me to choose medicine or engineering. Well, I had some liking for medicine too. However, I did not succeed nor could sharpen my writing skills either. In 2005 Waheguru guided me to start the magazine. The first issue of the magazine was in the form of a calendar (jantri) inviting the community to join the magazine. I knew from the very start that it will be a very hard road. I printed the first issue in April 2006. The first cake is seldom sweet. It did not receive a welcome by the community. Most of the advertisers dropped. A few did not pay the cost for advertising. I felt it was a disaster to start the magazine.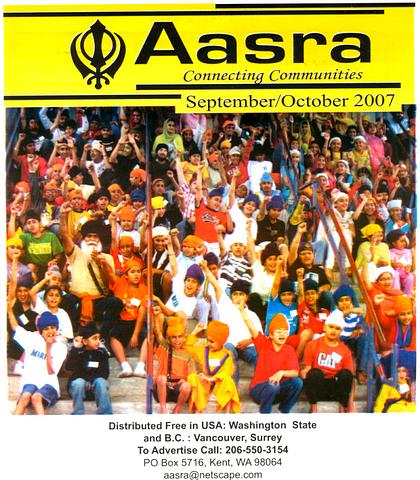 …As nature would have it, I received a phone call from an American business who wanted to break into the growing Indian community and wanted to reserve the most expensive page (the back page) to advertise.
What can I say for others? My own Sikh family has hurt me. It is ok to criticize and give feedback. But it hurts when it happen to be a personal attack. What should have been a community project ended up being only my project. The Sikh community is plagued with jealousy and hatred. I am moving along. A lot of people have helped me otherwise I may not have been able to produce the magazine.
The magazine was recently featured in the Writer's World. I have received articles and poetry from Sikhs and non-Sikhs. This magazine is available through King County Library System, WA State Library, Whatcom County Library and Georgia Library. We are working with the libraries to shelf it with the English periodicals. It now lies with the "Times" and other famous periodicals. Yet, I could not bring the same quality.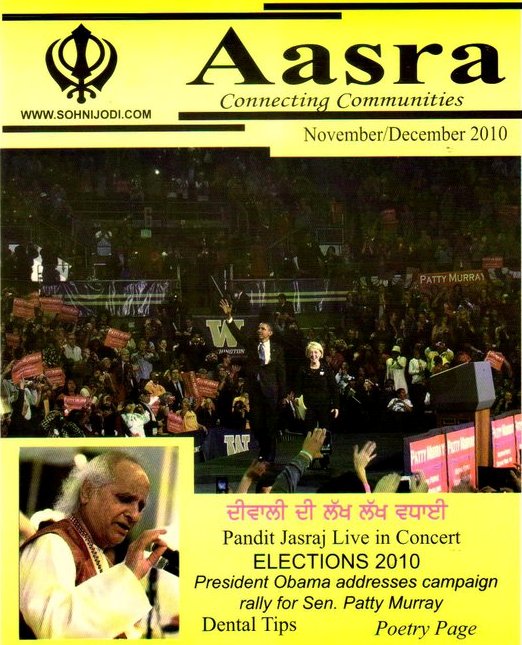 No one could have imagined that anyone could think to open fire in the Gurudwara Sahib. We in the Northwest have also faced lot of hate crimes. All along, I had a fear deep down in my heart that this violence may happen. Let's agree what have we done to reflect ourselves in the community? Yet with the weakening economy people are going to portray us as aliens taking up their jobs. Little do they realize that diversity can be a strength. We all stand out; are most visible, yet we haven't done anything to portray ourselves.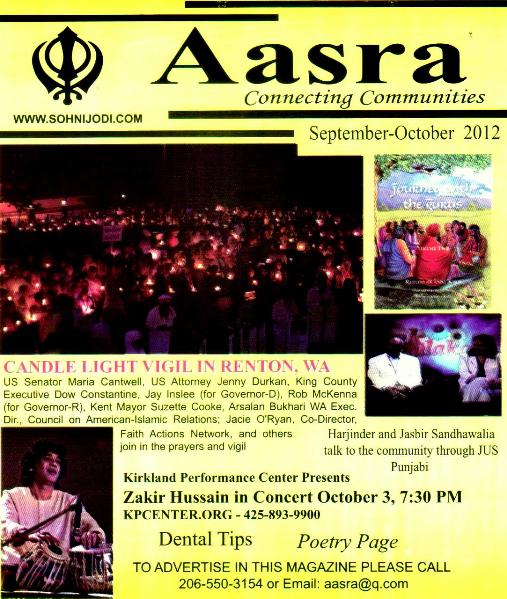 Current Issue of the Magazine.
I may have never written this article had the shooting not happened in Wisconsin. We owe it to all the innocent Sikhs who have been killed to work toward such goals. "Aapan hathi aapna aape hi kaaj sawariye…" I feel so much frustrated. I wish I can do more. I want to request every Sikh to start working toward such goals. To be recognized in "Sawah Laakh" Only then can we, together, stop such violence.
Sarab Singh
[ Sarab Singh is the editor of Punjabi English Magazine titled "Aasra" The magazine is available through the King County Library and others. It is available free though any Indian grocery store and other outlets. Subscription is $20 per year that covers postage and handling. My email address is: [email protected] ]