World Sikh News reviews "Hindu Kush to Thames" documentary of Pritpal Singh on the Sikh Afghans living in the UK and how the Afghan milieu is still alive in their hearts and homes.

elcome to Kabul via Southall, London. Enjoy Afghan food, Afghani music, worship and life in Kabul but actually in Southall. From Hindu Kush to Thames -this first-person account is a visual treat by Pritpal Singh, unravelling not only his growth from a child to an adult in Afghanistan but also how two thriving communities -Sikhs and Hindus and Afghans had to leave home and hearth and settle in new lands with new concerns and challenges. It is heartening to know that the documentary,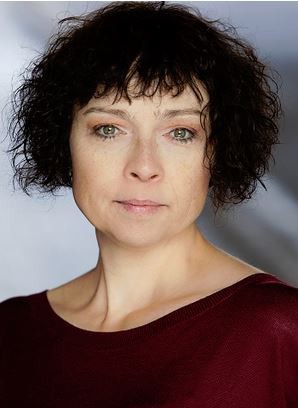 directed by ace actor-director Ariadne Bechthold (pic. at right), has been well received and has received fantastic reviews paving the way for its screening at upcoming film festivals world-wide.
Enjoy the peep into Afghan Music by beautiful bearded Afghan Sikhs still yearning to go to their watan -their homeland Afghanistan even after experiencing modernity and prosperity in the UK and other countries of the Western world. The sweet voice of Indergeet Singh -the first Afghan Sikh singer lingers on and on. It is indeed a pleasure when he says, "It is hard to live without mu-sic." I also think that his name literally means, "song of the Almighty". He is charming and music oozes from his self. I am particularly happy to know that guitaris Amarjit Singh, wants to learn the Rabab.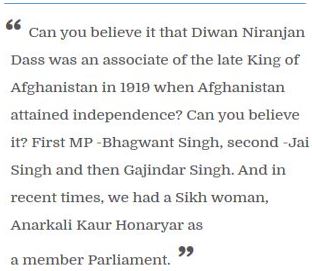 The sound of the Rabab in the background music brings the nostalgia of the mountainous country once ruled by Maharaja Ranjit Singh. Pritpal Singh says, "we love listening to old and new Pushto and Farsi songs." Thank Allah! Otherwise, our Sikhs from Punjab going into the Dias-pora, love listening to Bollywood songs and western music!
Listening to historian Harbans Singh Handa speak Farsi is music to the ears. Even though I do not understand it as of now, I have always yearned for learning and speaking Farsi. I will learn it soon and then usher in a movement to popularise Farsi amongst the Sikhs as a window to the Se-mitic world.
Can you believe it that Diwan Niranjan Dass was the Finance Minister of King Amanullah Khan of Afghanistan in 1919 when Afghanistan attained independence? While we are so happy in the present times to see Members of Parliament in the UK and Canada, I was very happy to learn from this marvellously made documentary, that we had not one, not two but three members of parliament in Afghanistan in the early nineteenth century during the reign of King Zahir Shah. Can you believe it? First MP -Bhagwant Singh, second -Jai Singh and then Gajindar Singh. And in recent times, we had a Sikh woman, Anarkali Kaur Honaryar (pic. at right)as a member Parliament.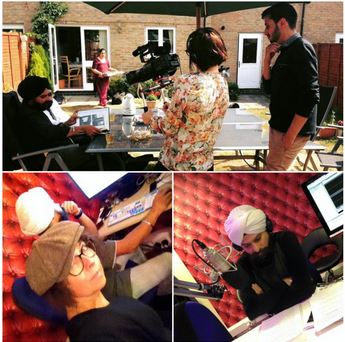 The brotherhood of mankind speech of Gajindar Singh played in flashback by his smart-looking son Hardeep Singh was a treat. As the author-historian clearly says, "we had full freedom of reli-gion then in Afghanistan and we lived as brothers irrespective of our faiths". While the documentary focuses on how close-knit the Afghan Sikhs are, it should be interesting to know how they are integrating with the whole Sikh Diaspora and the challenges that they face therein. And also, how is the second generation mapping up to the past whilst meeting the challenges that English society presents for them at the personal, social, religious and even political levels. May be that would be a sequel by Pritpal Singh and his team.
It was sad to listen to the Hindu priest from Jalalabad, who narrated the story of the vandalism of a 900-year-old Hindu temple by Muslim zealots there in the wake of the destruction of the Babri Masjid in Ayodhya, India by right-wing Hindu leaders and volunteers. I was reminded of what my humanist friend in Mumbai once told me, "Minority fundamentalism begets majority fundamentalism and one fundamentalism leads to another without an end."
Notwithstanding the trials and tribulations that they faced and are facing, Dr Amarnath Kakkar and Harbans Singh lend voice to Afghan Sikhs and Hindus and say, "wherever we live, we will always have the peace and prosperity of Afghanistan close to our heart."
About Author: Jag­mo­han Singh is the Ed­i­tor of The World Sikh News, an ed­u­ca­tion ac­tivist and a Sikh re­li­gio po­lit­i­cal re­former. https://www.theworl dsikhnews.com/