Sikh Gurdwara (Acton Road) - Indianapolis, Indiana USA: May 4, 2014: Honorable U.S. Congresswoman Susan Brooks (R- IN, 5th District) visited the Sikh Gurdwara (Acton Road) on May 4, 2014. Congresswoman Brooks and was accorded a very warm reception by the Sikh community and friends. This was a historic first, the first visit by a Member of Congress to a Sikh Gurdwara in Indiana. In her prepared remarks, Congresswoman Brooks paid tribute to the central Indiana Sikh community and assured the gathering of her commitment to address major Sikh concerns: their opportunity to serve in the U.S. Armed Forces with the faith-mandated articles of faith; the unacceptable racial profiling of Sikhs at the U.S. Airports and incidents of workplace discrimination and harassment due to Sikh appearance with their articles of faith; the continuing unprovoked violence and hate crimes against the Sikhs and other ethnic minorities, especially since 9/11, due to unfounded stereotyping and issues of mistaken identity. The bullying of Sikh children in schools and the need to introduce Sikh studies program in curriculums of Nation's schools were brought to the attention of Congresswoman Brooks.
We were greatly impressed by Congresswoman Brooks' candor, friendliness, knowledge of Sikh American concerns and her willingness to support their commitment and struggle to discover a rightful place for their faith, culture, and community in America. Congresswoman Brooks was honored by Giani Pritam Singh and Maninder Singh Walia with the traditional Siropa (Sacred Scarf) and a beautifully-illustrated book: The Sikhs. Congresswoman Brooks honored The Sikh Satsang with an American flag that was specially flown over the U.S. Capitol. Congresswoman Brooks participated in honoring Jasvir Singh Lalli, past President of the Sikh Satsang; in informal discussion with the Sikh leaders following her remarks in the Sanctuary (see below the full text of her speech); and graciously partook the traditional Langar (vegetarian community lunch) in the Gurdwara Library.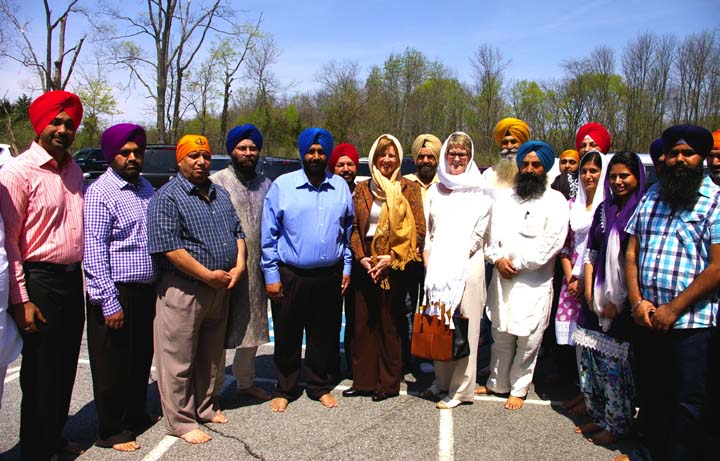 Congresswoman Susan Brooks welcomed at the Sikh Gurdwara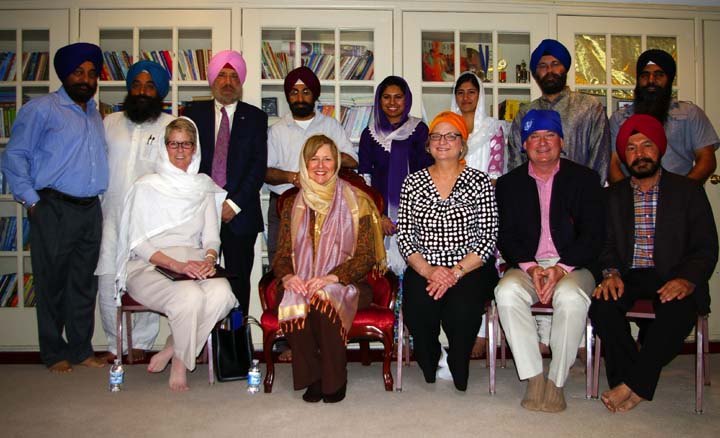 Congresswoman Brooks with Sikh leaders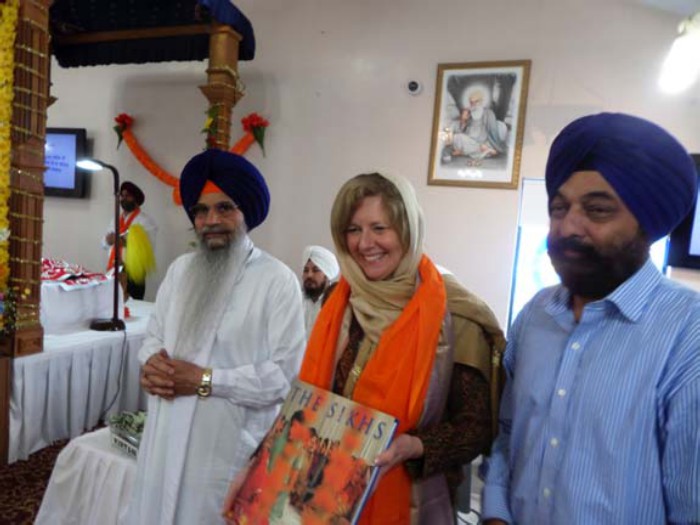 Presentation of Siropa by Giani Pritam Singh and Jasvir SinghLalli
U.S. Flag presented by Congresswoman Brooks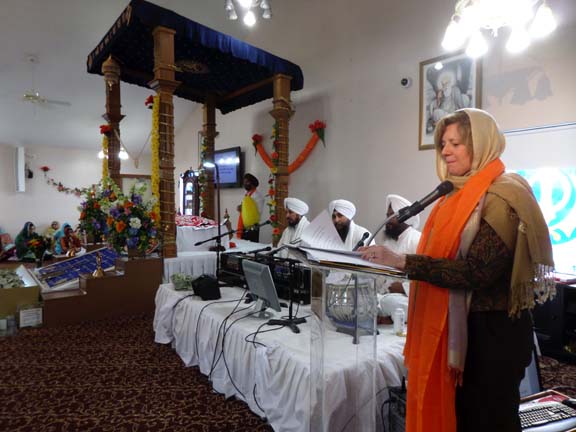 Congresswoman Susan Brooks addressing the gathering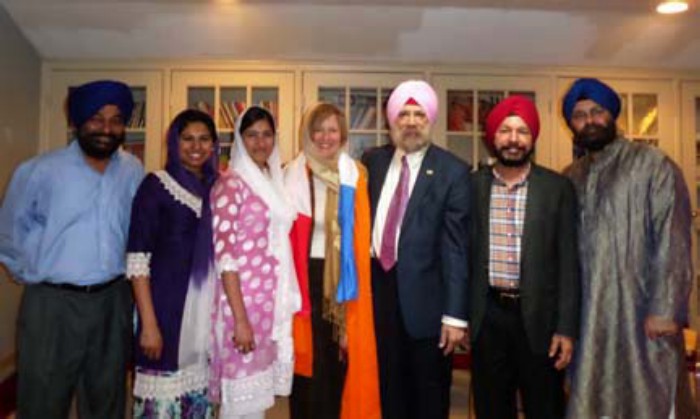 Congresswoman Susan Brooks with Sikh leaders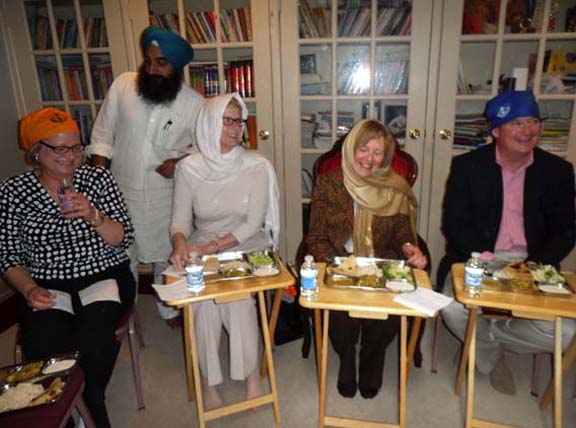 Partaking Langar in the Gurdwara Library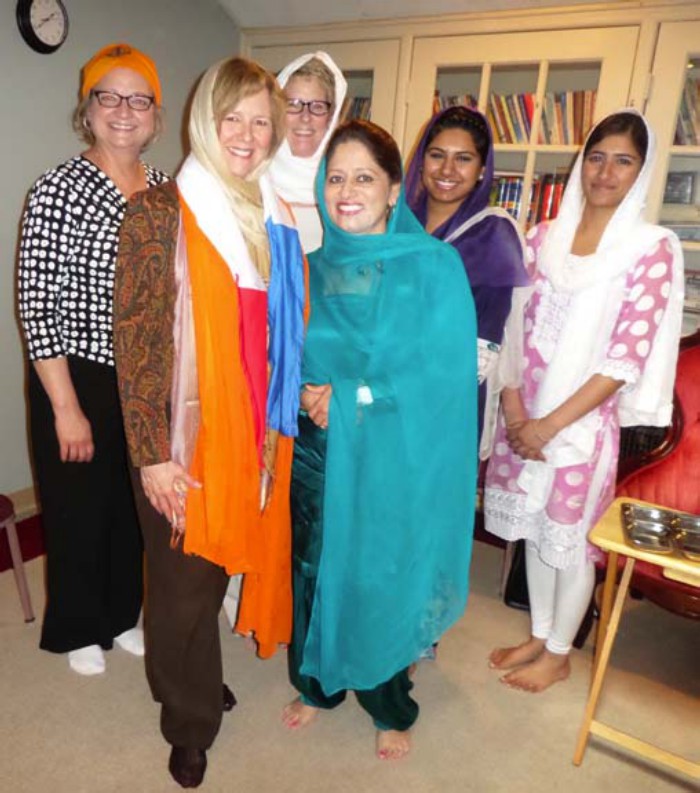 Congresswoman Susan Brooks with Satsang members

Ms. Brooks is a Member of Indiana Delegation in the U.S. House of Representatives. Congresswoman Brooks has an impressive resume, with vast public and private sector experience, family values and leadership qualities that put her in the special class of an outstanding representative of Indiana and the interests of all Hoosiers. "…she currently serves on the Education and the Workforce, Homeland Security and Ethics Committee. She is also the Chairman of the Committee on Homeland Security's Subcommittee on Emergency Preparedness, Response and Communications."
Congresswoman Brooks sees public service as a noble profession and is attentive to the concerns of her constituents. Most recently, Congresswoman Brooks, at our request, added her name and voice to the Congressional initiative to allow Sikhs with their faith-mandated articles the right to serve in the U.S. Armed Forces and in other opportunities. Congresswoman Brooks promised her continued support and friendship in safeguarding the rights of Sikh Americans. Congresswoman Brooks deeply appreciated our commitment to enrich Indiana and our Nation with our heritage, talents, and strengths as proud Americans. This was another landmark memorable moment for the Hoosier Sikh Americans.
Below is the full text of Congresswoman Brooks' remarks at the Sikh Gurdwara: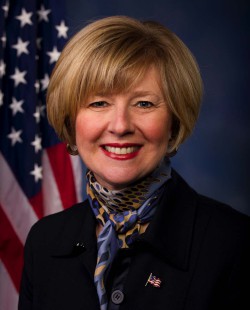 Safeguarding the Rights of Sikh Americans
Presented by U.S. Representative Susan W. Brooks (IN-05)
To The Sikh Satsang of Indianapolis May 4, 2014
Good afternoon, what a privilege it is to speak to you in this solemn sanctuary. I want to thank you for your invitation and president Maninder Singh Walia for that kind introduction. I also want to thank my good friend K.P. Singh, who is a member of your congregation and is here today. K.P. just received the FBI Director's Community Leadership Award at a special ceremony in Washington, D.C. K.P. was honored for his commitment to cultural diversity and his work with the Interfaith Hunger Initiative, The International Center of Indianapolis, the Race and Cultural Relations Leadership Network, from which we served together in the late 90's, and the Indianapolis Civilian Police Merit Board. Congratulations, K.P.
I understand that former Gov. Daniels and Mayors Bart Peterson and Greg Ballard have previously addressed your community, as have many other federal officials and foreign dignitaries. I also understand, however, that I'm the first member of Congress to visit the Sikh Gurdwara. That's just an incredible honor – especially when I know that Congress's approval ratings are still so low!
The Sikh Satsang of Indianapolis is a vital part of this community because you provide a library, children's classrooms and activities and a general meeting place for Sikh Americans living in Indianapolis. The Sikh Satsang is a vital part of this city as well since you are open not only to the Sikh community of this city, but you also allow worship and participation by anyone regardless of caste, creed, or color.
I understand you have plans to build a new complex so you can expand your support activities and bring new members into the community. I look forward to visiting the new complex in the future.
I've been asked today to address how Congress and our federal government can better safeguard the rights and interests of Sikh Americans.
I know that in a post-9/11 world you were often confused with Muslims and, as a result, attacked and threatened. I was the United States Attorney appointed by President Bush one month after 9/11 so I worked closely with the FBI for 6 years to ensure your civil rights were protected. I worked to improve our community's understanding of your faith. Gurdwaras were defaced and Sikh-Americans were attacked in Michigan, New York, California, and Washington. In all, there have been more than 700 incidents of stereotyping, bullying and violence targeting Sikhs over the last decade. Thank you for the report on Sikh bullying and curriculum for Sikh studies. The most egregious act took place in August 2012 when a mass shooting killed six worshipers in Oak Creek, Wisconsin. Our country and state mourned that tragedy.
In addition to the terrible violence, I also know that Sikh-Americans often find themselves at the center of workplace discrimination cases.
Unfortunately, even in the U.S., many non-Sikhs do not understand the deep religious significance of your traditions and many of these suits stem from the five articles of your faith, which require all Sikhs carry a kirpan and that men keep their hair and beards uncut and wear a turban.
Cases of workplace bias arise in many forms. I know examples include employers barring employees from wearing beards, or the military requiring soldiers to keep their hair cut short. A school may treat the kirpan as a dangerous weapon and prohibit students and teachers from possessing the item on school grounds. The government may require people to remove headgear when taking a driver's license photo, giving testimony in court or going through airport security. In all these circumstances, I know Sikhs are asked to do something that violates a core element of their faith.
While I may not understand these experiences first-hand, I do appreciate the meaning of them and am devoted to ending cultural, racial and religious bias in all forms.
As you know, I'm a strong supporter of plans and programs that would make it easier for Sikh Americans to serve in our nation's armed forces.
Since 1984, the military has required strict hair and beard attire. And though, starting in 2010, Sikh's were granted some exemptions, the standard still hasn't been modified.
Which is why last month I, and approximately 100 colleagues in the U.S. House of Representatives, wrote a letter to Secretary of Defense Chuck Hagel requesting that the military modernize their regulations so that Sikhs could serve while abiding by their articles of faith. Sikh soldiers are clearly able to maintain their religious commitments while serving capably and honorably and our military dress code should reflect that.
Additionally, under successive Administrations, the Department of Justice has reached out to the Sikh community to prevent discrimination and protect its civil liberties. In June 2013, an advisory policy board of the FBI voted to recommend that hate crimes targeted at Sikh, Hindu, and Arab Americans should be tracked with their own categories in the FBI's uniform crime reporting program.
Allowing the FBI to collect this data will improve the tracking of these crimes and determine the best ways to prevent attacks on members of these communities. I support those efforts. I am also very proud that a former colleague at the Justice Department, James Comey, is now leading the FBI. I have tremendous faith in his leadership.
While there still is discrimination, I do believe the government has made some important changes. For instance, in 2009 DHS changed its grooming and uniform policies for those who guard federal buildings to accommodate Sikh religious practices. Many police departments across the county now allow Sikh officers to wear turbans and beards, and courts have been more aggressive in clamping down on employers that refuse to accommodate Sikh practices.
As a member of the Homeland Security Committee I'm devoted to making sure that the department finds additional ways to accommodate Sikh practices.
In closing, please know that my office is there for you. Reach out to us when you have issues with the federal government. We are listening – so far we have received more than 76,000 letters – more than 5,800 in the last month alone. We've also handled about 1,130 constituent cases since taking office and are handling about 200 at any given time.
One of my primary responsibilities is to help my constituents navigate the federal bureaucracy. If you're having trouble getting answers from a federal agency, call us. We can help. My number one goal is to help you and your families succeed and key to that success means you are able to practice your faith. That means passing the right policies, but it also means helping you personally, if we can, in your interactions with the federal government.
And, please, give us your ideas – we are listening – and, more importantly – we are acting.
Thank you.