Sardar Hardit Singh Malik was an extremely accomplished individual throughout his long, 90 year old, life. And Southampton is set to immortalize him with a statue to be unveiled on April 16, 2023.
A Brief Bio
Born in British India he migrated to England at the age of 14. He went on to attend Oxford where he was an award winning golf player. He also competed in cricket, as team captain, throughout his youth.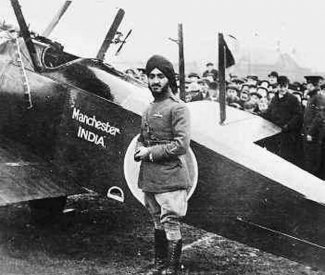 After initially being rejected he was accepted as a cadet in the Royal Flying Corps (now the Royal Air Force) at the age of 22. This made him the first Indian to fly in the corps. He got the nick name of the "Flying Hobgoblin" due to the special helmet he had which was made to fit over his turban as an observant Sikh. This was during WWI and he very soon he earned his first combat victory for shooting down a German plane. 
After several more victories he narrowly escaped with his life when his plane was ambushed and received 450 hits, one of which hit his leg. He was found unconscious after crash landing in allied territory. After the war he married, joined the Imperial civil service and had 3 children.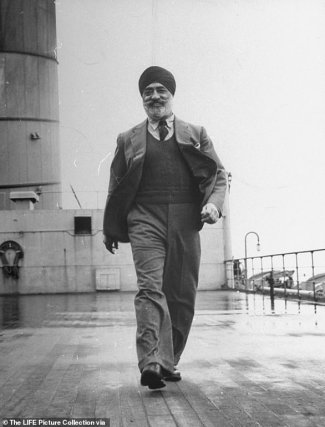 The rest of his life continued with impressive career achievements including positions as Deputy Trade Commissioner, then Trade Commissioner, Deputy Secretary in the Indian Commerce Department, Trade Commissioner to Canada and the United States, Officer of the Order of the British Empire (OBE), Companion of the Order of the Indian Empire (CIE), Prime Minister of a Patiala principality, joined the new Indian Foreign Service and was appointed as the first Indian High Commissioner to Canada, Indian Ambassador to France, UN lead delegate, Grand Officer of the Legion of Honour by the President of France. He retired in 1957 and was later honored with the title of 'Group Captain' in the Indian Air Force. 
The Statue
Given his immense accomplishments Group Captain Malik is certainly deserving of a commemoration. Luke Perry is a gifted artist who has created other statues of Sikhs including one to be revealed in Wolverhampton, also of a WWI Sikh soldier representing the battle of Saragarhi. Perry has said, "Monuments such as this are a vital part of the fight for equal representation."
The Daily Echo reports: 
The project is set to cost around £300k in total and is supported by BAME community leads from across the South Coast, academic experts, representatives of all three of the armed forces and the Chair of Hampshire FA.
Sikh leaders are also collaborating with One Community Hampshire and Dorset on the project. Daily Mail reports: 
Alan Mercel-Sanca, OCHD co-founder and director of the UK Nepal Friendship Society, said: 'This much-needed memorial will have truly national level educational and significance for the 21st century multicultural and diverse communities of Britain.
It is estimated that 130,000 Sikh fought in WWI alone. The military contribution and sacrifice Sikhs always give, in the spirit of humanity and selflessness, it well deserved in any country. It is great to see yet another commemoration to be erected in England.