A VISIT TO THE SIKH HISTORY RESEARCH CENTRE, AMRITSAR
During my recent visit to Punjab, I decided to pay a visit to the Sikh History Research Centre based at Khalsa College, Amritsar. I had spoken to Dr. Kuldip Singh Dhillon and expressed my desire to visit the Centre. His polite and courteous response encouraged me. The Centre holds a large number of manuscripts and artefacts. In the past it was run by Dr. Ganda Singh and Dr. Kirpal Singh, doyen of Sikh history. I was curious to see the new enlarged building and meet the Head of the Centre.
Recent Research
Since 1999 when the Sikhs celebrated the 300 years of Khalsa to 550th birth anniversary of Guru Nanak, twenty years have lapsed, and we had some new research into Sikh history.
Professor Himadri Bannerjee published a monumental work The Other Sikhs in 2002 and made us aware of the Sikhs living Bengal, Orissa, Bihar, Assam and other North Eastern States of India. His second volume will be released in couple of years. Professor Balwant Singh Dhillon studied the Rajasthani documents and we had a rare new research and Rajasthani Documents on Banda Singh Bahadur was published in 2016. Both stalwarts are now retired but still researching.
Loss of proficiency in Urdu & Persian 
Since the birth of Guru Nanak till Punjab was annexed by British in 1849, the state language was Persian. Most of the historical works of this period are in Farsi, a language alien to the History Academics in East Punjab. The likes of Ganda Singh, HR Gupta, Kirpal Singh and others who studied and grew up in the British India knew Urdu, Persian, Sanskrit, Hindi in addition to English and Punjabi.
Following the partition of Punjab, we stopped teaching Urdu and consequently we lost touch with Persian. Now the present generation of History Academics in Punjab know only English, Hindi and Punjabi. Hence in the last twenty years hardly any new Persian document has been translated. A notable exception is, Sikh History from Persian Sources edited by JS Grewal and Irfan Habib which was published in 2001. Most of these documents were initially translated by Dr Ganda Singh but these translations were enhanced by Dr Irfan Habib and his esteem colleagues from Aligarh Muslim University. Dr Grewal who is close to 90 years of age belongs the generation who studied and grew up in British India.
The two Universities in Punjab namely Guru Nanak Dev University Amritsar and Punjabi University Patiala have Urdu & Persian departments where diploma and even MA courses are taught but historical works are perhaps not been translated. The Urdu and Persian department in Punjab University Chandigarh consists of only three rooms. It seems there is little collaboration between History and Urdu/Persian departments within these Universities. Many historical manuscripts in Persian are lying in these Universities waiting to be translated. Some of them are as follows. The details are procured from Encyclopaedia of Sikhism by Dr Harbans Singh and A Catalogue of Sanskrit and Persian Works by Dr Kirpal Singh.
~Khalsa Namah by Bakht Mall – the manuscript written around 1810 -14 contains the history of Sikhs from Guru period till early nineteenth century. His account of events in the cis Sutlej region around the turn of the eighteenth century is especially significant.
~Zafarnamah Muin ul Mulk by Ghulam Muhaiyuddin Khan - It was written largely in verse around 1749 and gives an account of Ahmad Shah Durrani's first two invasions of India. 
~Tarikh e Panjab by Bute Shah – written in 1848 is the history of Punjab from ancient times. Almost half of the manuscript is devoted to the reign of Maharaja Ranjit Singh. This part due to his personal knowledge of contemporary events and his probable access to official records and correspondence at the Ludhiana Agency (British), is considered more authentic.
~Tazkirah (lit. memoir) by Anand Ram Mukhlis - a contemporary manuscript of much historical value containing an account of events in Punjab from approximately 1726-48. 
~Sher Singh Namah by Muhammad Naqi Peshawari – completed in 1843, the manuscript contains an account of events of the Punjab from the death of Maharaja Ranjit Singh in 1839 to the accession of Maharaja Duleep Singh in 1843. 
~Hisab i Afwaj Maharaja Ranjit Singh by anonymous author - The contemporary work provides information concerning Maharaja Ranjit Singh`s military administration recruitment, equipment, scales of pay, organization and composition of the different branches of the Sikh army and its accounts.
~Akhbarat I Singhan by anonymous author - is a diary of the day today events of the period from 1839 to 1847 based on official reports which General Avitabile, the military governor of Peshawar received from various districts under his jurisdiction.
Centre & preservation of artefacts 
I spoke to Dr. Kuldip Singh Dhillon about my concerns about the level of research in Sikh History pertaining to Persian manuscripts. I apologised to him that I do not belong to the fraternity of Research Academics, but I am worried as a keen student of Punjab & Sikh History.
The Dr. Kuldip Singh Dhillon told me that he knew Urdu well and can slowly read Persian. He added that Khalsa College, Amritsar have introduced one subject/module in MA Punjabi. The plan is to have two Urdu modules in the 4 semesters of MA Punjabi. And in future request Guru Nanak Dev University to introduce them across their colleges. About 20,000 students every year complete MA Punjabi from colleges affiliated to Guru Nanak Dev University. This will stimulate interest in Urdu and Persian and every year if even 2-3 students get into research we would succeed in this venture.
Dr. Dhillon showed me how rare documents within the Centre were being preserved using the latest technology. Each page of the books and manuscripts were meticulously cleaned with a brush. The pages torn were glued with special paper (which looks like a posh tissue paper) which after few months would dissolve within the page. The torn pages are restored in this method.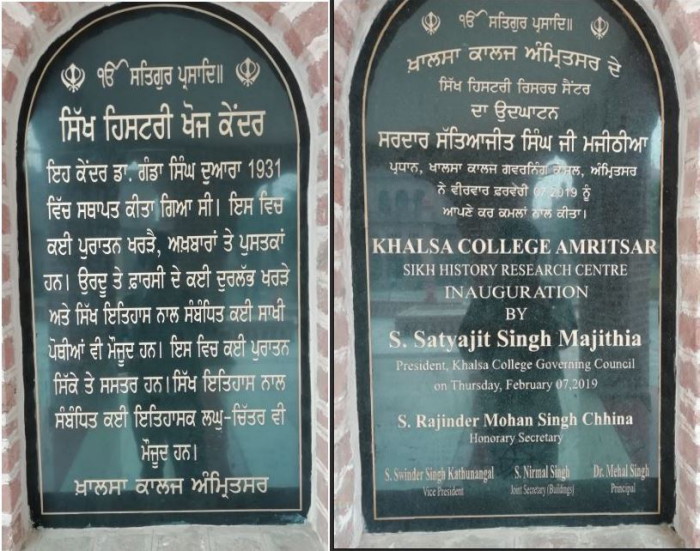 The building of Khalsa College is well over 100 years old and the ceilings had used wooden panels. They are now being replaced with iron/steel frames. The Centre are using these wooden panels as they are made of wood which is naturally resistant to termites. All rare photos and artefacts are being framed with this wood.
The Centre has a policy of no photographs and I even forgot to take a photo with Dr.  Dhillon. I left the Centre satisfied that it is run by a man with a vision and definitely has a bright future.
Inderjeet Singh
___________________________
The writer of this article is the author of the book, "Afghan Hindus and Sikhs A History of Thousand Years".
Details of Photo (Header): Dr Kuldip Singh Dhillon with Professor Geoff Layer, Vice Chancellor and Dr Opinderjit Kaur Takhar, Director of Centre of Sikh & Panjabi (both from University of Wolverhampton), along with colleagues from Khalsa College, Amritsar