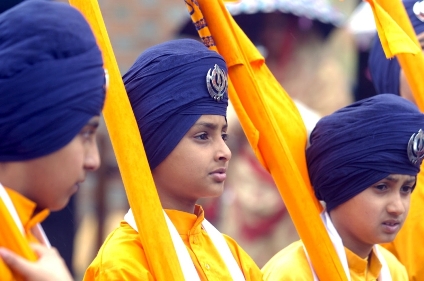 The Vaisakhi Nagar Kirtan procession through streets of East Reading
The colourful procession normally has the streets lined with spectators – but the chilly weather and rain meant the crowds were not as big as usual.
However, it did not stop up to 700 of the faithful turning out to take part in the procession called Nagar Kirtan.
The procession comes at the end of Vaisakhi which marks the beginning of the solar year and the new harvest season and falls on April 13.
Reading's Sikh community accompanied by music and singing walked between the town's two Sikh temples – the Siri Guru Singh Sabha Gurdwara in Cumberland Road and the Ramgarhia Sabha Gurdwara in London Road, Earley.
This was Reading's eighth procession and it was led by some of the youngest members of the community.
Police, some wearing orange head covers like many of the Sikh men in the procession, supervised the rolling road closures from Cumberland Road through Cemetery Junction up Wokingham Road and Church Road and back again.
The Sikh holy scripture was carried on a decorated float in the procession with worshippers sweeping and washing the road before it.
Election candidates took an opportunity to show their faces at the procession and Reading East and Reading West Conservatives Rob Wilson and Alok Sharma, respectively, Reading East Labour candidate Anneliese Dodds and Green Party candidate Rob White all paid their respects.
The predominant colours of the procession are gold and orange – the colour of the harvest – and some worshippers carried ceremonial swords.
Nagar Kirtan event organiser Parminder Singh said: "It was very chilly and some of the children got a bit cold, but we are made of stern stuff and it did not stop people joining the procession.
"Perhaps there were not quite so many crowds lining the streets as there were last year when we had sunnier weather. But between 600 and 700 people took part."
Mr Singh described how many Sikh families lined the routed handing out food to the procession and vegetarian food was also served at both gurdwaras.
He explained the Sikh community used the feast of Vaisakhi to mark the birth of the Sikh nation – a religion founded in the 15th Century.
A collection was made along the route for the Royal Berkshire Hospital's Robbie the Robot appeal.
Watch the video: