April 14 2015 : Sikhs around the world celebrated on Tuesday the Vaisakhi New Year festival, one of the most important dates on the Sikh calendar. Vaisakhi, also spelled Baisakhi, is marked annually on either April 13 or 14 with large public processions known as Nagar Kirtans. The holiday is observed by millions of Sikhs in India, Pakistan, the United Kingdom and North America.
The centuries-old tradition has long been celebrated as a spring harvest festival in the Indian subcontinent's Punjab region but became uniquely associated with Sikhism after the 10th Sikh guru-prophet, Guru Gobind Singh, chose the occasion to found a formal order dedicated to defending the Sikh community, known as the Khalsa Panth.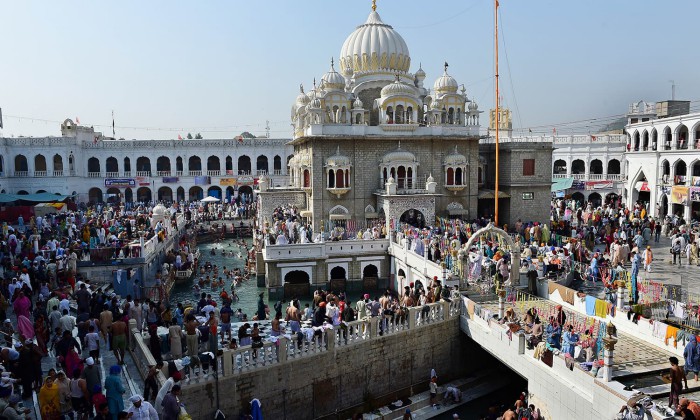 Sikh pilgrims gather at the Gurdwara Panja Sahib, one of Sikhism's most holy ...

In 1699, Guru Gobind Singh summoned Sikhs from all over India to the Punjabi city of Anandpur Sahib, where, in front of a crowd of thousands, he lifted a sword and challenged anyone prepared to give their life to preserve the Sikh religion to come forward. The Sikh narrative holds that one Sikh volunteered and followed the guru into his tent, after which the guru emerged alone with blood on his sword. This was repeated as, one by one, four more Sikh men disappeared into the guru's tent.


... as the procession passes by during the Baisakhi festival at Panja Sahib
Ultimately, the guru emerged in front of the crowd with all five men alive and dressed piously in blue. These men became known as the Panj Piare, or Five Beloved Ones, and serve as foundational figures for the religious community, with their respective associations with distinct symbols of purity and courage. Their baptism by the guru with amrit, the Sikh term for holy water, became the basis of the Sikh baptism ceremony.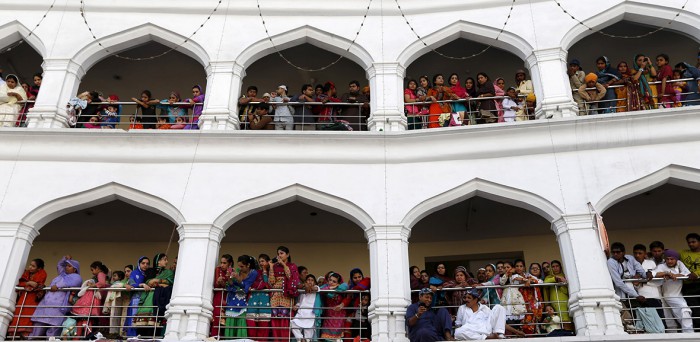 Sikh devotees watch the Vaisakhi festival procession at Panja Sahib shrine   (Caren Firouz-Reuters)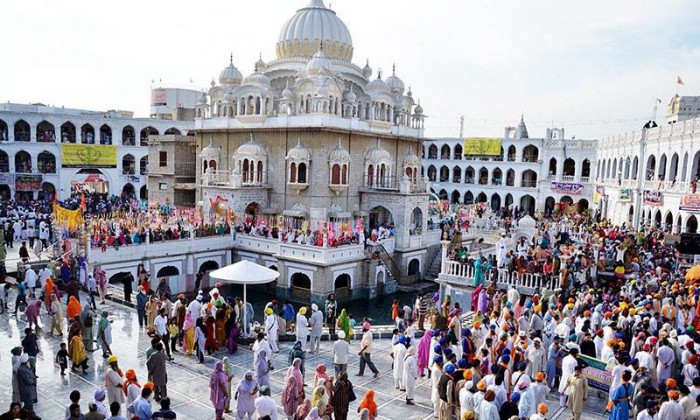 HASSANABDAL - Sikh pilgrims performing religious rituals during Baisakhi Festival at Gurdwara Panja Sahab Hassan Abdal

The foundation of the Khalsa, marked by Vaisakhi, is a transformative period in Sikhism, Jasjit Singh, the executive director of the Sikh American Legal Defense and Education Fund, said. "When the Khalsa was formed, it created a model for men and women, no matter their economic status or background, to serve as community and spiritual leaders in perpetuity," he said.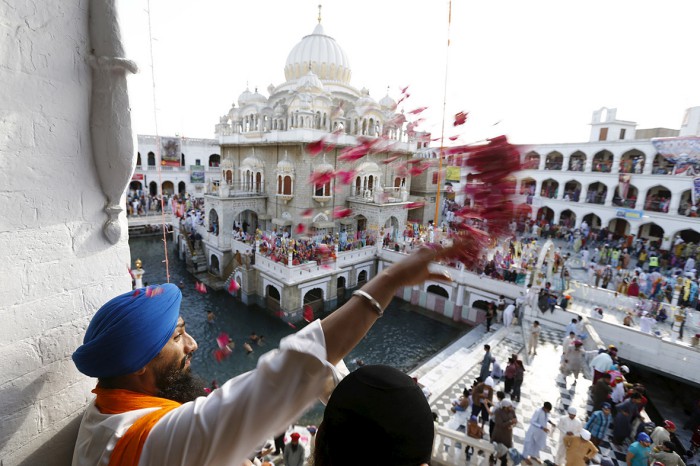 A Sikh devotee throws petals as the procession passes by during the Vaisakhi festival at Panja Sahib shrine in Hassan Abdel   (Caren Firouz-Reuters)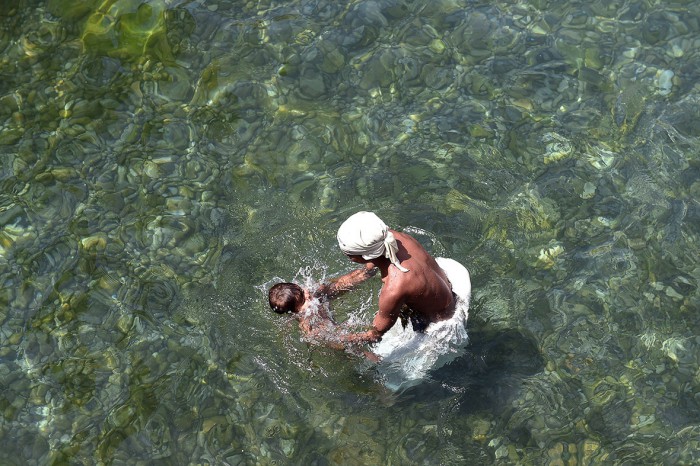 A Sikh pilgrim dips his son in Gurdwara Panja Sahib, a shrine of the Sikh community's spiritual saint, in Hasan Abdel, Pakistan   (Farooq Naeem-AFP)

The occasion of Vaisakhi also is seen as a time for Sikhs to come together to commemorate and reflect on the significant historical event, according to Sikh Coalition Religion Fellow Simran Jeet Singh. "While the community holds a special place in its collective heart for this occasion, Vaisakhi is not a 'holiday' in that the Sikh tradition does not regard any one time or day to be uniquely 'holy,' " Singh wrote in a commentary during last year's festival. "Rather, it is an occasion for celebrating the community's growth and for recalling a set of shared values and collective memories. In both its cultural and religious context, Vaisakhi is fundamentally about community, progress and celebration."
Today, many Sikhs observe the day by making pilgrimages to holy sites, while in some countries large public festivals also are common. Cities outside of the Indian subcontinent with significant Sikh populations like London and Vancouver also hold notable public celebrations.