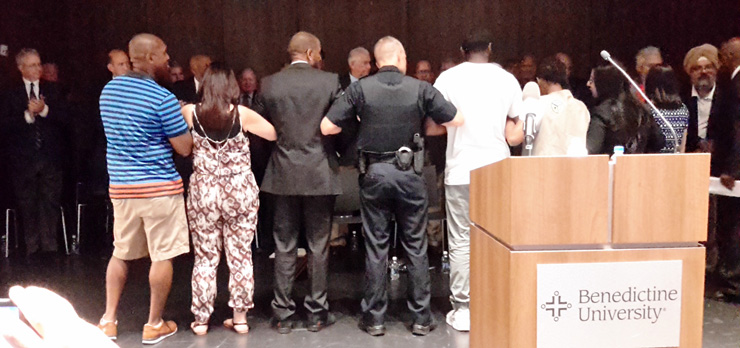 Lisle, Illinois: In light of the tragic events of the past weeks, the African-American, Islamic community, Sikh Americans community and the Du Page County Chiefs of Police Association joined together to remember the lives of the civilians and Dallas police officers who were recently killed. More than 200 people attended.
The event was held on July 16, 2016 at Benedictine University in Lisle Illinois, a suburb of Chicago.
The purpose of the event was to foster better understanding between minority groups and law enforcement to build a stronger, safer and just community.
Benedictine University, The Du Page Diversity Committee and the Du Page County Police Chiefs Association hosted The Du Page "Unity in Diversity Memorial," a solidarity vigil on behalf of The unfortunate loss of life of 5 Dallas police officers and civilians. Most of the Du Page County villages Police Chiefs attended the memorial.
Together, community members and officials socialized, held a moment of silence, prayed and shared their thoughts on the battles we face today along with interludes of appropriate musical numbers. Community and law enforcement joined arms on the stage to symbolize unity.
Dr. Michael S. Brophy president of Benedictine university welcomed the participants and stressed the importance of having gatherings like these.
Joseph Broda Mayor of Lisle, Robert Berlin, Du Page County State's Attorney were among who attended and addressed the gathering. Rev. Dr. James F. Miller and Rev. Keith Allen rendered Christian prayers and Shaykh Omar Hedrough rendered Muslim prayer.
Boy Scouts and Girl Scouts affiliated with Islamic Center of Naperville rendered pledge of allegiance.
About a dozen Sikh American community members attended the memorial. Roger Singh Chawla CPA, president of Chawla & Associates of Naperville was introduced as a member of the Du Page Diversity Committee.
Rajinder Singh Mago of Sikh Religious Society, Palatine was one of the speakers from the stage and spoke about equality and social justice as an essence of Sikh faith.
He also spoke about the Sikh principles of Unity of the Divine, Brotherhood of Mankind, and Strength in Unity in Diversity.
"Our thoughts and prayers are with the families of the Dallas police officers fallen in the line of duty, and all other innocent lives lost in senseless violence," said Rajinder Singh Mago.

Shoaib Khadri, President of Islamic Center of Naperville, Moon Khan a political activist in Du Page County spoke about the importance of civic engagement.
"Senior Corporal Lorne Ahrens, Sargeant Michael Smith, Officer Michael Kroll, Officer Patrick Zamarripa, and Officer Bret Thompson," said village of Lisle Chief of Police, David Anderson announcing names of the fallen Dallas Police officers. Chief Anderson also introduced and thanked the other police chiefs present at the memorial.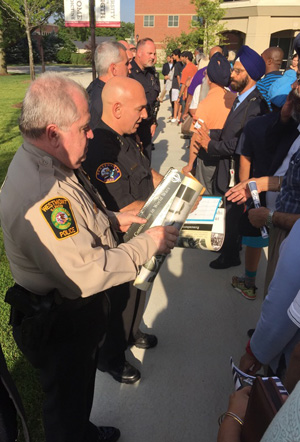 As guest speaker, Lisle Police Chief Anderson stressed that in order for change to happen a bridge of trust must be built.
"We need to get to the point where we know each other, it doesn't matter what clothes we're wearing, it doesn't matter what uniform I have on, it doesn't matter what tools I have with me to keep you safe, we know each other, we trust that we're here for the same reasons to keep each other safe in these communities," said Lisle Police Chief David Anderson.
"The public has a right to know and should know that their law enforcement officers are following the law and protecting us and keeping us safe, I continue to believe that Du Page County is the gold standard when it comes to law enforcement and the criminal justice system," said States Attorney Robert Berlin.
"This is our chance to be brutally honest, and I do mean brutally honest, with ourselves to fix what's broken, to right what's wrong and begin to lay a foundation upon which our grandchildren can build, because as long as this society exists, there will always be conflict, but it does not have to be a war," said Speaker Morris Brent an African-American member of the diversity committee.
As a way to build bridges, and honor men and women in police uniform the community thanked local law enforcement for their services, in a social setting by hugging, shaking hands and taking pictures with each other. Both parties took the time to say hello and get to know one another.