UNITED SIKHS Provides Emergency Relief in Haiti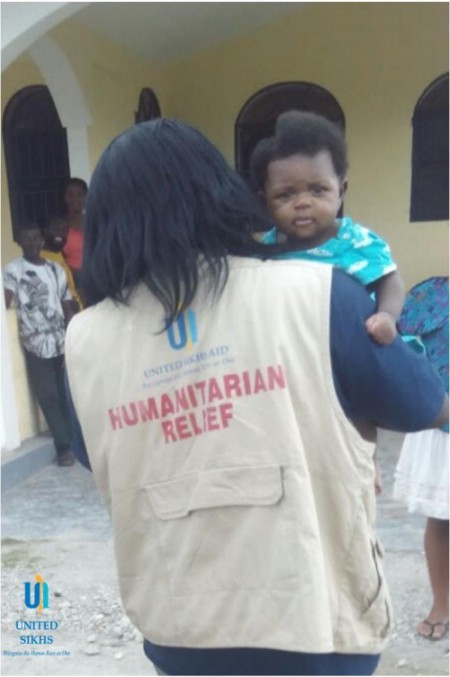 Haiti: On October 4th, 2016, Hurricane Matthew devastated Haiti. It is the worst disaster to have hit Haiti since the January 12, 2010 catastrophic earthquake, which, according to CNN, measured 7.0 magnitude and killed approximately 316,000 people and injured 300,000 more.
According to UNICEF, 80% of homes were damaged by Hurricane Matthew. Over 16,000 people are in shelters and hundreds of children are drastically affected as Hurricane Matthew knocked out power lines and left thousands without electricity or homes. The Haitian community is in dire need of resources and according to people on the ground the death toll has reached approximately 1380 as heavy rains continue to come down causing massive flooding. Inadequate housing threatens further harm to survivors. With instances of Cholera on the rise, UNITED SIKHS Emergency Response Team has distributed thousands of gallons of clean and treated water donated by supporters and good samaritans to stall an epidemic.
UNITED SIKHS' project coordinator, Luna Charles, who has been leading the relief efforts stated, "I was able to make an assessment and many homes were destroyed. Electrical poles and trees were uprooted by the hurricane. The streets are littered with trees, debris and sheet metal that once covered shelters. Many windows in the makeshift shelters are broken and children, infants and the elderly are without blankets and are prone to pneumonia and other illnesses, including Cholera."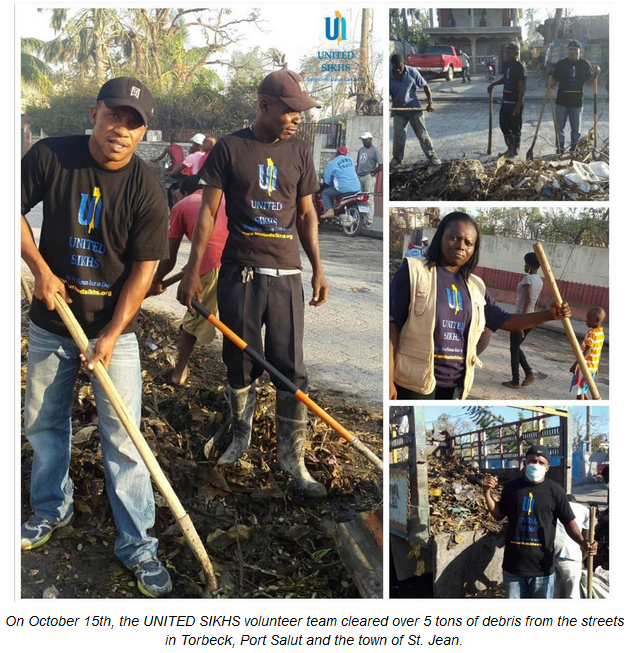 On 16th October. 2016. the UNITED SIKHS team visited the Port Salut Hospital, the Ofatma Hospital and shelters. The team distributed clean, treated water and emergency relief materials to the patients in the maternity wards and emergency rooms to alleviate suffering. Water was distributed to over 400 families in Torbeck, Port Salut and the Town of St. Jean.


UNITED SIKHS, SIKH AID National Director Jatinder Singh made pleas for help to communities world-wide stating, "We need your help and support to assist those impacted. Donations can help provide much needed blankets, clothing, bottled water, first-aid and food supplies. Children have been greatly affected as schools are being used as temporary shelters and classes have been suspended. Your help is needed now. Your donation, in any amount, will help save lives and help the Haitian community rebuild."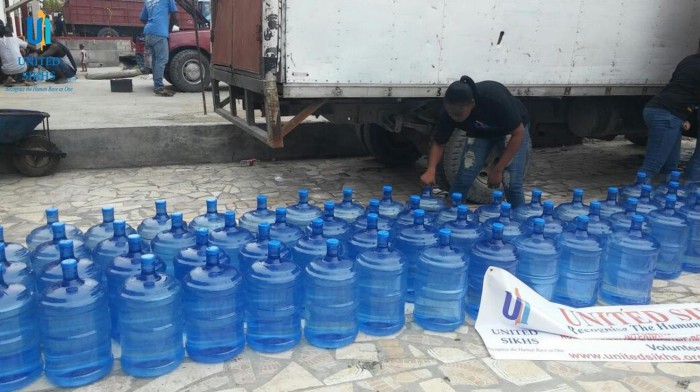 Make a difference, make an impact and make a change. Haiti is counting on us! Donate today.



Please watch our videos and subscribe to our You Tube channel at UNITEDSIKHSTV and follow us our social media Facebook | Twitter | Blog and see how your contribution is making a difference.


Issued by,
Gurvinder Singh
Sikh Aid Director UNITED SIKHS
Tel: 1-646-688-3525 11-469-222-6288
E: [email protected] I [email protected]