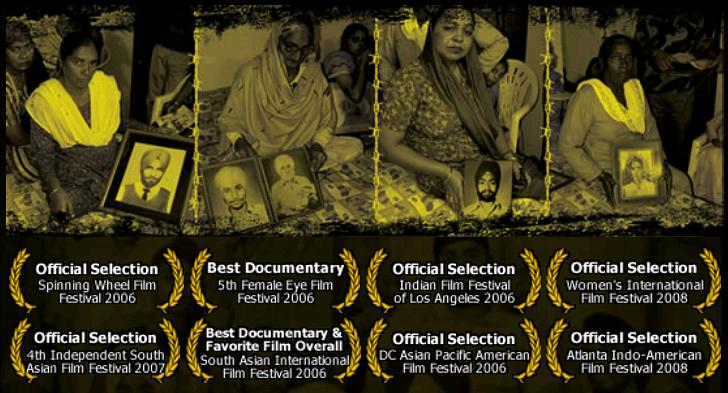 The award-winning documentary "The Widow Colony" focuses on the incalculable loss of human life in the span of just three days. A conservative estimate puts the total number of Sikh men dead around 4,000, leaving behind over 1,300 widows and thousands of children fatherless. Despite all the evidence and eye witness testimonies justice has been denied to these victims for over two decades. Described by critics as the "most affecting" documentary to come out of India since Born into Brothels.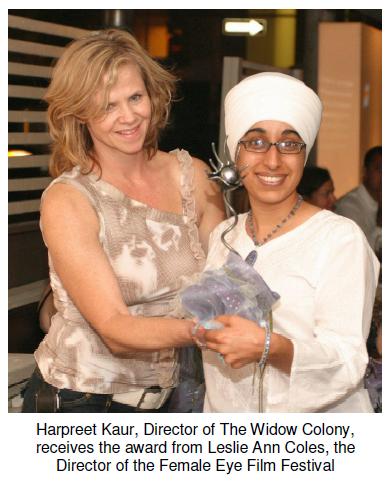 "The Widow Colony — India's Unsettled Settlement", borrows its name from the settlement in Tilak Vihar, on the west-side of New Delhi, which is locally called the Widow Colony or Vidhva Colony. The film takes the viewer to the streets of Trilokpuri, Kalyanpuri, Himatpuri, Sultanpuri and Mongolpuri, the same localities that suffered the major brunt of the Sikh killings in November of 1984.

Director Harpreet Kaur, uses the testimonies of the widows and subject experts, along with images of the killings and destruction that followed after the assassination of Prime Minister Indira Gandhi, to convey the trauma of the widows, their battle for justice and their struggle for survival in India.
Harpreet Kaur's documentary won the award for Best Documentary at the prestigious Female Eye Film Festival, held in Toronto. Upon receiving the award Kaur said, "This award proves that the interest for this documentary is not only in South Asian audiences and human rights organizations but it appeals to audiences all over the world.

"Kaur's film takes the viewers onto a journey into the living conditions of the surviving Sikh widows and children in New Delhi who have been struggling to sustain their families while maintaining their struggle for justice, 22 years after the murders of their men."
Screenings

October 10, 2009


Show 1- 1:00 - 3:00 PM
Show 2- 3:30 - 5:30 PM
Show 3- 6:00 - 8:00 PM
Show 4- 8:30 - 10:30 PM

Hayes, UK
Location: The Beck Theatre
Grange Road, Hayes
Middlesex UB3 2UE
More information & to

Buy Tickets

click here
 

October 11, 2009


Show 1- 1:00 - 3:00 PM
Show 2- 3:30 - 5:30 PM
Show 3- 6:00 - 8:00 PM
Show 4- 8:30 - 10:30 PM

Southhall, UK
Location: The Himalaya Palace
14 South Road
Southall UB1 3RT
More information click here
 
Fri. - Sun. 3 days


Oct 16, 2009

-

Oct 18, 2009


Show 1- 1:00 - 3:00 PM
Show 2- 3:30 - 5:30 PM
Show 3- 6:00 - 8:00 PM
Show 4- 8:30 - 10:30 PM

Birmingham, UK
Location: The DRUM
144 Potters Lane
Birmingham, B6 4UU
More information & to

Buy Tickets

click here