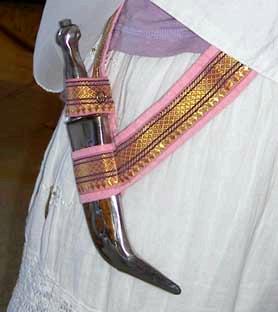 Leicester, UK: A sixth-form college today said they will allow Sikh students to wear their kirpan, a Sikh article faith, after a 16 year old Sikh girl was stopped two days ago from taking her AS level exams (pre-university) because she wore a kirpan. This ban had also affected two other initiated Sikhs who were also told that they could not sit for their A level exams on Friday. The ban reversal came after the UNITED SIKHS legal team and the Leicester and Nottingham Sikh community leaders worked around the clock with the college to resolve the problem.

Parminder Kaur, 16, who was initiated as an Amritdhari Sikh last month and is mandated to wear her kirpan at all times, was in shock when she telephoned UNITED SIKHS on Tuesday to say that she has been asked to leave the exam hall at the Wyggeston and Queen Elizabeth I College, because she wore a kirpan.

The school principal, Ian Wilson, who responded to the students' plight swiftly said, "We will review our policy with respect to the carrying of the kirpan in the next few weeks and in the meantime we will make every effort to ensure that the students are able to take their exams as normal."

"In my time as principal we have had no tension between (students of) different religious groups and I don't want this to change at all," he added about the college in Leicester, where 12-14, 000 Sikhs live.

"Over the past 24 hours and more I have been feeling stressed and upset at the extremes of which I never believed would be possible, after being removed from my Sociology exam where other students were clearly able to see what was happening," Parminder Kaur said.

"I am glad that the college is allowing me and my fellow Gursikh brother and sister back in. Most of all I am delighted that I have been allowed back into the college to complete my exams wearing my kirpan," she added.

After Parminder Kaur reported the incident, UNITED SIKHS contacted the students' families and local community leaders for their assistance. "As the students were not being allowed to sit their exams on Friday, we instructed a prominent human rights London law firm, Bindmans LLP and engaged the services of the Equality and Human Rights Commission," said Mejindarpal Kaur, UNITED SIKHS Legal Director.

"We applaud the three Sikh students who, in the midst if their exams, displayed a positive attitude and exemplary strength of character to stand up for their belief and rights. We are very grateful to the assistance provided by the management of the Guru Tegh Bahadur Gurdwara, the SCYS of Nottingham, Davinder Singh, Kuljit Singh, Sukhvinder Singh and Gurjeet Singh," she added.

An account of the incident on 12th May when Parminder Kaur, 16, was barred from sitting an exam:

"I was in my sociology exam when the exam woman came up to me and asked if I was wearing a kirpan. I said yes as I was not prepared to lie. She told me that I wasn't allowed to wear the kirpan as it was college policy. I then told her that Sikhs were protected by legislation which allowed Sikhs to wear a kirpan. She then said that she was going to have to report me to the office and I just said ok. After five minutes the vice principal (Tim) with another lady from the examinations office and told me to put my pen down and come outside. He then explained that I wasn't allowed to be in college wearing a kirpan and that included examinations. I told them that I took amrit on the 25th of April and that I was no way prepared to take my kirpan off."

On hearing what had happened to Parminder, her college mates, Baljinder Kaur, 18, and Surjinder Singh, 17, who also wore a kirpan, met Sue Ashwin, the vice principal, to ask why Parminder had been barred from the exams.

Surjinder Singh told UNITED SIKHS, "Baljinder and I told Sue Ashwin that the law allowed a Sikh to carry a kirpan. She asked if we could wear a 'replica' kirpaan, on a 'key-ring'. We told her "No"."

When Sue Ashwin discovered that Baljinder Kaur and Surjinder Singh also wore a kirpan she told them to either remove their kirpan or go home and not return to college unless they removed their kirpan or until the matter was 'investigated further'.

"As I still had 2 more lessons to attend, Sue Ashwin asked me if I was willing for someone to 'look-after' my kirpaan whilst I went to my lessons. As a practicing Sikh, none of my 5 Ks are to come off my body at any time, therefore I refused, to remove my kirpaan, and left the college premises with Baljinder Kaur," said Surjinder Singh.

Baljinder Kaur and Surjinder Singh's comments: "The last 24 hours have been a little hectic. However, its all been worth it in the long run, (apart from the very unfortunate exception of Parminder Kaur missing her exam)- hopefully the college will provide some sort of compensation for this. However, on the very very bright side, many people who once saw GuruJi's kirpan as a mere knife, have now been educated of its deep value and unbreakable bond with a Sikh. The college took a very cooperative approach, and students carrying the kirpan will no longer be treated any different. Hopefully the frequency of such incidents will gradually decrease and diminish. GuruJi teaches us to handle things with love and humility. It is not others' faults; it is our duty to educate and be the example." - Baljinder Kaur (who was facing a ban of her kirpan at her Leicester college.)

"At first I was very upset and felt discriminated. Now with the positive outcome, I am looking forward to wearing my kirpan in college. I hope what happened to us will not happen to anyone else," said Surjinder Singh.
 
You may read a previous press release on UNITED SIKHS' advocacy for civil rights here.

UNITED SIKHS calls upon anyone who suffers a violation of their civil rights to email us at [email protected] or call a UNITED SIKHS chapter nearest to you.