The construction of railroads created numerous job opportunities, attracting a diverse workforce to the country. 
You can read part 1 of this article here 
Died in tragedy!
 Mr. Ajaib Singh  (Locomotive Driver).  Ajaib Singh s/o Meher Singh commenced his journey in the railways in the 1940s. He was tasked as a machine cleaner. Then he rose & became a fireman and subsequently a locomotive driver. He was an experienced driver with 20 years of service in the Railways.
He was killed in the collision between the southbound railcar he was driving and a stationary train on the 23rd of April 1968 in Layang Layang, Johore. It was described as the ' worst ever' train accident in Malaysian Railway history.
His daughter, Mrs. Narinderjeet Kaur said that her father was a nice and loving person. He was very hardworking and was a dutiful father. He had 2 sons and 3 daughters.
"We were living at the railway quarters in Bangsar. On the fateful day, of 23rd of April, 1968, we received the tragic news about my father's death who was killed in the train collision incident at Layang- Layang Railway station, Johore. We were all shocked and sad when we heard the news".
Her grandparents wanted her father's remains to be brought back to their home at Ipoh for the last rites. He was cremated at the Sikh crematorium,  Jalan Gurdwara, Ipoh.
Her grandmother always shared interesting stories of her late father. One story that her grandmother shared was, that when her father was serving in Kelantan, whenever His Highness, The Sultan of Kelantan wanted to travel on the train (Royal Coach), His Highness would specially request for her father to drive the train. 
Suicide Attempt!

Mr. Manjit Singh  ( Locomotive Driver)
"One day, while I was driving the train, Suddenly, I saw a girl running towards my train.  "I applied my brake on and blew the whistle" and managed to stop the train on time. I got down from the train and quickly approached the girl, who was crying, I asked her what the matter is? she replied to me in Malay, ' Saya mahu mati, Saya mahu mati'!  (I want to die; I want to die).
I was shocked and sad. I advised her politely not to do that."  
 After a short while 2 men came running towards them and they happened to be her family members. They thanked him for saving her life & apologized to him. Her family members told him that, she was going through mental health-related problems.
Suicides or attempts at suicide represent major unexpected and violent events in the lives of the locomotive drivers. Being involved in such incidents can be, and is, traumatic for drivers.
Mr. Manjit Singh s/o Nahar Singh joined the Railways in 1978. After completing his training at the Railway  Training School, Sentul in 1980, he got his first driving license and worked as a locomotive driver. Then subsequently to a Locomotive Under Foreman. He retired from the Railways in 2009.
'Safety was always paramount in our role as a train driver, Manjit said. A driver is responsible for the safe transit of the passengers or cargo from one location to another. They have to follow the traffic laws, correctly'.
Manjit said that he had acquired 9 different licenses necessary to drive each new type of train ranging from class '17' to '25'.
He had witnessed 8 incidents, mostly suicides or attempts at suicide in his career for 31 years.
Collided with an Elephant!

Mr. Amarjit Singh (Locomotive Driver) Locomotive Driver Mr. Amarjit Singh s/o Gulzar Singh was born on the 8th of July 1947 in Punjab. At the tender age of 5, Amarjit Singh and his family migrated to Malaya. He studied secondary at Anglo Chinese School, Klang until 1965. In 1967 he joined the Malayan Railways.
Between 1967 to 1970 he served at the Port Klang branch. In 1970 he was transferred to Kuala Lipis, Pahang. He served 16 years on the East Coast as a locomotive driver. He was assigned to a Steam locomotive (56 Class or 'O' class) and then upgraded to a Diesel Electric locomotive ('20'-'23'Class).
He was an experienced driver for both passengers & goods train. He served on Kuala Lipis to Northeast Tumpat and down South to Gemas, Negeri Sembilan.
In 1987, he was transferred to Port Klang. In the early 1990s, he served on the commuter trains from Port Klang to Kuala Lumpur and then to Rawang & Seremban. In 2002, he retired from the railways as a Senior locomotive driver after serving for 35 years.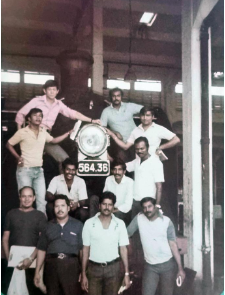 Amarjit shared an incident which happened in 1984. At around 0130 to 0200 hrs., when he was driving a goods train between Sungai Temau and Merapoh, Pahang, while he was approaching a curve, about a distance of 60 meters away, he noticed a huge object on the tracks. He reduced his train speed and applied the emergency brake but unfortunately, he hit the object, and the train came to a complete stop.
He noticed that it was an elephant. The impact of the collision caused the vacuum brake pipe to disconnect. He reconnected the brake pipe of his train and continued his journey to Gua Musang the incident was reported to the station master and the train controller section at Kuala Lumpur, and they alerted the State Wildlife.
A few hours later, the state wildlife rangers were sent to investigate the incident and concluded their findings that it was an elephant that they found motionless down in a ravine with a broken neck weighing about 5 tons and it was about 14 years old.
In remembrance of the incident, the State wildlife amputated the legs of the dead elephant and gave it to the State Museum for a story to be shared with all.
Image details: Mr. Amarjit Singh standing on the right, second row from top on the steam locomotive with his driver friends.
Prevented a serious accident   Mr. Sarjit Singh (Locomotive Driver)

Locomotive Driver Mr. Sarjit Singh s/o Kernail Singh Chahil was born on 2nd September 1945. He completed his secondary at St. John's Institution, Kuala Lumpur. He joined the Malayan Railways as a locomotive Assistant (Fireman) in 1965. After completing his training at the KTM training School he was transferred to Tumpat, Kelantan in 1971. He served as locomotive driver on the express train " Golden Blowpipe" from Tumpat to Kuala Lipis and other passenger train and goods trains from Tumpat to Sungai Golok via Kuala Krai & Gua Musang.
He received a commendation letter on 18th June 1994 for his efficiency & fast action by stopping his train immediately between Sg. Buloh and Kepong, preventing a serious accident.
In 1995 he was transferred to Kuala Lumpur and served between the Gemas to Singapore route and Ipoh to Butterworth route. He drove steam and diesel locomotives. He retired in the year 2000. His contract was extended from 2001 to 2002 as a locomotive adviser.
He was active in sports and represented Railways in Hockey and cricket.
He was a grade-one Malaysian Cricket Umpire. He was the umpire for the ACC, in UAE, He was also the umpire for the Arafura games in Darwin Australia.