I was introduced to Prof. Sukhmandar Singh in 2005 while I was participating in an International Conference on martyrdom of Guru Arjun Dev in San Jose University of California, organized by Prof. Atamjit Singh. Later on, I found him an alumnus of Mohindra College, Patiala , where I did my B.Sc. (1959-61) and he moved to Thapar College of Engineering and Technology to do his B.Sc. (Engg.). Sukhmandar has a brilliant academic record with a Masters in Civil Engineering from IIT, Delhi and a Doctorate from  The University of California at Berkeley (UCB).  After serving as a Senior Project Engineer in a top Consulting Company of San Francisco, he joined Santa Clara University (SCU) and currently holds the position of Professor of Civil, Environmental and Sustainable Engineering.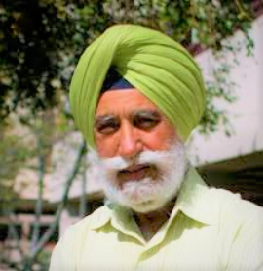 Endowed Professorships are created in names of generous donors or former professors—not typically for professors living and working at SCU. What is UNIQUE about Sukhmander Singhs  Endowed Professorship in Civil, Environmental, and Sustainable Engineering? It is the first Chair created for a Professor who is living and in active service of SCU. It is also the first Chair named after a Sikh Professor in any of the universities outside India. This is a big leap in the academic world by an eminent Sikh Scientist and the Sikh community must feel proud of his achievement. The opinions of his colleagues and students are worthy of mention to highlight his achievements: "It's extremely rare for a professor to be honored in this way, said Elaine Scott, dean of the School of Engineering. "It goes to show the impact of our profession on students can be very long lasting and profound."
"An endowed professorship is a tremendous validation of the quality of education our students are receiving,  said Ed Ryan, acting provost of Santa Clara University. "It will help ensure continuity of excellence in civil, environmental, and sustainable engineering course offerings for generations to come."
"I describe him as a ball of sunshine," said Vanessa De La Rosa, a junior civil engineering student and assistant to Singh. "He can really tell when students are going through a hard time, or when they are stressed out. He knows what they need to hear."  Sukhmandar Singh earned these accolades from both faculty and students because of his helpful attitude to solve their problems at a personal level. That unceasing care for his students by Singh—who teaches geology and geotechnical engineering—touched one family so much that they recently donated 3 million US Dollars to create this Endowed Professorship in his name.  The objective of this Chair has been defined as follows: "The professorship will be awarded to a Santa Clara educator who—like Singh—has distinguished themselves academically and exemplifies the highest ideals and values of a Jesuit education, among other qualifiers".
A peep into his early life and education is available from SCU website.  Sukhmandar Singh grew up in Kikkar Khera village in Abohar district of Punjab, near the border of Pakistan. He was six years old when India ended British crown rule, including the country's "partitioning" into two states—majority Muslim Pakistan and majority Hindu India—during a time of extreme sectarian violence. Singh's four brothers, his parents, his grandparents, and nine aunts and uncles and their kids all lived near one another. Members of the minority Sikh religion, the Singhs were farmers who expected their children and grandchildren to work in the fields growing wheat, cotton or lentils. Not long after the 1947 partition, the family feared for a time that their village would become part of Pakistan. So they freed all their animals and fled for several months before returning home to rebuild the family farming business. As a middle schooler, Singh rode five miles on horseback or bicycle to school, where he was taught by an instructor with no school building or supplies—and who used sand on the ground as an erasable chalkboard. "I had to grasp everything at school. There were no study groups when I got home," and no lights to help him read after his work in the fields, he recalls. "I gradually developed an intense focus. When I was in class, I was absorbing everything," he says.  Singh loved learning because it answered the many questions he had burning inside him, and appealed to his natural aptitude for science and math. He didn't think about giving up despite the obstacles, or the fact that none of his elders had any formal education. "My parents and my grandparents— they didn't have even a single day of education, so I was the first one," said Singh.
As a professor, he tries to encourage his students to find that same love of learning and focus within themselves, strongly believing that it can combat the stress and burnout afflicting so many students today. "No matter how far behind you are, no matter how careful or crazy your professor is— be focused," he tells students. "If you follow this, you will lead a less stressful life, number one. And number two, you will be surprised that learning will become a rewarding experience."
College and University Education
Growing up in a farming family, there were no plans for young Sukhmandar to go to college. But one day he and his older brother got on the wrong side of a violent neighbour. His parents decided it would be safer to send Sukhmandar 150 miles away to Mohindra College in Patiala to study architecture, which had always fascinated him. His tuition was paid by one of six scholarships available to rural students. With his academic focus and keen, inquisitive mind, he thrived in his F.Sc. (non-medical) studies at college.
From Mohindra College, Singh went to Thapar College for graduation in engineering and then to IIT Delhi for a master's degree. After a brief stint of teaching in IIT Delhi, he applied to pursue his doctoral studies at ten universities in North America. To this day, he remembers the schools that accepted him—including Harvard, UC Berkeley and University of Ottawa, which awarded him a scholarship—and those that did not, including Stanford and Ohio State. Married by then to his wife Charanjit, the couple arrived in Ottawa in the early 1970s knowing no one, and possessing only the maximum currency allowed—about $8 apiece. Their early years in America would be characterized by periods of deep financial uncertainty, including "times when we didn't know where our next groceries were going to come from", he recalls. After one year in Ottawa, Singh transferred to UC Berkeley, which had and continues to have one of the top civil engineering programs in the nation. After getting his Ph.D., he worked for 11 years on seismic and other projects including the Trans-Alaska Pipeline and the San Pablo Clearwell Dam, before feeling the pull of teaching. He landed at Santa Clara University in 1986, drawn in part by the University's proximity to many dams and other significant engineering projects to which he knew he could take his students for field trips.
Over 15 years, Singh served as chair of what were then engineering mechanics and civil engineering departments, and supervised their merger into the current civil, environmental and sustainable engineering department. He successfully helped raise funds for two new labs —structural end environmental—and expansion of the geotechnical and transportation engineering labs. "In structural engineering, we teach students how to build buildings and bridges," said Singh. "The students have to see and experiment."
Research Highlights and Awards
He has been teaching in SCU for 36 years of which 15 years as Chairman of the Department. He has been a visiting faculty, for short periods, for 10 years at Cambridge University, UK, publishing 10 collaborative papers with Cambridge. He has delivered invited lectures at Stanford, Berkeley, and Cambridge Universities. Professor Singh is recipient of some noteworthy awards: Researcher of the Year, Endowed Chair Award for Academic achievements, President's Special Recognition Award for Teaching, Research and Service; Chairmanship of sessions at International Conferences; Lifetime Achievement Award from American Society of Civil Engineering's San Jose Chapter. He is one of the top researchers in the fields of Liquefaction of Silty soils, Landfill Stability of Solid Waste Landfills. He has been an Editor of a Landmark book from American Society of Civil Engineering as Memorial to the top Engineer in the Earth Dam Designs, and Co-editor of another book. He has published 118 research papers in reputed journals and refereed conferences.
Other Concerns
As a devout follower of Sikhism at a Jesuit university, Singh has written for Ignatian publications about why he feels so at home at Santa Clara. He has often cited the two faiths' shared focus on social justice, religious and cultural diversity, and how both Jesuits and Sikhs seek God in all things. "My whole person has been welcomed here," he wrote in one article. In 2002, Singh ran for Congress for the then-newly redrawn 18th Congressional District in Modesto, with a slogan of "Restoring Values to the Valley."  Although unsuccessful, his
candidacy was seen as projecting a positive image for Sikh Americans and calling attention to the needs of the Sikh community in Modesto, where he previously lived. Singh remains fit and active even into his eighth decade— walking 45 minutes every day along the Mission Peak Trail near his current home in Fremont, which he designed. He will begin phased retirement next year. He says, "I'm here in SCU to help our students realize their potential. That's the most important thing". Prof Sukhmandar Singh, while living in the USA, has his heart and soul in his native Punjab. In his book, "Walking with the SIKHS of Today", he has elaborated his concerns about the crisis situation in Punjab and offered some remedies. The issues under discussion are lack of employment for the Punjabi youth; consumption of liquor and other drugs; growth of vulgarity in the entertainment industry; falling levels of underground water table and desertification of Punjab; and failure of Punjab Agricultural University (PAU) to find solution to Punjab crisis. He is also concerned about state of affairs in Sikhi, Sikh identity and related issues. He laments: "The Sikhs have focused more on worshipping Guru Granth Sahib than following its message. The Sikhs are fundamentally flawed, in certain aspects, in understanding the Sikh philosophy/doctrine as enshrined in Guru Granth Sahib and thus have betrayed their own Guru." As President of Sikh Council of North America in the service of Sikh community, he prepared a pamphlet as an introduction to Sikhs and their religion and a brief history of their migration to North America.
I appreciate his concern about achieving excellence in the education of the Sikh community. He has narrated success stories and cited examples from Jewish and Hindu communities for sake of comparison. He suggests the creation of an Education Fund for  the promotion of Education and Research among the Sikh community. He is highly critical of spending huge funds for religious celebrations but ignoring fields of Education & Technology.  His views may look somewhat radical but they are in keeping with the Sikhi spirit. Sukhmandar Singh is not only an ambassador of Sikhi in USA but also a role model for Sikh youth. He imbibes the spirit of liberal America in his life and work. I wish him success in his mission to promote Sikhi values at global level and to create an infrastructure for development of STEM (Science, Technology, Engineering, Mathematics) education in Punjab.
Watch Sukhmandar Singh on youtube: https://youtu.be/AKgbl-OCnu8