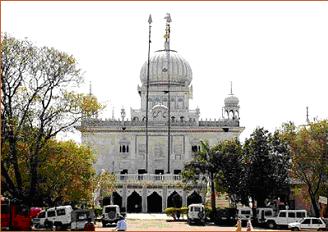 Dedicated to the 300 year celebrations of Sri Guru Granth Sahib, the Path-Bodh (recitation and understanding) of Sri Dasam Granth Sahib was organized by Damdami Taksal, under the guises of Sant Baba Harnam Singh, head of Damdami Taksal. The samagam took place between 22nd September and  26th  October 2008 at Gurudwara Mata Sahib Deva Ji in Hazur Sahib. More than 300 students most of them young participated in the Path-Bodh samagam. Sri Dasam Granth path was undertaken by the Damdami Taksal under the guidance of Giani Inderjit Singh.

The area around Hazur Sahib including the Takht has constant recitations of both Sri Guru Granth Sahib and Sri Dasam Granth in many of the Gurudwaras there.

The final samagam was attended by many Jathebandis of the Sikhs and the Jathedars of the Takhts. The Ardas was undertaken by Giani Iqbal Singh of Takht Patna Sahib and Hukumnama was taken by Giani Gurbachan Singh, Akal Takht Jathedar. Panth renowned ragi jatha of Bhai Amrik Singh Zakhmi performed the keertan on this occasion.
In attendance were various Nihang Jathebandis, SGPC, AISSF (Mehta), Nirmalas, Damdami Taksal, Nanaksar and Rara Sahib Samprayadas and various Sikh scholars.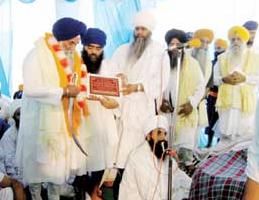 Baba Harnam Singh, Chief Damdami Taksal honoring Giani Gurbachan Singh, Jathedar Sri Akal Takhat Sahib, at Hazur Sahib
There were various speeches and the main theme was that some Sikhs were creating unnecessary controversies in the panth. The Sri Dasam Granth was an important scripture to the Sikhs and that the troublemakers would not be allowed to create confusion among the Sikhs.

The Akal Takht Jathedar, Giani Gurbachan Singh commented on the relationship of Sri Guru Granth Sahib and the Sri Dasam Granth, "Puritan Rehatnamas state that the Dasam Granth and the Guru Granth Sahib should be read together". He praised the Damadami Taksal for showing strength in resolving Sikh matters especially as they take their lineage from Shaheed Baba Deep Singh.

The Jathedar of Takht Hazur Sahib, Giani Kulwant Singh stated the grounds of Hazur Sahib were sacred and that by giving Gur-ta Gaddi to the Sri Guru Granth Sahib at this place, Guru Gobind Singh Sahib gave a new direction to the humanity by denouncing the deh-dhari Guru parmapara. Hence all living Gurus were ended at this time.
He congratulated Baba Harman Singh for organizing the event and stated that various panthic Jathebandis who do the Santhia of Guru Granth Sahib should also undertake the Santhia of Sri Dasam Granth. The Jathedar of Takht Patna Sahib, Giani Iqbal Singh stated, "Dasam Granth trouble makers are trying to tarnish the name of the Dasam Granth", he continued "Takht Patna Sahib was the flag bearer of ensuring that Sri Dasam Granth was respected and protected".

Chairman of Takhat Hazoor Sahib Board, Dr. PS Pasricha stated that the example of Sarbat-da-bhala which Sikh Gurus provided is unmatched in the whole world.Renowned kathavachak Giani Pinderpal Singh said that what we say and do should be the same and that all the Sikh panth should be one with the Guru, if not then our minds will not be clean.

SGPC member Rajinder Singh Mehta stated that Sikh troublemakers cannot upset the Sikh Panth as Sri Guru Gobind Singh had built the foundations of the Khalsa Panth and these will not be allowed to falter.

Bhai Amarjit Singh Chawla stated that the Damdami Taksal was always instrumental in stopping the troublemakers of the panth. He continued by saying that the right way to celebrate the Sikh occasions was the Puritan way and all the controversies surrounding Nanakshai Calendar should be dealt with.

Dr. Anurag Singh Director of the Sikh Research Board said that it is because of our own weaknesses that anti-Panthic forces have increased their attacks on the Sikh principles.

Baba Balwinder Singh Kurali of Nanaksar Samprayada stated that if Sant Jarnail Singh Bhinderwale were here then these troublemakers would not have been able to start these issues.
 
(Original story written by Harvinder Singh Khalsa, Ajit Newspaper)