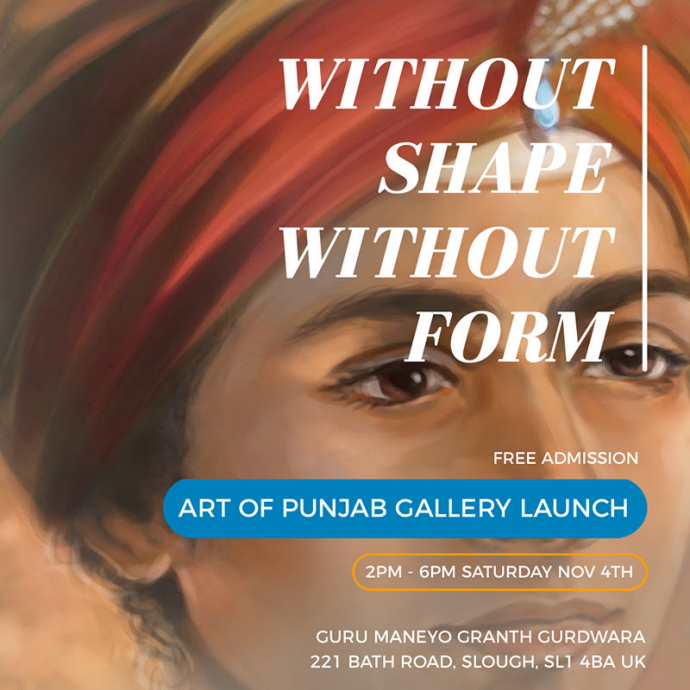 WITHOUT SHAPE WITHOUT FORM
ART OF PUNJAB - SLOUGH, UK EXHIBITION
(FREE ADMISSION)
Join artist Kanwar Singh for the Grand Opening of the exciting new Art of Punjab Gallery showcasing a complete collection of his iconic Sikh history paintings, presented on an unprecedented scale. This permanent Gallery, a joint effort between the artist and Slough's Guru Maneyo Granth Gurdwara, will open its doors as we celebrate Guru Nanak Dev ji's Gurpurab on Nov 4th, 2017.
The highlight of this event will be the unveiling of an exciting new collection of paintings by Kanwar Singh, created exclusively for the launch. Kanwar Singh will be in attendance for the duration of the event and speaking about his ten year journey as an artist focused solely on the Sikh story.
Click here for Registration and Details.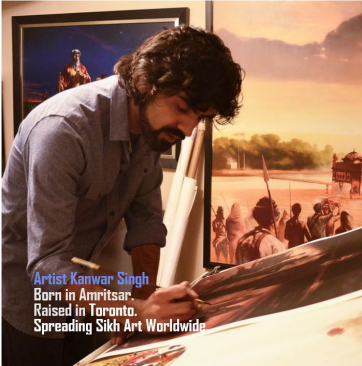 "My goal from the very start was to envision and spread awareness of this great Sikh historical narrative which offers each of us so much inspiration in our daily lives. I am so grateful to the volunteers at the Guru Maneyo Grath Gurdwara for elevating a decades worth of my creative outpouring to the kind of platform I always envisioned. These paintings are meant to be viewed as a timeline of Sikh history and viewed on a grand scale, where the long hours dedicated to recreating fine details in each piece can be fully appreciated. - Kanwar Singh, (artofpunjab)
This initiative will elevate a decades worth of my creative outpouring to the kind of platform I have always envisioned. Each painting will be presented on a grand scale as part of a meticulously crafted historical timeline to educate on the lives of the Sikh Gurus and great panthic heroes. The gallery hopes to be a place of creativity and inspiration for years to come.
- Kanwar Singh, Artist
Event Itinerary:
2:00pm - Exhibition Opening
2:30-5pm - Children's Art Activities & Workshops
3:00pm - Talk by the Artist, Kanwar Singh (artofpunjab)


For More Info: artofpunjab.com
[email protected]