SIKHS TIE TURBANS TO BOY SCOUTS OF AMERICA AT SCOUTJAM2016 IN LAKE COUNTY ILLINOIS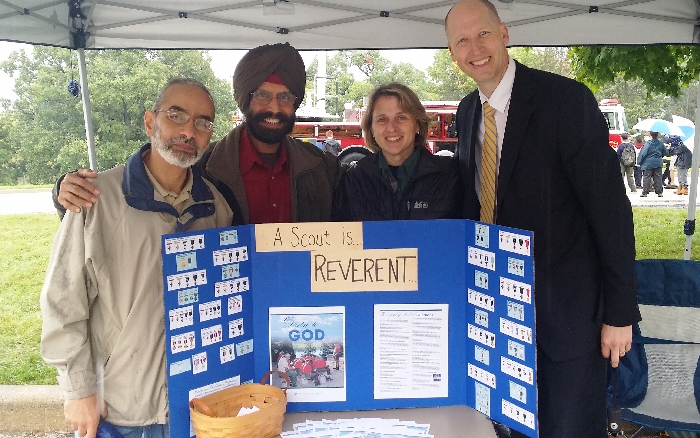 Mon, Oct 3, 2016 - Wauconda, IL: Sikh Religious Society Palatine, Illinois, participated in the Northeast Illinois Council's ScoutJam2016 wide world of scouting event, at Lakewood Forest Preserve in Wauconda Illinois, on Saturday October 1, 2016. More than 1100 boy scouts, leaders and parents attended this camp which ran from September 30 to October 2, 2016.
http://www.neic.org/Events/ScoutJam2016
The Sikhs were part of an interfaith Religious Relationships tent that aims to create partnerships with and awareness about religious diversity and to teach respect for each other to strengthen bonds of scouting. There are Sikh religious badges that scouts can earn as well.
Rajinder Singh Mago coordinated the Sikh participation with the help of about a dozen dedicated volunteers.
There were many fun activities at the camp like canoeing, sailing, biking, archery, kayaking, fishing, wall climbing, scuba diving, rope bridge crossing etc. There were also exhibits and displays including Fire Trucks operation, K-9 Patrol Demonstrations and the interfaith tent where Sikh American volunteers had setup their booth.
Most popular activity under the Sikh tent turned out to be turban tying where there were long lines of scouts waiting to get a turban fixed on their head. About 200 turbans were tied and given away for free before they ran out of the turban fabric, disappointing many waiting in line.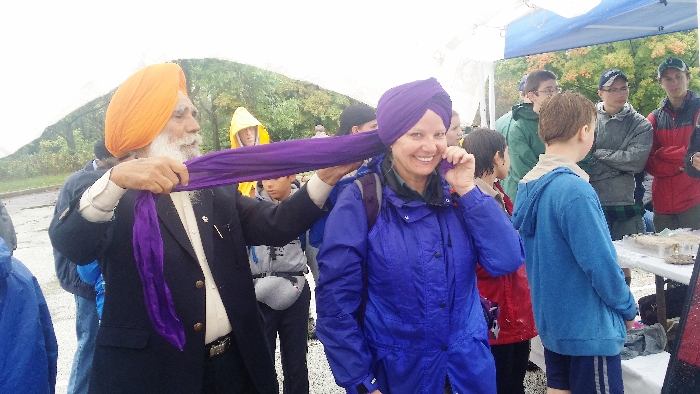 The scouts wore their colorful turbans most of the day during their camping activities.
"The Sikh booth was the busiest with visitors, and turban tying activity was a big hit," said Tom Nagelhout the interfaith tent coordinator.
"Participation in this event provided invaluable exposure to hundreds of local young Americans about Sikhs who usually are mistaken due to their beards and turbans. How can someone who has donned a turban for whole day will ever forget who the Sikhs are," said Rajinder Singh Mago the coordinator of the Sikh booth under the interfaith tent.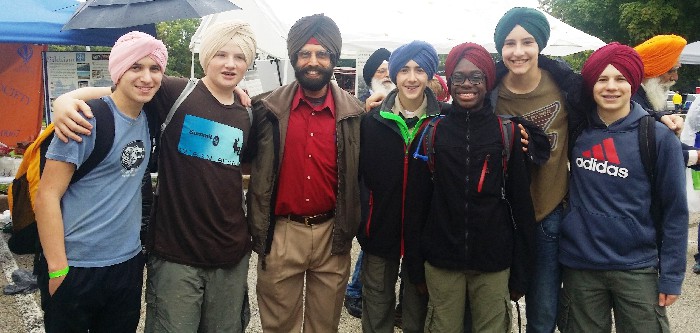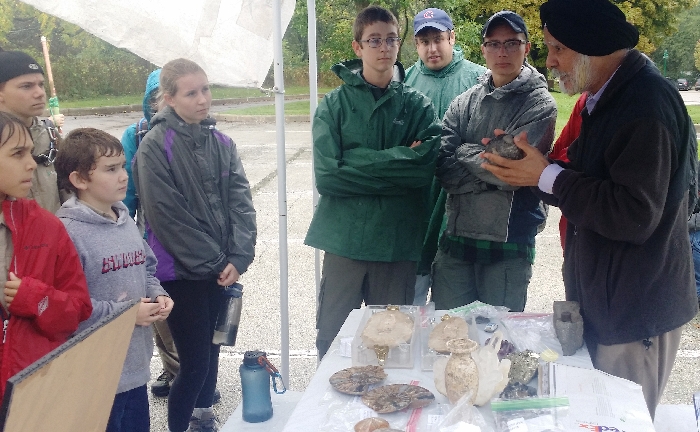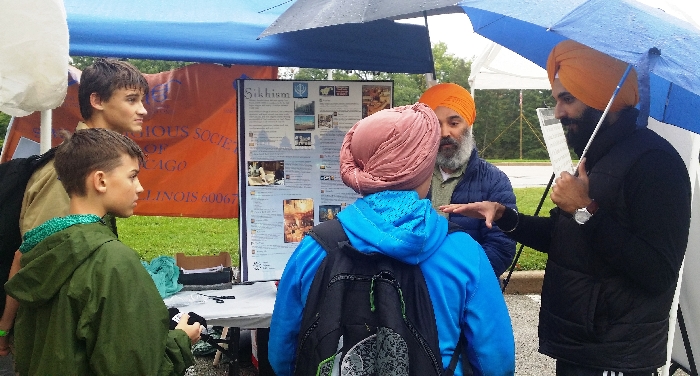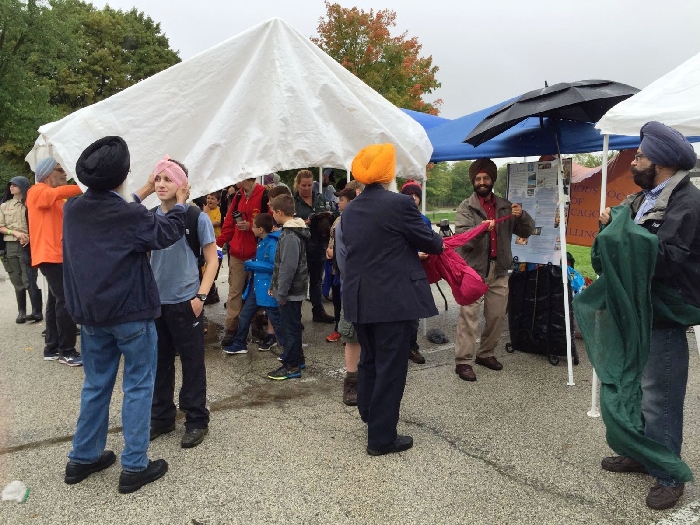 History of Sikh Soldier's contribution to World Wars 1 & 2 was displayed through posters by Sarwan Singh Raju. Basic information about who are the Sikhs, was disseminated to the campers by Gaurav Singh and Parminder Singh Mann. Dr. Hardarshan Singh Valia setup a display of "Mother Earth" exhibit explaining the ecosystem and how the earth and minerals are formed and timed. Iqbal Singh Chopra, Surinder Pal Singh Kalra, Khushpal Singh Sodhi, Prempal Singh, Lal Singh, Karamjit Kaur, Gursher Singh, Gurlal Singh, Irwinpreet Singh Bagri, and Mat Singh Dhillon helped out with the turban tying.
Sikh prayer hymns were also sung at the after dinner prayer assembly by the Sikh youth group Harnoor Kaur, Jasleen Kaur, Gurleen Kaur and Harjot Singh coordinated by Jaswant Singh.
Despite rain showers and continual drizzling all day the spirits of the boy scout campers and the volunteers were not dampened.
@gmail.com>