"On 31st of July , recently during the warriors day celebrations , the bugles and the tramp of marching feet, spoke again of a tragic June morning, 74 years ago. 
Sad echoes were reawakened in many hearts. - In imagination, mothers and fathers, wives ,siblings and children went back to those grim days when the Malayan Emergency started. 
Scarlet poppies and wreaths also will remind them of their loved ones who fought gallantly for a dream, still unrealised".
Malaysia will celebrate its 65th National day this August, 31st. It is the time of the year when Malaysians show their appreciation for yet another year of harmony among the people, and are reminded of their country's struggle for independence. 
This national event helps to educate the public, especially the younger generation, about the importance of racial tolerance, unity and cooperation so that the country can continue to enjoy prosperity, development and harmony.
The blood spilled by all security forces, whether military or police that rallied to defend their beloved homeland (then called Malaya) against the communist terrorists during the Malayan Emergency and other threats before and after our country's independence will never be forgotten. 
We must be gratitude to those who died defending the country's sovereignty so that we could live in freedom.
We can never thank them enough for what they have done for us, but we can at least take a moment and remember these brave hearts and their esteemed contribution towards the country's tranquility. 
Many Sikhs  fought and died for the freedom of Malaya (now Malaysia) too. There are scores of men whose tales and experiences provide unsurpassed examples of the courage. Below are stories and instances that proved the intrepidity of these brave hearted Sikh Policemen .
Inspector Kartar Singh I/530 was killed on 12th July 1949 at Rawang. Photo courtesy of Dr. Manjit Singh.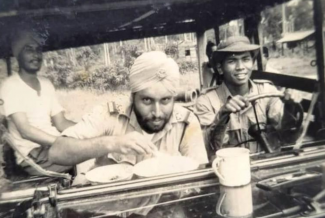 Inspector Kartar Singh  is among the many Sikh policemen who served in the Police force to keep the peace and enforced the law in Malaya .He was born in 1919, in Mehna Village, District Ludhiana, Punjab. His father migrated to British Malaya in the 1920's. Kartar Singh studied at the King George the V school, Seremban and passed the Junior Cambridge in 1938. 
He joined the Malayan Police force as a constable in July 1938 and later promoted to an Inspector. On 12th July 1949, Inspector Kartar Singh   was leading his jungle squad up a hill on a Estate a few miles North of Rawang (Selangor). They were ambushed by a band of communist terrorist from a very close range who outnumbered them by about seven to one. Outgunned and surrounded he and his men put up a brave fight against the raiders and refused to surrender. 
During the intense firefight, Inspector Kartar Singh No. I/530,  1st class L/Cpl. Tara Singh  aged 30, P/C Mehar Singh  aged 23, P/C Mukand Singh  aged 23, P/C Ajaib Singh  aged 24 & P/C Mahinder Singh aged 25 were  killed in the ambush. Another  P/C Nand Singh who was wounded, escaped to call for back up. He survived to tell the tale.
Like Inspector Kartar Singh, many other Sikh policemen have died defending the country's sovereignty. Another P/C 8656 Dalip Singh was killed by the communist terrorist at Batu Pahat, Johore, while on duty on October 4th 1950. On March 12, 1951, P/C 3556 Gurdial Singh s/o Hira Singh was killed by the communist terrorist at Jalong, Sungai Siput (N), Perak while on duty. 
On 20th December 1951, L/Cpl Rattan Singh was killed in a grenade attack at Kuala Kubu Bahru, Selangor. On September 30th ,1954, approximately at 8.45 am. Insp. PI/2063 Ujagar Singh s/o Sundar Singh who was leading a platoon of 15  men on 4 boats and was ambushed by a band communist terrorist at Tasik Bera. Pahang. He was killed in the attack.
The records below, are of those Sikh Policemen who died while on duty from 1939 till 1960.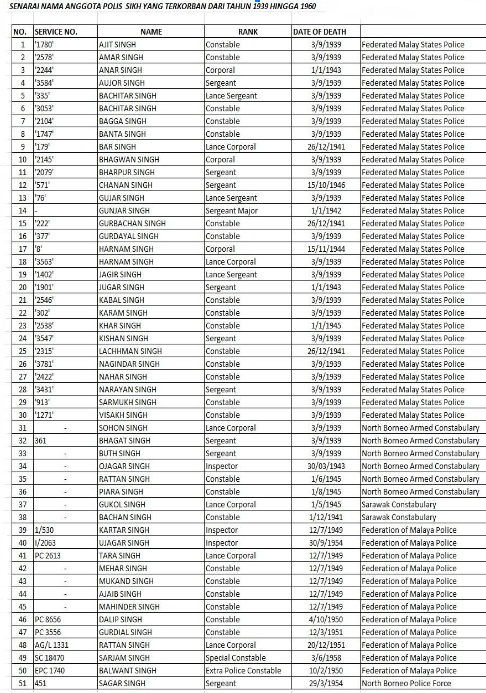 A communist red flag bearing an insignia of yellow hammer ,sickle and a star was spotted  fluttering from the trees on Penang Hill by a police patrol unit in the 50's. They reported the matter to the base. Chief Inspector Lall Singh s/o Sewa Singh were assigned to bring down the flag. 
Chief Inspector Lall Singh gathered few of his men and went atop the hill, carefully combing the jungle searching for any elements of ambush. He and his men reached to the location. Sensing something was not right, he noticed the red flag was attached to a crude booby trap. 
Immediately , he radioed the headquarters summoning  for the bomb disposable unit to diffuse the explosive.  The red flag was brought down without any incident.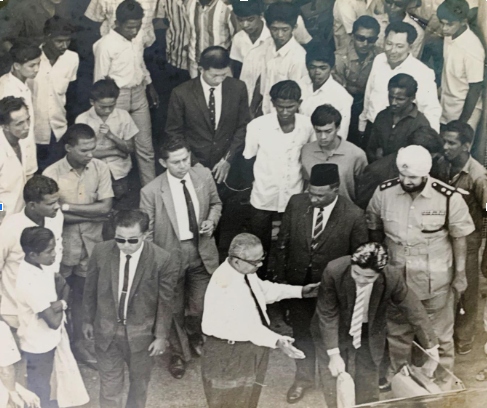 CHIEF INSPECTOR LALL SINGH WAS THE CHIEF SECURITY OFFICER TO THE LATE PRIME MINISTER, TUNKU ABDUL RAHMAN DURING HIS JOURNEYS IN PENANG. PHOTO COURTESY OF DR. BALBIR SINGH 
 He has also contributed into safe guarding the public and providing them with needed essentials during the may 13 riots in Penang. He served with the Police force for more than 36 years and he retired in 1973.
Sikh Policemen have exhibited courage on every field and shown unflinching devotion to duty in the face of daunting odds. They fought with unquestioning valour and loyalty, winning some of the highest  awards for gallantry while engaging the enemy.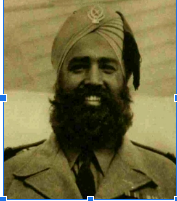 On the night of June 22nd, 1950 A party of four policemen under the command of Lance Corporal Jagir Singh left from the New Town Police Station, Ipoh to proceed on a mobile patrol on the Pasir Puteh Road, Ipoh. The police party was ambushed by a band of communists, while travelling along Pasir Puteh Road . 
During the first burst of fire , the driver of the Police jeep was killed instantly. Jagir Singh and one other constable were wounded subsequently. His sten gun jammed after firing a few bursts , but he continued the battle with the rifle of the wounded constable.
Jagir Singh discovered that their police jeep was at a halt because its petrol tank had been punctured by a shell. Jagir Singh ran back along the road for about half a mile and telephoned to Ipoh for assistance .He returned to the scene of the ambush immediately without waiting for the relief party and continued fighting.
Although wounded, Jagir Singh displayed greatest courage and initiative and rallied the remaining personnel to fight back though outnumbered by the enemy. 
Lance Corporal Jagir Singh No.5193  s/o Kopor Singh of the Federation of Malaya Police force were awarded the Colonial Police Medal for Gallantry.
On the Eve of Christmas, 1950, Lance Corporal Gurdial Singh  led ten special constables from the jungle squad unit on an exhausting trek to conduct a routine patrols near a gold mine in Raub, Pahang. After trekking in dense jungle, Lance Corporal Gurdial Singh and his men arrived near the electric power lines facing the Australian gold mine. He observed a party of about hundred armedmen dressed exactly the same of the Gurkha unit, moving towards his position of ambush. men dressed exactly the same of the Gurkha unit, moving towards his position of ambush. 
Lance Corporal  Gurdial Singh suspected the approaching force were communist terrorist  and were able to position himself on a favourable location positioning himself from one team to another to coordinate the attack. Undaunted by these overwhelming odds, he decided to attack.
Though outnumbered by the enemy, he handled a difficult and dangerous situation by exposing himself repeatedly to danger in order to inspire his men with such skill, courage and determination that a force ten times larger as his own was withdrawn without inflicting any injuries to his small opposing squad. 
The leadership and fortitude of the jungle squad leader L/Cpl Gurdial Singh  proved pivotal as he kept the men fighting against overwhelming odds. Lance Corporal Gurdial Singh No.3442 of the Federation of Malaya Police Force were awarded the Colonial Police Medal for Gallantry.
On March 29, 1954 ,a brave little band of six police men lead by OCS Sergeant Sagar Singh made a heroic stand against overwhelming odds holding the band of pirates from the Sulu Sea off for several hours and how they attempted to prevent the pirates from looting the small town of Semporna, Sabah but they were hopelessly outnumbered and outgunned. They chose to preserve their honor rather than surrender. They continued to fight bravely until one by one of  his men were killed. They were running low on ammunition. Sergeant Sagar Singh rushed to the armoury to get the ammunition supply, In the final hours of the fierce battle, Sergeant Sagar Singh was shot while he was getting the ammunition supply and he collapsed . By the time, the pirates had breached into the police station.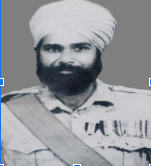 A little while later, he gain consciousness , although wounded  he got up to reach the ammunition supply and the pirate saw him and he took his "barong"  and slashed him on the stomach repeatedly.  Although he succumbed to gunshot wound & slash wound later, the brave heart showed exceptional devotion to duty and exemplary leadership by making the supreme sacrifice.
Sergeant Sagar Singh s/o Santar Singh , No. 451was awarded  the Colonial Police Medal for Gallantry, posthumously.
These deeds show undoubted bravery of the highest order and praiseworthy ,self sacrifice and devotion to duty. They displayed personal courage in circumstances of great danger.
COLONIAL POLICE MEDAL RECIPIENTS (SIKHS) FEDERATION OF MALAYA POLICE FORCE, SARAWAK POLICE FORCE & NORTH BORNEO POLICE FORCE 1946-1960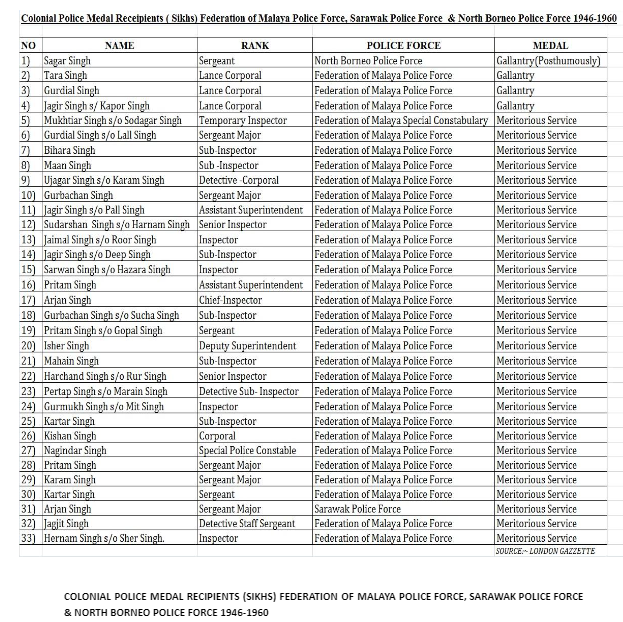 These and many more contributions by these small but very distinguished community must not be forgotten and we must be grateful for their contributions and sacrifices.
Words can never describe the valour and dedication of our policemen. Their bravery, service and spirit of sacrifice will always inspire us. Their blood and sweat are the primary reasons we live in peace today. We salute all the brave martyrs who sacrificed their lives, putting service above themselves.
"Our nation declared its independence in order for our Keluarga Malaysia to live free – not just for one generation but for future generations".
Harchand Singh Bedi
Would you like to get the SikhNet summary delivered to your inbox every Friday? If so subscribe to the news (HERE).  If you'd like to contribute an original article, please read our editorial guidelines and email us at: [email protected].