THE first Sikhs who arrived in the Malay states in the 19th century were largely recruited by British officers who had worked in India.
"The British favoured Sikhs as they were regarded as brave and highly-disciplined. Locals were intimidated by their physical appearance,'' notes Royal Malaysia Police Museum director Supt Syed Zainal Abidin Syed Zin.
Author Kernial Singh Sandhu in the book Indians in Malaya: Immigration and Settlement (1786-1957) writes that recruits from Punjab and the Northwest Frontier were preferred.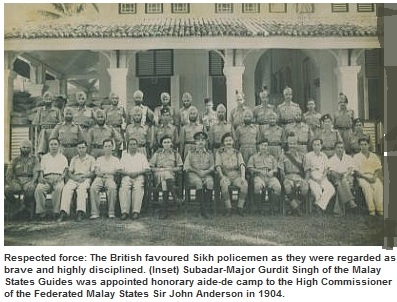 Suited for security
"They were sufficiently mobile and poor and were quite prepared to migrate and work for three to five years for such low wages as $9 to $15 per month. Being wholly reliable, fairly incorruptible, conscientious and generally quick to learn, they were considered suitable for all branches of the security services, but especially so for armed police work or for military or para-military duties.''
Capt Charles Speedy, who served in India, personally recruited about 100 Sikhs, Pathans and Punjabi Muslims to restore order among Chinese secret societies battling for control of the tin mines in Larut, Perak, in 1873. The British later recruited more Sikhs in the 1880s for similar purposes in Jelebu and Sungai Ujong.
In early 1877, the Perak Armed Police (PAP) was formed in Taiping. Lieutenant Paul Swinburne, who could speak Hindi and Malay, was its first police commissioner.
Sikhs, numbering about 300, made up a majority of the members. In 1895, Sikhs numbered 774 compared to 220 Malays.
On May 15, 1884, PAP's name was changed to the First Battalion Perak Sikhs (FBPS). The commissioner was now called a commandant, and the battalion had infantry and artillery divisions. The ratio of Sikhs to non-Sikhs was 3:1.
In 1892, the FBPS managed to put down uprisings in Pahang led by Datuk Bahaman, Tok Gajah and Mat Kilau.
In 1896, Col R.S.F. Walker established the Malay States Guides (MSG) as a military regiment to put down disturbances in Perak, Selangor, Pahang and Negri Sembilan. Sikhs formed the majority in the MSG which had its headquarters in Taiping, Perak.
"As a paramilitary force, the MSG's powers were wider. They were dispatched to various trouble spots in the Malay states to maintain law and order,'' said Supt Syed Zainal Abidin.
In 1915, the MSG also helped to put down an uprising in Kelantan, led by Tok Janggut. Later in the same year, about 700 officers and men from the MSG were sent to Aden to fight the Turks during World War I. This was the first time security forces from British Malaya were sent to serve overseas.
Location of gurdwaras
In 1919, the MSG was dissolved and some personnel absorbed into the Federated Malay States (FMS) Police.
According to author of Sikh Gurdwaras in Malaysia and Singapore, Saran Singh Sidhu, the establishment of gurdwaras (Sikh temples) was inextricably linked with the presence of Sikh policemen.
"The first gurdwaras were established by Sikh policemen in their barrack compounds. For example, the Gurdwara Sahib in Fort Cornwallis, Penang was built in 1881,'' he notes. This gurdwara was later relocated to Jalan Patani in 1927. The first Sikh place of worship in Kuala Lumpur was the Gurdwara Sahib Polis Parliament, built in 1890.
"Gurdwara Sahib Pulapol, formerly known as Gurdwara Sahib Police Depot, still stands within the police training centre in Jalan Semarak, occupying an area of 17,000sq ft," says Saran.
Notes Supt Syed Zainal Abidin: "The Sikhs had proved themselves not only in Malaya and India but other British territories such as Hong Kong and Burma. Similarly, they dominated the security forces in Malaya from the 1870s right up to World War Two."
The British had great trust in the abilities, contributions and high commitment of Sikhs when carrying out their duties.
The bravery of Sikhs is reflected by the fact that of the 232 names of the nation's heroes on the National Monument (Tugu Negara), 33 are Sikh.
Today, Sikhs make up less than 0.3% of the total staff strength of the Royal Malaysia Police. Given their numbers in Malaysia, it is not possible for Sikhs to have the influence they once had. We can only recognise their role as nation-builders and remember their contributions.
Note: An article written by Dr Sarjit Singh Gill of Universiti Putra Malaysia is gratefully acknowledged here.