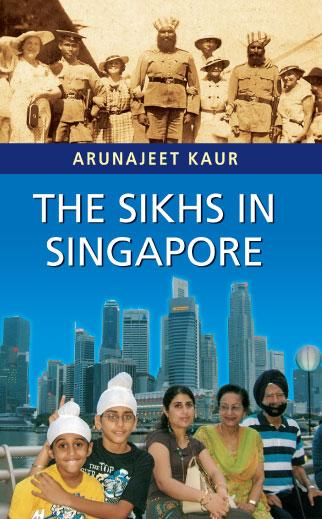 The Sikhs in Singapore attempts to understand the arrival, settlement, and subsequent assimilation of Sikhs into the multi-racial society of Singapore. It traces the story of the Sikh experience in Singapore from their arrival in the colonial Straits Settlements through to their recognition as a 'model minority' in the post independence republic.

This multi-disciplinary narrative begins by exploring primary historical documents and continues with an ethnographic stance in describing the contemporary issues facing the Sikh community. In this approach the author presents a narrative that spans over a hundred years in an attempt to understand the changes and developments of the Singaporean Sikh community.


 "The first detailed book about the Sikh community in Singapore ...a history of the Sikh community in Singapore, beginning with the earliest uncertain evidence of a Sikh presence on the island and proceeding through the British Colonial era and the Japanese Occupation to the challenges of Sikh identity in independent Singapore. The author's argument, in the broadest terms, is that British colonialism tended to reinforce the distinctive strict Khalsa model of Sikh identity on the island and that subsequent developments have eroded this identity in favour of a less distinctive, less demarcated Sikh identity. Despite these pressures, a Sikh identity - albeit a more diverse and diffuse one - continues to survive in modern Singapore, partly because of enhanced lines of communication with the Sikh homeland in the Punjab. This is the story that needs to be told and Ms Kaur offers the story in an intelligent and articulate form"
Robert Cribb
Professor, Pacific and Asian History
Australian Nnational University
Arunajeet Kaur is currently a PhD candidate with the Australian National University. She was previously a Visiting Research Fellow at the Institute of Southeast Asian Studies  Singapore (2006-2008). She has recently published her first monograph, Sikhs in the Policing of British Malaya and Straits Settlements (1874-1957) (Saarbrucken: VDM Verlag Dr Muller, 2009) and is currently co-authoring a book with Dr Faizal Yahya on the Migration of Indian Human Capital: The Ebb and Flow of Indian professionals in Southeast Asia ( Routledge Studies in the Growth Economies of Asia, 2010.) She has spent the last fifteen years studying Sikh communities in Southeast Asia. Her other research interests include migration and diaspora studies particularly on Indian communities in Southeast Asia.