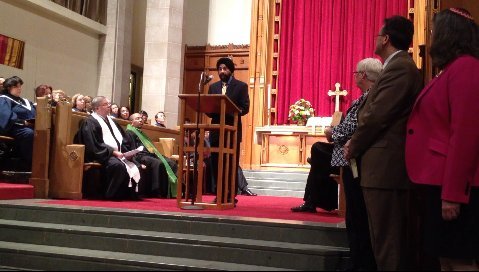 Washington, January 26, 2012: Ravi Singh, a member of the Guru Gobind Singh Foundation (GGSF), representing the Sikh faith, joined the representatives of various faiths in paying tributes to Martin Luther King. The InterFaith Conference of Metropolitan Washington (IFC) brought together region's only multi-religious service for Dr. King's birthday on Sunday, January 8, 2012. The service was conducted at the First Baptist Church of the City of Washington, D.C.
The theme for this year's celebration was "What Is Dr. King's Dream for Us Today … and , Senior Pastor at the Tomorrow".
The program included Welcome note by Rev. Dr. Jeffrey Haggaray, Senior Pastor at the church. The opening prayer was read by Rev. Dr. Derrick Harkins, Senior Pastor at the Nineteenth St. Baptist Chruch. The Statement of Purpose was read by Ms. Andra Baylus, member of Dr. M.L.King, Jr. IFC planning committee. This was followed by musical selections by The World Children's Choir.
Rev Leslie Copeland-Tune, DC Baptist Convention then led a Responsive Reading from "A Letter from the Birmingham Jail" written by Dr. Martin Luther King, Jr. which was very moving as the entire audience stood up and read it along with the Rev Leslie Copeland-Tune.
This was followed by Reading from several diverse faith traditions on the theme of the celebration. A total of nine faiths took part in this reading, including Baha'i, Buddhist, Hindu, Islamic, Jewish, Later Day Saints ( Mormons), Protestant, Roman Catholic, and Sikh religion.
Ravi Singh, president of a healthcare IT Company and coordinator of special projects at GGSF, did the following reading along with its English translation from Anand Sahib, a bani written by the third Sikh Guru, Guru Amar Dass ji.
Bhagtan ki chal nirali
The lifestyle of as devotee of God is unique and distinct.
chal nirali bhagtan keri bikham marg chalana.
They follow the most difficult path.
lab lobh ahankaar taj tarisnaa bahut naahee bolnaa.
They renounce greed, avarice, egotism and desire; they do not talk too much.
khanni-ahu tikhee vaalahu nikee ayt maarag jaanaa. The path they take is sharper than a two-edged sword, and finer than a hair.
He further added, " O WaheGuru ( the Sikh name for God) we, your children of diverse faiths and colors, come here together to honor and celebrate Rev Martin Luther King Jr 's birthday and seek your blessings. Please grant us the wisdom to follow the road map of peace, non-violence and brotherly love drawn by Dr. King ".
Ravi Singh said, "it was a very proud moment to stand in front of entire audience of diverse faiths and deliver the message from Guru Granth Sahib that resonated so well with the theme for the occasion."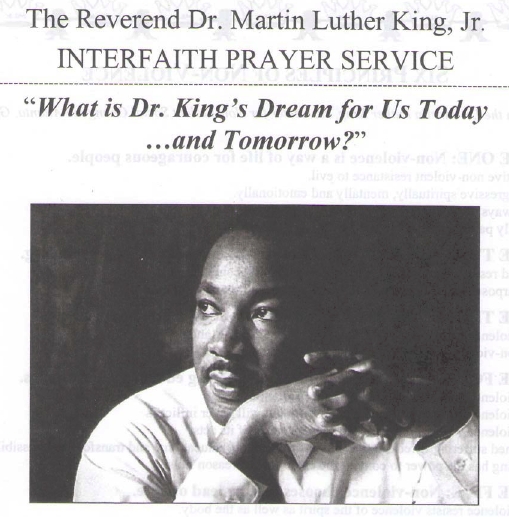 The Interfaith Conference reminds us again and again that in this changing world there is so much need for understanding between diverse faiths and for all of us to come together for a common understanding and goodwill. There is indeed unity in diversity and it is so important for our community to be constantly and consistently involved in these interfaith activities so that Sikh faith is well represented and we have recognition in the main stream American culture and society. "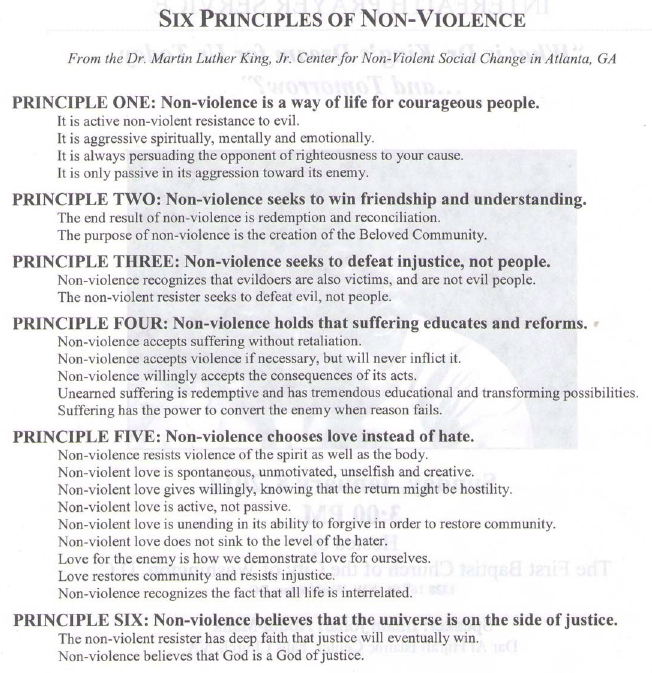 Dr. Rajwant Singh, First Vice-President of the IFC and secretary of GGSF, said, "As Americans we are indebted to Martin Luther King for paving a way for so many people to feel at home in America. It is due to his sacrifice that so many of us, the people of color, are enjoying the full rights as citizens of this country."