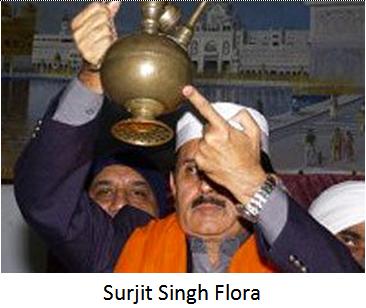 During the past weekend, Gurdwara Sikh Spiritual Center held a special ceremony for the Sikh congregation of GTA to have a glimpse of "Ganga Sagar ", a great memorial of our reverend Tenth Master of Sikhs, Kalgidhar Pathshah Sri Guru Gobind Singh Jee Maharaj. Rai Azizullah Khan shared the History of Ganga Sagar at this religious congregation. He said in 1704 Guru Gobind Singh Ji proceeded to Machiwara after abandoning Anandpur Sahib on the advice of the Sikh Leaders.

During those days kashmiri rajas for whom Sri Guru Teg Bahadur gave His life refused to offer help to Guru Sahib due to the fear of death as Aurangzed issued an Islamic edict for the life of the Guru Sahib, Sikhs and Guru's family.
 
Two Muslims who had so much faith in Guru Sahibs, named Navi Khan and Gani Khan, helped Guru Sahib along with some prominent Siks to take Guru Sahib out of Machiwara in the disguise of "Uch Dae Peer".
 
Thus Guru Sahib reached Raikot state , Sri Guru Gobind Singh Jee saw a person, by the name of Noora Mahi grazing the buffaloes. On seeing Guru Sahib, he came close and bowed to the holy feet of Guru Sahib and asked what he could do for the Holy Saint. Guru Sahib asked him, if he could bring some water. He replied that sorry, there was no water to be had here.
 

Then Guru Sahib asked Noora Mahi to get some milk for drinking. Noora Mahi respectfully replied that he had already milked the buffaloes at home. On hearing this, Guru Sahib handed Ganga Sagar (a vessel) having 288 holes to Noora Mahi, and pointing towards a non-milking buffalo, asked him to milk this one.
 
Following Guru Sahib's instruction Noora sat under that particular non-milking buffalo and to his astonishment found that buffalo was ready for milking. Noora was amazed by this wonder of a non-milking buffalo giving milk and not even a single drop of milk spilled out from Ganga Sagar.
 
Noora presented the Ganga Sagar to Guru Sahib and took his leave and ran towards the village and narrated the whole incident to Rai Kalha. He immediately recognized that it must be Sri Guru Gobind Singh Jee and immediately came to the place where Guru Sahib was sitting.
 
He respectfully brought Guru Sahib to his home and asked Guru Sahib and other Sikhs accompanying Guru Sahib to take rest and feel at home. Guru Sahib called him and asked him to send someone very close to enquire about Mata Gujri Jee and two little kids of Sri Guru Gobind Singh Jee. Rai Kalha sent Noora Mahi to Sirhind to get the news. On his return, Noora told the whole story of how brutally the two younger sons of Guru Sahib were killed and the passing of Mata Gujri Jee.
 
Guru Sahib got off His bed and took out an arrow and uprooted a weed announcing that today I announce the uprooting of this brutal regime. Gurdwara Tahliana Sahib is situated at that place.
 
At the time of Guru Sahib's departure from Raikot, Guru Sahib handed over the Ganga Sagar to Rai Kalha and said that if you kept on serving the Ganga Sagar properly, the rule will go on and it happened the same as well. As they prayed the Ganga Sagar, the rule went on.
 
Rai Azizullah Khan was honored by the Gurindr Singh from Gurdwara Sikh Spiritual Center Rexdale, Malton Gurdwara sahib President Daljit Singh, Amarjit Singh Mann from Ontario Gurdwaras and Harbinder Singh Ruby from Brampton Gurdwaras, Gian Singh Kang from Old Weston Gurdwara,
 
Until 1947, the Ganga Sagar was displayed for the Raikot, Dist. Ludhiana by Khan Bahadur Rai Inayat Khan. The owner of Gangar Sagar is now Rai Azizullah, grandson of Khan Bahadur Rai Inayat Khan and the present heir of the Rai family who has kept this sacred gift of Guru Gobind Singh Ji with great respect and care for almost 300 years.
 
Source: Times online Canada