Book Review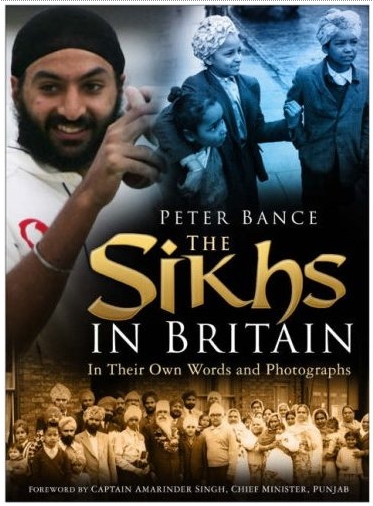 Title: The Sikhs in Britain
(150 Years of Photographs)

Author : Peter Bance
Publisher : Coronet House Publishing Ltd., London, 2012
Pages: 186,
Price: £ 22.99, Indian Price: Rs.1595)
________________________________________
Reviewed by:
Dr. Hardev Singh Virk, Professor Emeritus,
Eternal University, Baru Sahib, H.P.,
E-mail: [email protected]
Peter Bance (nee Bhupinder Singh) is a young Sikh historian, author of celebrated books on Maharajah Duleep Singh, namely "The Duleep Singhs" reviewed by me in The Sikh Review and the other: "Sovereign, Squire & Rebel: Maharajah Duleep Singh & the Heirs of a Lost Kingdom". The author is a keen collector of Sikh antiques. The present volume is the revised, enlarged and annotated edition of his earlier book, "The Sikhs in Britain" published in 2007. It is a fascinating photographic history of the Sikhs and their contribution to British society from the mid-nineteenth century to the present day. The author narrates the story of the Sikhs from the first arrival in Britain to modern times, illustrated by over 200 photographs drawn from private collections and museums. The beauty of the present volume is that most of the old photographs have been added in an enlarged frame and some newly discovered rare photographs also find a slot in the revised edition. However, there is not much change in the textual material of the revised edition.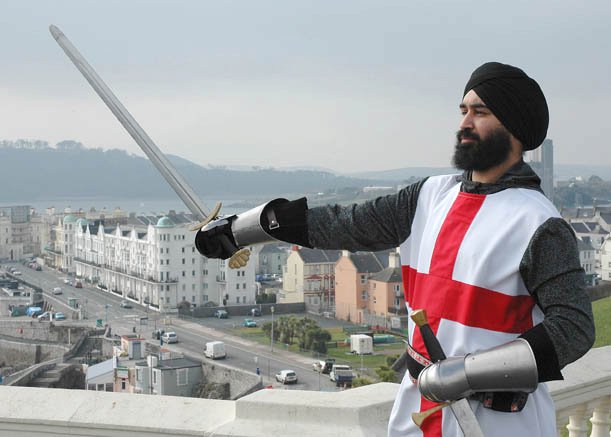 Chaz Singh – a Sikh in Britain
An iconic image of Plymouth's first Sikh Councillor Chaz Singh by Peter McMullin has been included in the book The Sikhs in Britain
Facing contents page, author has added a new photograph of Birmingham born Chaz Singh. He has spent 6 years promoting the Sikh identity, including the Sikh turban, in Britain through his various media and publicity campaigns. He has become an iconic figure in his Burberry and tartan turbans. He has educated people about Sikh identity, showing you can be both a Sikh and British. He is proud of his heritage as a British-born Sikh. His popularity led him to become Plymouth's first Sikh councillor.
The book under review is divided into 9 chapters. In the introduction, the author traces a brief history of Sikhism and Sikh kingdom of Maharaja Ranjit Singh. According to author, "The first Sikh in Britain, Maharaja Duleep Singh, made a symbolic impact on British society when he arrived in 1854. Looked upon as an adopted son by Queen Victoria, his children became the Queen's godchildren. Since then Sikhs have continued to make an impact, from a tartan Lord Sikh in a Scottish castle, a veteran record-breaking marathon runner (Fauza Singh) to an aspiring international cricket star (Monty Panesar); for more than 150 years Sikhs have been one of the most successful migrant races to settle in Britain."
According to the author: "There were four significant periods of Sikh migration to Britain. The first was between the world wars, consisting of enterprising businessmen, students and pedlars. The second was after Indian independence in 1947 when significant numbers of young labourers came to fill the gap in the labour market from Punjab. The third phase saw the greatest number of Sikhs arrive via chain migration and from former British Colonies. The fourth was predominately from East Africa, after expulsion from Uganda in the 1970s. By 2001, over 336,000 Sikhs had made Britain their home."
Chapter 1 covers the period from 1854 to 1900 and traces the history of Maharaja Duleep Singh and his family. It vividly describes the roles played by Maharani Jind Kaur, Sardar Aroor Singh and Sardar Thakur Singh Sandhawalia in bringing back Duleep Singh into the Sikh fold. He appointed Sardar Thakur Singh, Prime Minister-in-exile, to regain his lost empire but the British were too tactful to allow his conspiracy to succeed. My review of 'Maharaja's Box' by Christy Cambell describes the adventures of Maharaja Duleep Singh alongwith his frustrations. It is heartening to note that Sardar Balwant Singh Grewal of Ludhiana district was the first commoner Sikh student who reached London in 1894 to study law at Lincoln's Inn. Since Balwant Singh, a total of eleven members of Grewal family, including Gurnam Singh Grewal, former Chief Minister of Punjab, became practising lawyers educated in Britain. Some of the photographs show Sikh officers at Queen Victoria's Golden Jubilee celebrations in London during 1887. We also see the famous architect, Bhai Ram Singh, a Ramgaria Sikh from Amritsar, who was invited to design the Durbar Room at Osborne House for Queen Victoria. Bhai Ram Singh reinvented modern Sikh architecture, of which one of the best examples is the Khalsa College, Amritsar.
Chapter 2 describes the visits of members of the royalty, particularly of the ruling houses of Patiala, Kapurthala, Nabha and Jind. The Francophile Maharaja Jagatjit Singh of Kapurthala made his first visit to England during 1893. He made several visits to Britain on his way to USA and Europe in later years. His grand daughters, Princesses Ourmila, Indra and Sushila, became well-known London socialites during 1930s. We also find photo of Princess Sita Devi of Kapurthala, one of the most-talked about ladies of her time in India and Europe. In later years, Maharaja Jagatjit Singh adopted Christianity. It is interesting to find Baba Khem Singh Bedi, painted in his majestic robes, at Warwick Castle in 1902.
Maharaja Bhupinder Singh of Patiala was the most famous of all Indian Maharajas to grace Britain with his presence. The famous 'Patiala Necklace', one of the most expensive pieces of jewellery ever made, was created for him by the house of Cartier in 1928. Besides his passions for beautiful women and sparkling gems, Maharaja's addiction to the prestigious Rolls-Royce Motor car practically kept the firm in business. In his garage at Moti Bagh, Patiala, the Maharaja had 44 Rolls-Royces, all specially built for him. During his 1911 visit, the Maharaja was approached by Khalsa Jatha Members to set up a Gurdwara in London. He donated 1000 £ on the spot and performed the opening ceremony of Maharaja Bhupinder Singh Dharamsala at 79 Sinclair Road, London. This became the nucleus of first Gurdwara in Britain.
Chapter 3 is devoted to the exploits of Sikh troops of the British Indian Army who fought for the British and their Allies during First and Second world wars. The photographs show Princess Sophia Duleep Singh nursing wounded Indian soldiers at a convalescent camp in 1917. Sikh soldiers from Punjab wrote back memories of grand daughter of Maharaja Ranjit Singh. Sikh soldiers were always fighting in front rows as Vanguard and the British army in the Second Line of defense. As a consequence, thousands of Sikh soldiers were killed or maimed in action. Maharaja Bhupinder Singh of Patiala visited his forces in action to inspire them in the capacity of Major-General of British Indian army. The two memorable photographs of this chapter represent Hardit Singh Malik CIE, OBE, ICS in London (1918) and Squadran Leader Mohinder Singh Pujji of the RAF, London (1940). Both of them fought against the Germans and won laurels during first and second world wars, respectively. We also see Pilot Manmohan Singh, who became the first Indian to fly solo from England to India in 1934.
Chapter 4 is devoted to early Sikh pedlars who migrated to Britain during 1930s. They filled the vacuum created by the migration of Jewish pedlars from Europe to USA. Sikh pedlars mostly belonged to Bhatra sect who maintained their Sikh identity intact even under adverse circumstances. Lodging houses were set up in East End of London to accommodate pedlars and other new migrants from India. The most exciting photograph for the Sikh youth of Punjab appears at page 69 of the book, where Shaheed Udham Singh is shown being escorted from Caxton Hall by Scotland Yard police after he shot dead Sir Michael O' Dwyer on 13 March, 1940, to avenge the massacre of innocent Punjabis at Jallianwala Bagh in April, 1919.
Chapter 5 relates to the migration of Indian labour after 1947. The British market needed labour and immigration laws were liberal, so many families from Punjab (Doaba region) sought refuge in Britain. Photograph at page 84 shows Master Tara Singh in a Manchester Gurdwara in 1954. He went to raise funds and canvass support for forth coming SGPC election in Punjab. Master Akali Dal won a thumping majority by winning 126 of the 130 seats in the election and Congress sponsored party was routed. By 1946, there were 20 Indian restaurants in London and in 1947; Gurbachan Singh's Punjab Restaurant was established. It is still being run by one of his grand sons. The chapter describes the working Sikhs' plight and their movement to Southall after the East End, London. At present, Southall is the hub of activity of Sikh Diaspora in London and you will miss a chance to locate a white man in this locality.
The author records Narinder Singh Kapany, father of fibre optics in the world, working in his research laboratory at Imperial College of Science and Technology, London in 1953. Another photograph on page 86 shows the couple (Narinder and Satinder) after the wedding ceremony solemnized in London according to the Sikh rites in 1954. There are some other photographs of Sikh marriages being solemnized in Maharaja Bhupinder Singh Dharamsala, London, in this chapter.
Chapter 6 narrates the heroic deeds of Sikh struggle in Britain. The right to wear turban at the workplace was denied to Sikhs in Britain. Sundar Singh Sagar spearheaded the struggle for wearing turban on the Manchester buses while on duty as a driver or a conductor. Ultimately, the Sikhs won their battles in almost all big cities. As a consequence, the Sikhs were allowed to wear their turbans while on duty in Buses, Trains and even in police force. The chapter includes a photograph depicting the weapons of Guru Gobind Singh displayed at India House, London, before these were brought to India as relics of the Tenth Guru.
Chapter 7 gives the history of Sikh Gurdwaras in Britain. The author gives full credit to Sant Teja Singh, who was instrumental in setting up first Sikh Gurdwara (Maharaja Bhupinder Singh Dharamsala) in London. As a young student, Teja Singh became a role model for other Sikh students in Cambridge to keep the Sikh identity intact. He was acting as a Sikh missionary while losing some precious years at Cambridge. Teja Singh founded the Khalsa Jatha British Isles in Cambridge during 1908, paving the way for establishment of first Sikh Gurdwara in London. Ramgarhia Sikhs from East Africa formed the Ramgarhia Sabha Southall in the 1960s and built its own Gurdwara. Gurdwaras were built in all big and small cities of Britain to cater to the needs of growing Sikh Sangats. London has nearly one dozen Gurdwaras at present.
The last two chapters describe the impact of Sikhs on the social and cultural life of the Britain. Turbaned Sikhs began riding motorbikes after winning Turban - Helmet case in favour of Turban. The Sikhs started participating in local and national politics. The Sikh musical bands have put Punjabi music on international map. Author has given some space to the proponents of Khalistan movement in England, showing Dr. Jagjit Singh addressing crowds at London's Hyde Park in 1984. With UK Sikh population of about 350,000, Sikhs have diversified into every field and industry in Britain. Thus, the Sikhs have proved themselves a worthy and successful community in Britain. All those achievements are depicted by photographs by the learned author. The Sikhs have come of age in Britain and find a niche in all walks of life. The last photographs show Monty Panesar, the star cricketer of England, a role model for Sikh youth of Britain and Queen's Sikh bodyguards at Buckingham Palace, London.
The author deserves appreciation of Sikhs all over the globe for bringing out a pictorial biography of the Sikhs in Britain. Some of the observations made by the author are remarkable. For example, some of the photographs show a mixed gathering of English men and Sikhs in the Gurdwara during 1930s. Due to lack of preaching about Sikhism, we have only the presence of Sikhs in our Gurdwaras now. Sikh Bibis (women) are shown playing the role of a priest in the Gurdwara, circa 1934 (ref. to photos on pages 117-18). The only other example I witnessed was in Yangon (Rangoon) Gurdwara of Myanmar in 2005. Our SGPC has to learn a lesson to give equal rights to Sikh women in the Gurdwara services at all levels. During Second World War when ration system was introduced in Britain, Sikh Gurdwara in Birmingham was serving langar for 3 days per week to the needy. This is the best way of promoting Sikhism in foreign lands.
Peter Bance has created a unique volume, "The Sikhs in Britain" with a pictorial history of the Diaspora Sikhs in UK. In author's view, the Sikhs have added a little something to Britain. He recounts Guru Nanak Marg, Khalsa Avenue, Glassy Junction, Bhangra music and many more landmarks of Punjabi culture in London. The ancient martial art of Gatka was first introduced by Nihang Didar Singh in 1980s and it was performed in the Queen's Golden Jubilee procession in the Mall during 2002.
Watch video on Chaz Singh's inclusion: