A 25 day camp was organised at Gurdwara Sri Guru Singh Sabha in Bangalore which was attended by 60 children between the age of 5 to 15.
These children spent their summer vacation learning Gurmukhi, Kirtan, Sakhis, the great History of Sikh Women and Shaheed Singhs, Jap ji Sahib, Jaap Sahib Kanth, animated Gurmat Movies and Kirtan On Shaheedi Gurpurab during the Samagam.
Children were made to work in groups and were told to research on a particular topic, after which they presented their research using charts and models.



The outcome of this camp is that 8 children want to go for Amrit Sanchar and 2 girls have started tying the keski, 5 boys have started tying turbans. This is all because of the great Guru's grace.
These children deserve appreciation and encouragement.
The kids did go back every evening by 5pm. The day started at 11:00 am with the 'Deh shiva bar mohe ehe' shabad then all the kids would recite the 10 Guru's names, 4 Sahibzadey , 5 pyare, and 5 kakkar.
Then they would have the Sakhi Session - these sakhis were focused more on great Sikh women in history, starting with Bebe Nanaki, Mata Khivi ji, Bibi Amro ji, Bibi Bhani ji, Bibi Ramo ji, Mata Ganga ji, Mai Sevaan, Bibi Kaulan ji, Mata Gujri ji, Mai Bhago ji, Mata Sahib Kaur ji. The Shaheed Sikhs that we covered- Baba Deep Singh ji, Bhai Taru Singh, Bhai Subeg Singh, Shabaz Singh, Guru Tegh Bahadur ji, Guru Arjan Dev ji, 4 Dahibzadey.
Since we live in South India we covered a brief history of Hazur Sahib, Gurdwara Nanak Jheera Sahib in Bidar and Tap Asthan Mai Bhago in Janwada.



By 12:30 pm, once the sakhi time got a bit monotonous :P for the kids, we started with the kirtan. During the camp, all the kids learnt 3 shabads- rakha ek hamara swami , he rav he sas, gur arjan vitoh kurbani.
Gurmukhi classes took place everyday and the outcome is that 25 students can now read and write simple sentences in gurmukhi.
Gurbani kanth also happened everyday for one hour with an outcome of 30 children by heart learning 6-8 pauris of Japji Sahib, 1 girl who has completed jap sahib kanth and 7 children who have learnt by heart Japji sahib.
The kids had a gatka class everyday between 3:30-5:00pm with trainers from the Anandpuriya Akhara at Anandpur Sahib.
Saturday Specials- the children watched 3 movies during the Staurday's special camp, and every Saturday instead of the Gyani ji doing Rehras Sahib - the little sevaks of Guru ji did the Rehras Sahib.
We also did a set of 18 activity sheets and 2 sets of tests which made the students sure about what they have learnt at the camp.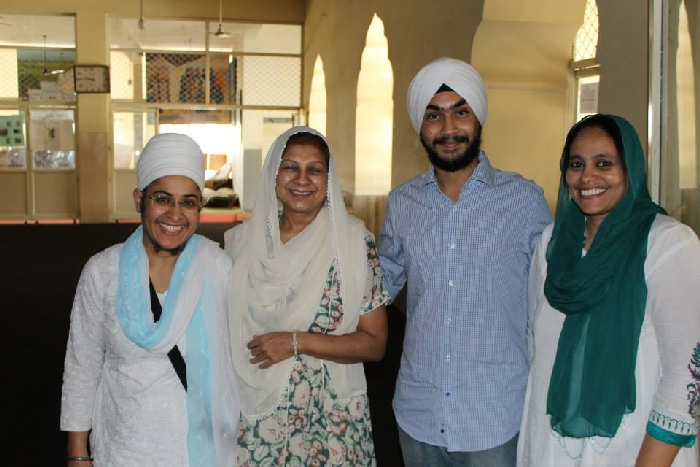 Testimonials from the children themselves:
''We love Mai Bhago''
''I want to be as confident as Mai Bhago''
'' Mata Khivi ji's kheer would have been really tasty''
''Sacha Sauda is my favourite sakhi''