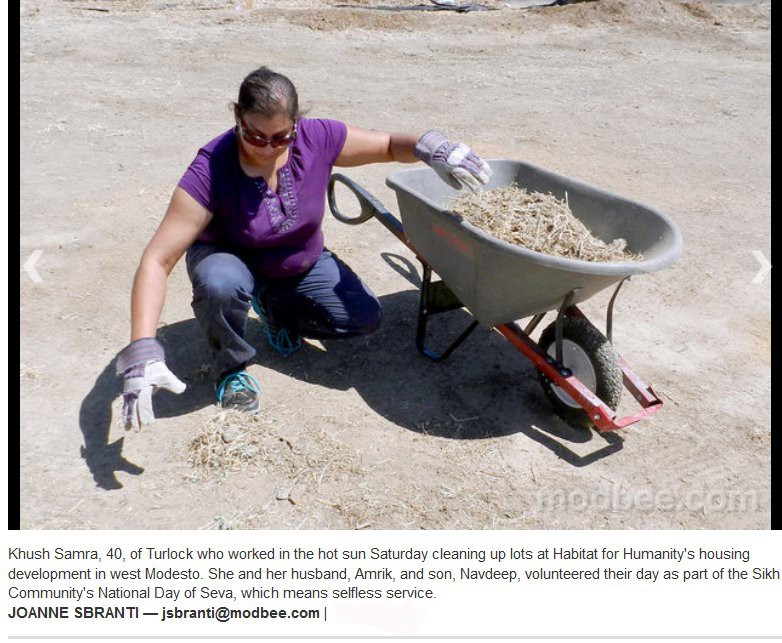 August 2, 2014: It's been two years since six people were shot to death at a Sikh temple in Wisconsin, and members of Stanislaus County's Sikh community commemorated that event by dedicating Saturday to public service.
"I feel like I'm actually making a difference today," said Tejinder Atwal, 23, from Turlock. She was among about a dozen Sikhs who volunteered to help build Habitat for Humanity houses in west Modesto. "Selfless service is what everyone should do."
Sikh volunteers Saturday also assisted in cleaning up two parks and distributing free meals to homeless and hungry people in Modesto. Sikh groups nationwide provided similar services.
No one is quite sure what motivated the shooter in Wisconsin to open fire that day because he ended up taking his own life. But Atwal and other Sikh volunteers hope such violence can be avoided in the future by introducing themselves and their culture to the public at large.
"Whenever someone asks us questions, we're happy to tell them about our culture," said Atwal, who was born in India. She moved to America when she was 16, learned English and now is a student at California State University, Stanislaus.
The Sikh religion originated in the 15th century in the Punjab region of India and Pakistan, and a couple of thousand of its members reside in the Northern San Joaquin Valley.
Kelly Gill is among them. She, too, attends Stanislaus State, lives in Turlock, is 23 and donated her labors Saturday to building Habitat for Humanity homes.
"We learned to install windows today. That was my first time doing that," Gill said. "We wanted to do something very hands-on."
Khush Samra of Turlock also used her hands – and strong back – as she removed weeds from the construction site. The 40-year-old mother is an attendance clerk at Keyes Elementary School, and she wanted to set an example for her children by donating her time for the public good.
Her husband, Amrik Samra, and son Navdeep Samra joined in working on the Habitat homes.
So did 23-year-old Lovinder Johal of Turlock, who quipped: "Instead of going to the gym today, I exercised by picking up windows. They're pretty heavy!"
After spending the morning on construction, several of the Sikhs headed to their temple to prepare Indian food for distribution to those in need. They made two vegetarian dishes – a sholay rice with garbanzo beans and curry, and a samosay fried pastry filled with potatoes.
The food was handed out in downtown Modesto, along with bananas and cold water.