I SALUTE THE SIKH TRUCK DRIVERS IN THE WORLD, OUR LOCAL HEROES!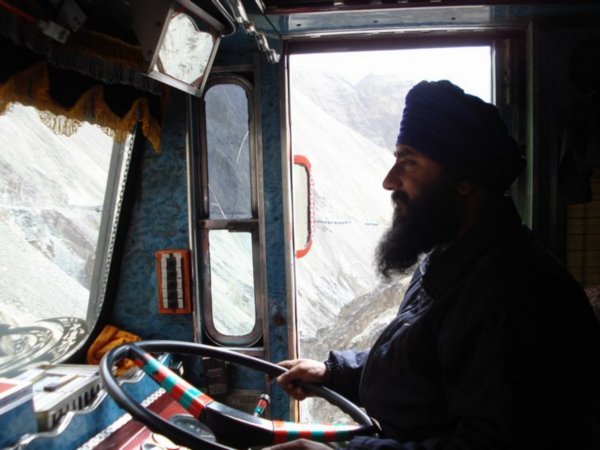 Portrait of a Sikh Truck Driver
We have many truck drivers in my gurudwara in Cleveland/Ohio/USA. They are the best, better than many doctors, veterinarians and pharmacists. When no Sikh wants to sponsor the weekly
langgar
, the truck drivers step up and sponsor the
langgar
. They not only sponsor but do the sewa in serving the
langgar
.
The truck drivers work very hard, many go on to own their own trucks eventually or open up their trucking or other businesses and offer fellow Sikhs a livelihood. In fact, many of the new Sikhs who escape from Punjab have no jobs or skills and these trucking companies employ them. The truck drivers are responsible citizens who make a good living, buy their own homes, provide for their families and vote in the elections.
When I think of kirt karo[honest living], I not only think of the Sikh farmers in Punjab who made the Green Revolution a reality in feeding the masses in India but I also think of the Sikh truck drivers who made it easy to transport the food everywhere in India.
When I was young and used to visit India, everywhere I went I used to see SANDHU Transportation and their trucks. These Sikh truck drivers not only help transport food in India but they form the backbone of the Indian economy.
Without their hard work, Indian economy will collapse. They were so successful that many of them were attacked in 1984 Sikh Genocide by Hindu mobs that were envious of their hard work and success. Many of them were burnt alive, their women were raped en masse and their trucks destroyed.
The Sikh truck drivers also played a crucial role in transporting the Sikh nationalists during the Sikh Uprising of 1984 when the Sikhs were defending themselves against the Indian army attack on their Golden Temple, the Sikh Vatican, and hundreds of other gurudwaras, the Sikh places of worship. Sikhism was under attack in India and these truck drivers sacrificed their lives and families to support the nationalists who were fighting for an independent Sikh holy land and homeland. Many of them were brutally tortured; others were killed in fake encounters by Indian army, police and state-sponsored "black cats" - killing squads. Their trucks were set ablaze. Some escaped to USA, UK, Australia and Canada. There they sought political asylum. Their only crime was that they were Sikhs, a minority in India.
Just drove back overnight from Baltimore, the only people on the highways were truck drivers, several were Sikh truck drivers. If these truck drivers decide to go on a strike, the American economy, biggest economy in the world, will come to a standstill. When we drive around USA and Canada, we see many Sikh truck drivers. Many are baptized Sikhs and you can see them reciting the prayers at truck stops. They believe in One God. In Sikhism, baptized Sikhs are called sant-sipahi, saint-soldiers and we can call baptized Sikhs who drive trucks, sant-drivers.
In many gurudwaras worldwide, the Sikh truck drivers sponsor memorial services to honor the Sikh nationalists annually in June and November, remembering their sacrifices for the Sikh holy land and homeland in 1984 Sikh Genocide.
In my gurudwara, the Sikh truck drivers organize the annual Sikh Sports and Cultural Festival [Khed Mela] for the community. Further, the truck drivers sponsor the Sikh contingent in the annual Independence Day Parade on July Fourth locally and they distribute free water bottles along the whole route. They give so much but all they ask for, is some understanding.
Azaadjeet Singh [LLM, LLB, MA],
Human Rights activist in US.