Faith is a visual art project created by Australian Artist, Daniel Connell, in collaboration with five Punjabi Sikh students currently studying in Australia.
After a chance meeting in a taxi driven by Lakhvir Singh, his dignified demeanour impressed Daniel, which lead to an investigation into visually communicating the human condition of this rapidly expanding community which is clearly enriching Australian society.
Like most Australian students, international students choose to work part time. Many Sikhs have chosen the challenging task of driving taxis and have become a familiar and colourful part of Australian cityscapes, providing many opportunities for inter-cultural exchange.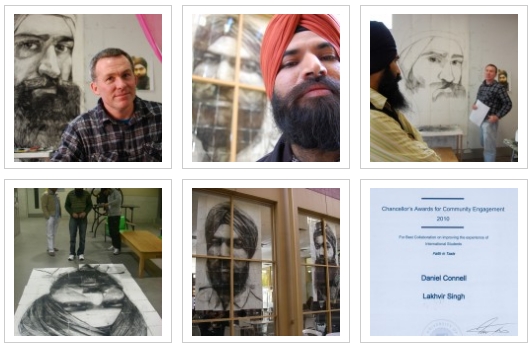 To view individual pics follow links here

These portraits seek to emphasise the individual and his work, honouring the essential teaching of Guru Nanak that work is central to an expression of faith. They are larger than life, trying to capture the element of heroism in the subject. Focusing on the face, the works are created with urgency reflecting a desire to establish a human connection and an empathy between artist and subject.
Constructed from multiple paper sheets and masking tape, the picture plane is interrupted, a direct reference to the experience of foreign students, reminding viewers of the documents, letters, study and holy texts that both destabilise and secure their lives. The oil paintings are vigorously and roughly executed for the same effect.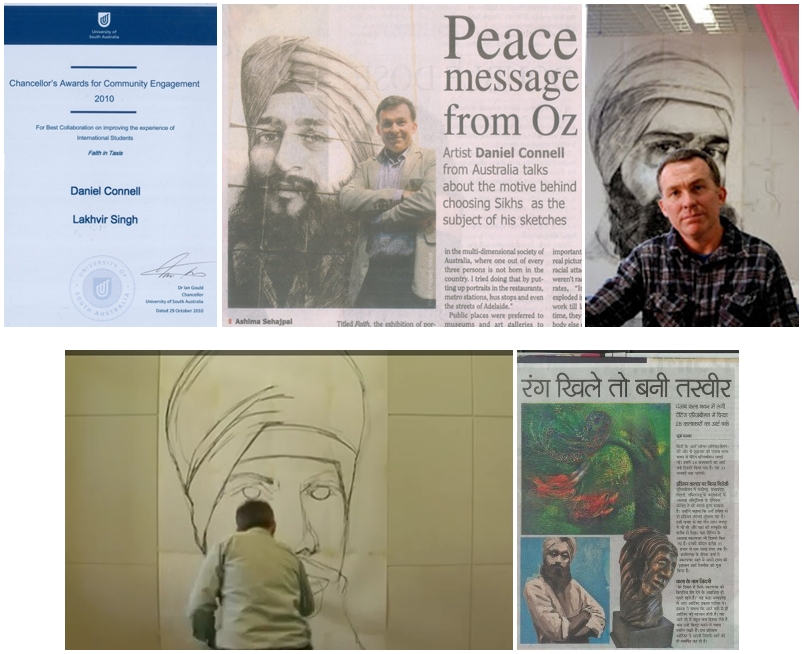 Some Visuals from his art

The Sikh community of Adelaide, the capital city of the State of South Australia, where the works originate, have enthusiastically welcomed the drawings as a celebration of their local history and as an example of cross cultural friendship. Individuals from this community have embraced the project, coming forward to participate in further portraits to expand recognition of their community.
A short film on the project made by Australia Network Television Arts Program, will be broadcast early next year on the Australia Network Channel, into 44 countries across Asia and the Pacific, including India.
Daniel Connell is an Australian visual artist working Adelaide Australia who draws heavily on India for inspiration. He has studied at the Adelaide Central School of Art and is currently pursuing a Masters in Visual Arts at University of South Australia.
His work is concerned with creating opportunities for dialogue and reflection between diverse communities using portraiture and landscape.
He exhibits regularly in India an Australia and has been a finalist in The Doug Moran National Portrait Prize and the Fleurieu Biennale Prize
 

Artist statement

In becoming an artist the course I have taken is perhaps circuitous. Though I create what is accepted as artworks in the traditional understanding it is my interaction with communities that most profoundly informs my art practice. An honours degree in Spanish and Latin American studies, work in factories, restaurants and nursing homes, activism with human rights, environmental and peace organisations, advocacy for refugees and the homeless, creating organic gardens and working as a Spanish teacher in schools all formed a deliberate course of exposure to diverse people and activities while studying visual arts part time. I consider these seminal to my current human focussed arts practice.

Early exposure to the writings of Gandhi and Tagore, Indian epics and a fascination with natural history germinated what has become an abiding affection for India. In 2006 I became a full time artist and in 2007 left Australia to pursue this career in India. I studied Hindi and developed a committed arts practice using painting, large scale drawing, ephemeral public art and to a lesser extent, video and sculpture, all underpinned by portraiture as a vehicle for linking myself to new communities.

My relationship with India has progressed over many years and has been a constant source of inspiration and reflection on how and why this deep affection for a culture and country has persisted. Interrogating this connection offers the opportunity to understand myself more profoundly. There seem to be many unresolved quests within this attraction to India: on a personal level a desire to find a place of acceptance; a desire to connect to others and beyond the personal: a desire to expand linkages; to repair rifts between diverse communities and make a bold public statement championing the value of the small, the sensitive and the other.

Through confronting these inner quests it is hoped that my work can empty itself of any didacticism and explore as Anish Kapoor says an unknown place which in turn allows a viewer the ultimate opportunity for engagement with a work.
Interview with Australian artist Dan Connell


View others:
http://www.youtube.com/watch?v=s4vg95es8qM&feature=endscreen&NR=1
http://www.youtube.com/watch?v=aMp-iotnXbA&feature=related
http://www.youtube.com/watch?v=hcGbV0C_Qbw&feature=related