October 31, 2017: Many special religious and cultural celebrations, solemn commemorations and painful anniversaries converged in the month of October 2017. Thoughts and prayers travel to communities and people of all faiths, cultures, and nationalities across the world in a spirit of shared joys and celebration, with solidarity in their deep sadness and anguish over devastating losses. With a renewed faith and prayer for peace and a more hopeful future, I offer a prayerful reflection on a few of the events in Indiana.


SIKH DAY PARADE IN DOWNTOWN INDIANAPOLIS
Ethnic Communities "At Home in the Heartland" Contributing Talents and Culture, Vitality and Spirit

At The Third Annual Sikh Day Parade (October 7th) in Indianapolis, there were all the traditional elements of Sikh religious gatherings. A colorful procession was led by a float carrying the Sikh Holy Scriptures, Guru Granth Sahib, with Punj Piaras (Five Beloved- symbolizing the first five baptized Sikhs in 1699 at the time of the creation Khalsa identity) guarding its sanctity. Sikh Ragis (religious singers) sung sacred hymns and Sikh Dhadhis (bards) offered praise and honor to the Sikh faith and martyrs throughout the Parade. There were hundreds of Sikh men, women, and children in their festive Punjabi dresses and joyous spirit participating in the Parade and youth performing Gatka (Sikh martial arts). A truck carried free cold drinks and a hospitality corner in Veterans Memorial Plaza served morning tea, snacks, and traditional Punjabi Langar (vegetarian lunch) at the end of Parade through Downtown Indianapolis.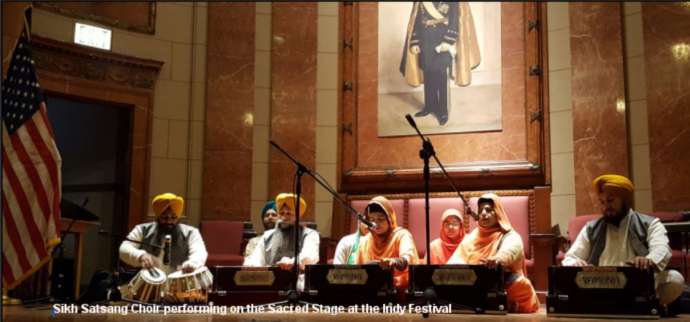 The Sikh Day Parade was organized by The Sikh Society of Indiana "in association with Sikh Gurdwara Sat Sangat of Indianapolis" to celebrate the 309th Prakash Utsav (Historic installation Day of the Sikh Sacred Scriptures as the Living Guru of the Sikhs) of "Shri Guru Granth Sahib Ji" in October 1708 by the Tenth Sikh Guru, Gobind Singh. A word about Guru Granth Sahib:
"There is something strangely modern about these Scriptures ... They speak to a person of any religion or of none. They speak for the human heart and the searching mind..." Nobel Literature Laureate Pearl S. Buck, on discovering Guru Granth Sahib (via Gopal Singh's translation in English)
My mind traveled to 1967 when I made Indiana my home and the convergence, journey, cultural richness, services, and vitality that have been added since by the recent immigrant pioneers to the spiritual and cultural landscape of Indiana and the United States in the past half century. This has happened in no small thanks to civic, community, ethnic and faith leaders, media support, and opening new frontiers for engagement.
Evidence of this diverse heritage at our crossroads is on display at the Annual Indy Festival of Faiths at Veterans Memorial Plaza; the Annual International Festival at the State Fair Grounds (November 9-11), the annual Asian Fest at the Indiana State Museum each June, and countless celebrations throughout the year.
SACRED ARTS, CULTURES, TRADITIONS, VIBRANT SPIRIT AT THE 2017 INTERFAITH MELA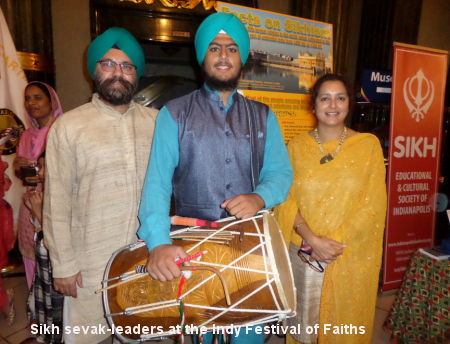 Veterans Memorial Plaza / Indiana War Memorial, Downtown Indianapolis The rain did not dampen the spirit and enthusiasm of the exhibitors, performers, and families that came to enjoy the Fifth Annual Indy Festival of Faiths (October 15th). The organizers worked to move the Festival from the outdoor setting on Veterans Memorial Plaza indoors into the Indiana War Memorial. The 80 faith and cultural exhibitors lined the main hallway, side corridors, and various rooms on the main floor. The Opening Ceremony and the Sacred Arts - prayer by faith leaders; musical performances - Song Squad, Taiko Drums, Michael Glen Bell, The Sikh Satsang Choir, and The Church of Jesus Christ of Latter-Day Saints Double Quartet; Dances - Ballet Folklorico Musaicos, and Indian Classical Dance highlighted Festival and were performed in the ornate Auditorium. The Closing Ceremony was led by Rev. Marilyn Gill of the Indiana Christian Leadership Conference and Rev. Carolyn Hardville from the African Methodist Episcopal Church.
MELA is a Punjabi word; it means a festive gathering of people and families for a celebration with feasting and fun, music and dancing, shopping and trade, learning and exchange. Indy's Festival of Faiths are interfaith Melas that exude that joyful spirit and a pilgrimage to our shared spiritual blessings.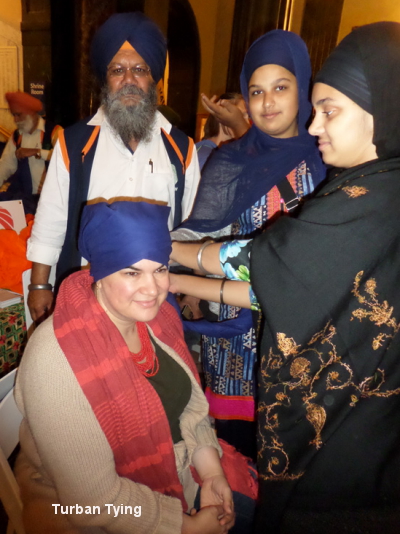 The packed Main Hallway and the side corridors were a rich diversity of activity - Turban Tying on hundreds of enthusiastic Hoosiers of many faiths and ages by The Sikh Satsang of Indianapolis, Sikh Society of Indiana, and Sikh Community volunteers; playing Punjabi Dhol (big drum) and spontaneous Bhangra dancing; a rocking Bongo Boy Drums Circle in the entrance area with multi-generational participants. The Sikh Satsang Choir led by Bhagwinder Kaur and Jaswinder Kaur magnificent sang the sacred hymn, with the masterful Tabla player Gurdev Singh and Satsang Ragis Joginder Singh and Gurpreet Singh: "Tum Daatay Thakur Pritpaluck Naayyuk Khussum Hamaaray…: God, You are our Benevolent Lord, Protector and Provider, Guide and Master…." There were exhibits about faiths, cultures, and current social issues, sharing of information about faiths and friendly exchanges. There were authors, artists, and poets on hand; and social awareness conversations. The whole experience was a sacred journey, a pilgrimage across frontiers of faiths and cultures, and reflective of the true meaning and spirit of Sacred Migrations.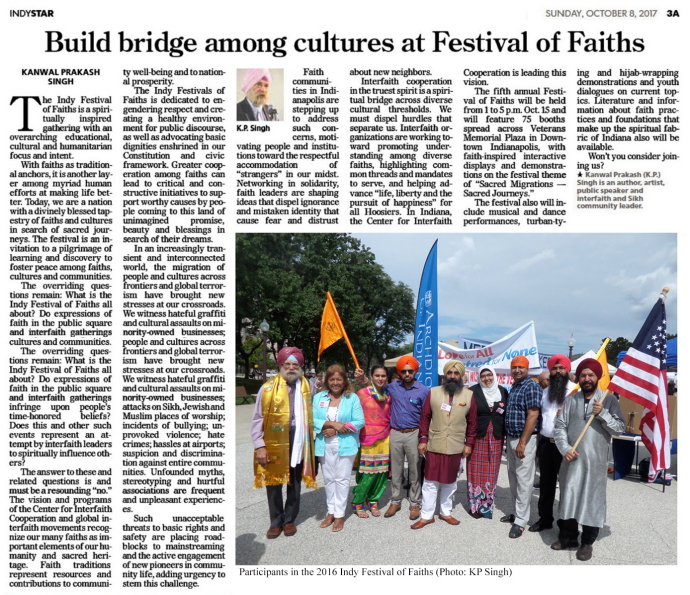 (Article in Indianapolis Star).
A BEAUTIFUL REMEMBRANCE AND AN INTERFAITH SERVICE
Tibetan Mongolian Buddhist Cultural Center - Bloomington, Indiana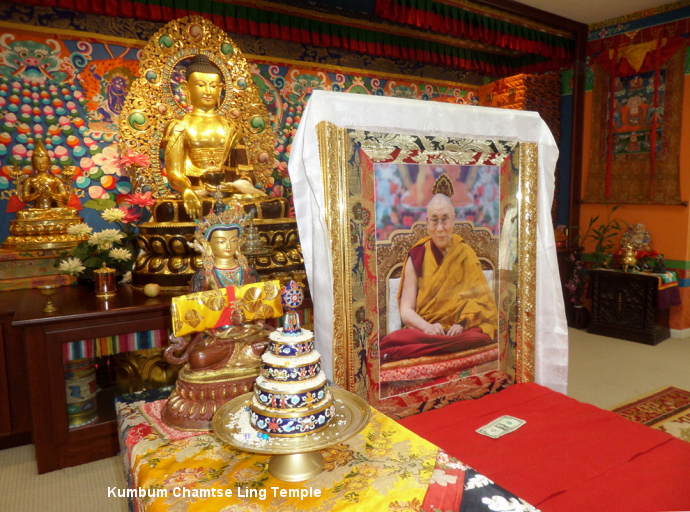 Kumbum Chamtse Ling Temple on the beautiful grounds of Tibetan Mongolian Buddhist Cultural Center (TMBCC) was the sacred site of a special Interfaith Service and Remembrance (October 21st) for all those who lost their lives and greatly suffered in recent Hurricanes - Harvey, Irma, Maria, and Nate; Earthquake in Mexico, fires in California and their devastating aftermath. The Prayer was led by Mother Linda of Canterbury House at Indiana University and Geshe Kungan of TMBCC. Dr. Patrick O'Meara, Vice President Emeritus of Indiana University was the Keynote Speaker and offered his perspective on "Global Change, Global Responsibility, and our Response." The other participants included representatives of faith communities: Jewish: Rabbi Brian Besser, Beth Shalom Congregation; Islam: Professor Leila Dabbagh; Sikh: KP Singh, Sikh Satsang of Indianapolis; Unitarian Universalist: Orion Day, Director of Campus Ministry; David Reed, IU Jacob School of Music; Ricardo Bello and Josefina Carcamo: Columbian Peace Accord; Tibetan Buddhist: Geshe Lobsang Kunga, TMBCC; Christian: Mother Linda; and Musical Offering by Hooshir.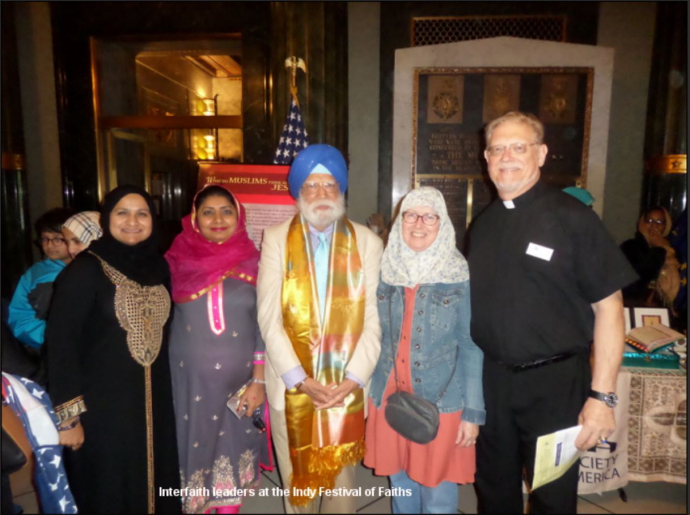 KP Singh in his reflection offered the central tenets of Sikh faith that emphasize our shared humanity and same Divine Spirit; our responsibility to one another as One God's Children. KP offered personal testimony of the power of prayer, his survival through the nightmare of the Partition, and witnessing God's Grace in rebuilding our lives, past our devastating experiences.
Throughout the Service and in all reflections, sacred chants, music offerings, and during fellowship, there were echoes of our intertwined humanity; shared personal and collective moral responsibility to help those affected by the natural and human tragedies. Take steps to safeguard our fragile environment; stand up for justice, human dignity, and ensure happiness of all sentient beings. We were reminded to do what we can as an act of faith and humanitarian response to bring hope and healing to our fellow human beings and to the Mother Earth that we share as one family of faiths, cultures, and diverse communities. Throughout the Service, the images of tragedy and devastation were projected on a large screen in the midst of ornate embellishments and sacred setting.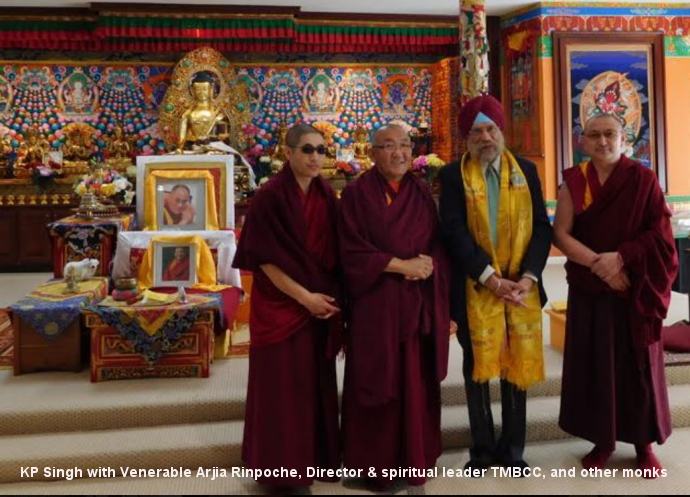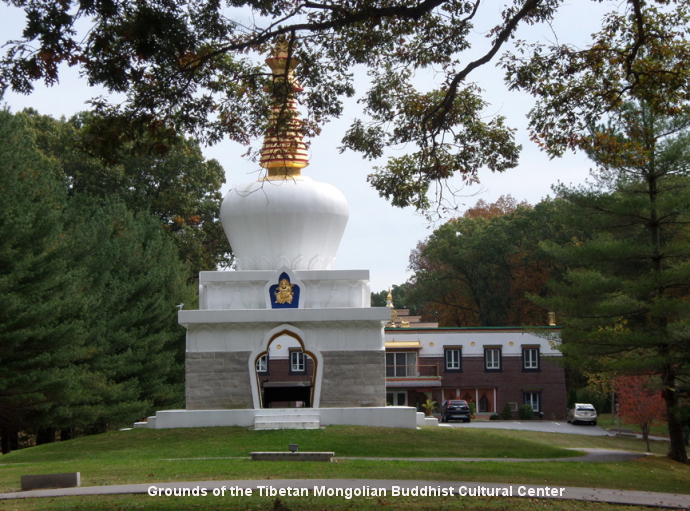 Outside the Temple, the sun was shining, highlighting the Fall colors of the trees forming the backdrop of traditional Tibetan-inspired buildings, markers, and Stupas at this Buddhist Pilgrimage Center in the Midwest, located in the amidst of rolling hills of Southern Indiana. This is hallowed ground; His Holiness the 14th Dalai Lama has visited this place six times, offered teachings at this place. TMBCC is always welcoming and spiritually nurturing to all who come in peace. I always leave immeasurably enriched and blessed.
A HAPPY DIWALI - BANDI CHOORR DIVAS
Sikh Satsang of Indianapolis / Sikh Gurdwara (Acton Road)
Festival of Lights (Diwali) and Bandi Chhor Divas were celebrated (October 19th) at the Sikh Gurdwara (Temple-Acton Road) with Shadad Keertan, Langar, Lighting of Candles, and Prayer: May the year ahead bring happiness and peace to people of every faith, culture, and nationality. Technology made it possible to see Harmander Sahib, the Golden Temple of the Sikhs, packed with hundreds of thousands of people. The Complex was decorated with lights, floating lanterns, joyful shouts of Jakaras (exuberant traditional Sikh affirmations) and fireworks to commemorate the return of their Sixth Guru, Hargobind Sahib, to Punjab after several months of imprisonment at the Gowaliar Fort on false charges by the Moghul ruler Emperor Jahangir. The Guru's return, in October 1619, coincided with Diwali and the Guru was welcomed with tremendous rejoicing and thanksgiving. The tradition has continued for over 398 years. May we share the sanctity, joys and memory of this triumphant moment in Sikh history and the ancient festival of Diwali that are today celebrated around the world. May we reflect upon the timeless message of justice, human dignity, light over darkness, and other reminders that these commemorations represent for us and our times.
Indianapolis, Indiana USA <> www.KPSinghDesigns.com <> October 31, 2017