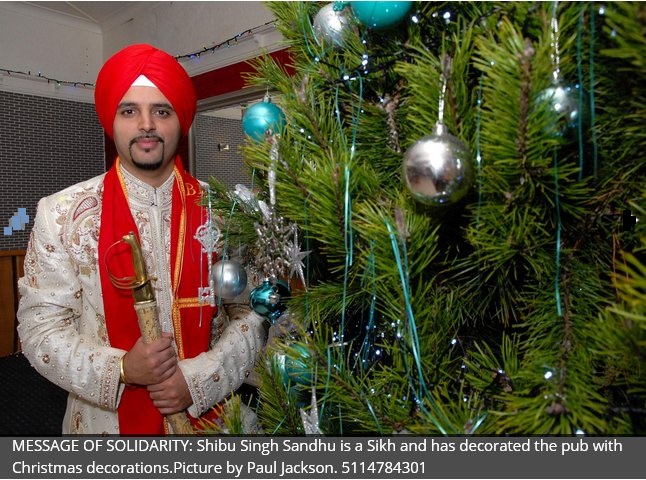 Wednesday 17 December 2014: THE Sikh owners of a Worcester pub are hoping to spread the message of solidarity throughout the festive period, and have turned it into a Christmas haven.
The Vine Inn, in Ombersley Road, is filled with hanging decorations, colourful lights and sports a huge, beautiful Christmas tree decorated with crystals, baubles and all the other traditional trimmings, to bring people of all faiths together in harmony.
Manager of the pub Shibu Singh Sandhu, 31, who runs it with his brother Jimmy, has even been welcoming people to the pub dressed in traditional Sikh wear.
The brother's father Tim Sandhu, of Birmingham who owns the pub, said: "We took the decision to do this as we always celebrate Christmas, but this year we wanted to celebrate it in a big way.
"I bought the tree and cut it down, but it took four of us get it in here. My daughter-in laws have done a wonderful job decorating it.
"People have been coming in and taking pictures on their phone and customers seem delighted with it, which is great. It must be one of the biggest trees in Worcester.
"Sikhism teaches us to respect other faiths, and we wanted to show harmony between us and all other religions.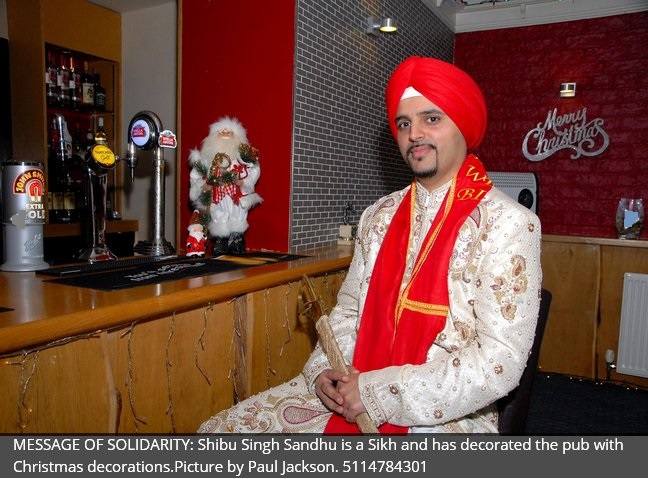 "We live in a Christian country, so it's important we embrace the culture. There has been a relationship between Christians and Sikhs for a long time now, so we wanted to embrace that even more.
"In these present times, with the terrible things that are happening all around the world, and as it's Christmas, there's never been a better time to show solidarity and respect between all faiths."
Tim Sandhu, a retired university lecturer, bought the pub five months ago and a £120,000 refurbishment project is well underway.
He says once the refurbishment has been completed, it will sport a traditional look and "homely feel".