United Nations-Associated Charity Offers Humanitarian Aid Kits & Warm Meals to Residents Left Stranded by Flood Waters
Aug. 15, 2019: KARNATAKA, INDIA -- As Karnataka endures a tumultuous monsoon season, UNITED SIKHS continue to provide humanitarian relief to thousands of survivors left stranded in treacherous conditions by receding flood waters. As the death toll rose to 61 yesterday, according to the data released by Karnataka State Natural Disaster Monitoring Centre (KSNDMC), the UNITED SIKHS medical team has prioritized medical vaccines, physician evaluations, langar (community meals) and blanket distribution as the main priorities for flood survivors.
"The greatest need for survivors remains medical aid," said Dr. Bhupender Kaur, UNITED SIKHS Volunteer. "Receding waters always present concern for the spread of disease and outbreaks, which is why we are specifically trying to reach residents who are in remote villages and are without access to a doctor or hospital."
In the 22 flood battered districts, the maximum deaths have occurred in Belagavi, where 15 were killed due to the floods, and at least 14 people remain missing. Rescue teams deployed in the state have rescued over seven lakh people till now. Out of the people rescued, as many as 375,663 people are currently lodged in more than 1,096 relief camps.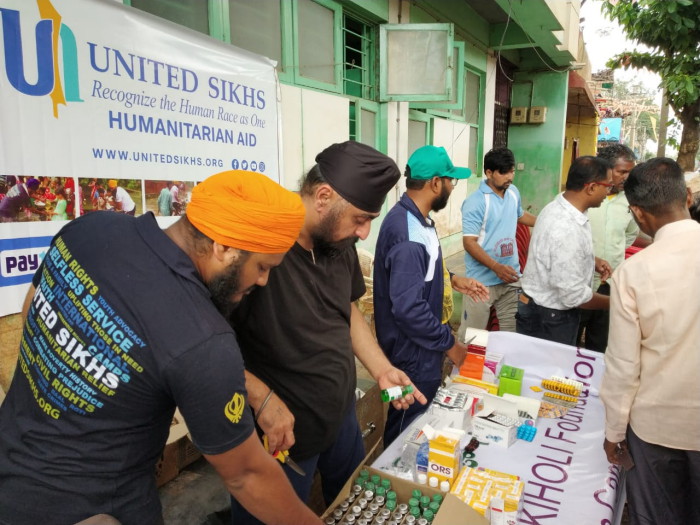 UNITED SIKHS Volunteers Prepare Medicine for Distribution
"We are setting up our medical camps wherever we can reach stranded residents and continue to serve 1,000 patients on average each day since the monsoon hit," said Mohinderjit Singh, UNITED SIKHS Humanitarian. "As we continue to assess the ground conditions, we have received an outpouring of support and gratitude from the local community. We are blessed to have the opportunity to work with Hubli Sikh Sangat and serve residents in their time of need. "
To date, UNITED SIKHS established mobile medical camps in Killa, Banagar Galli, Laxmi Temple, Byalikata, Uppar Kalyan Mantap, Kalarkoppa, Melvenki Cross, Samshaan Road and Gokak Town with the assistance of local medical professionals who have volunteered their time and services to serve flood survivors, including  Dr. Sachin Vibhuti and Dr. Vijay Kumar.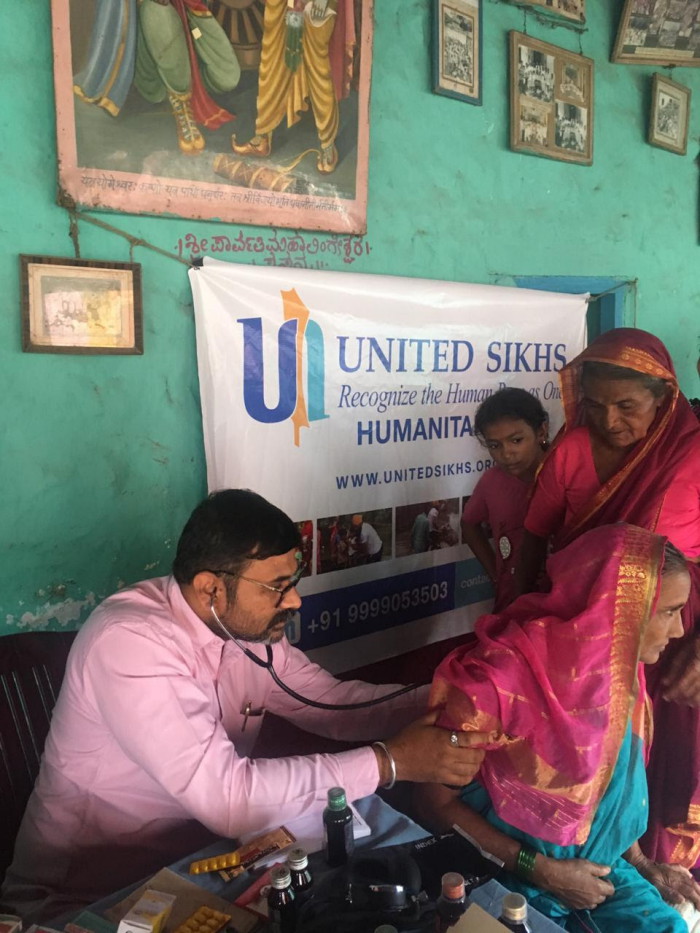 UNITED SIKHS Volunteer Medical Team Screening Flood Survivors
"It has been an honor to serve the community alongside UNITED SIKHS volunteers," said Dr. Vibhuti. "With consistent rainfall, it is imperative that we reach those who may be suffering from respiratory infections."
"Antibiotics, proper nutrition and preventative health screenings are key to ensuring the well being of flood survivors," Dr. Kumar said. "It has been a great experience to work alongside UNITED SIKHS, as they are expert first responders in providing all these crucial elements to help residents restore a sense of community and joy, even in the wake of a natural disaster."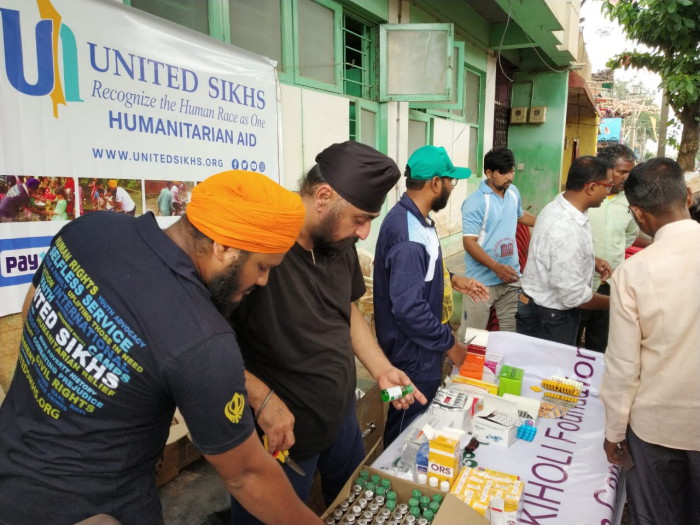 UNITED SIKHS Volunteers Prepare Meals For Langar (Community Meal Service)
UNITED SIKHS relief efforts in the region come within weeks of its service to flood survivors in Assam, where close to 100 people lost their lives to floods. In addition to medical care, UNITED SIKHS volunteers continue to provide freshly prepared vegetarian meals, including rice, dal and vegetables, and household necessities, such as blankets and mosquito nets, to local residents.
"Through Sikhi teachings, we know it is our duty to uplift humanity in times of need," said Gurvinder Singh, International Sikh Aid Director for UNITED SIKHS. "With every person we are able to reach, we are grateful to embody the principles of our Gurus and promote the message of unity and peace to the rest of the world. This work can only be done with the help of our generous and caring supporters around the globe."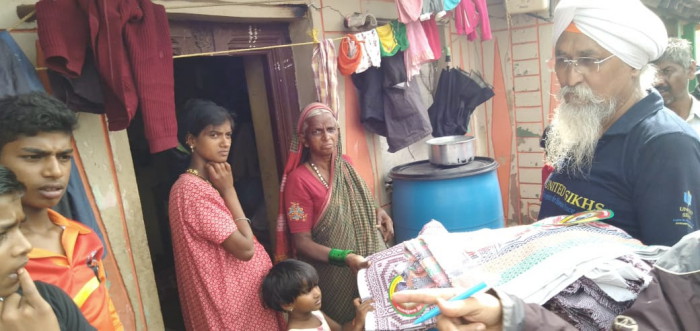 UNITED SIKHS Volunteers drop off humanitarian aid packages door-to-door
As many personal belongings and multiple entire households have been swept away by floodwaters, UNITED SIKHS volunteers will continue to assess further villages where they can bring their services. With many drinking wells and hand pumps contaminated, UNITED SIKHS urges the public to drink purified water, available at the organization's mobile relief camps.
"UNITED SIKHS volunteers were one of the very first responders to reach Ankalgi for relief efforts," said Manjit Singh Gill, UNITED SIKHS Project Lead of Karnataka Relief. "Our team, with the help of local authorities and community leaders like Mr. Ayub Khan, was able to go door-to-door to ensure we provided blankets and other basic necessities to each family."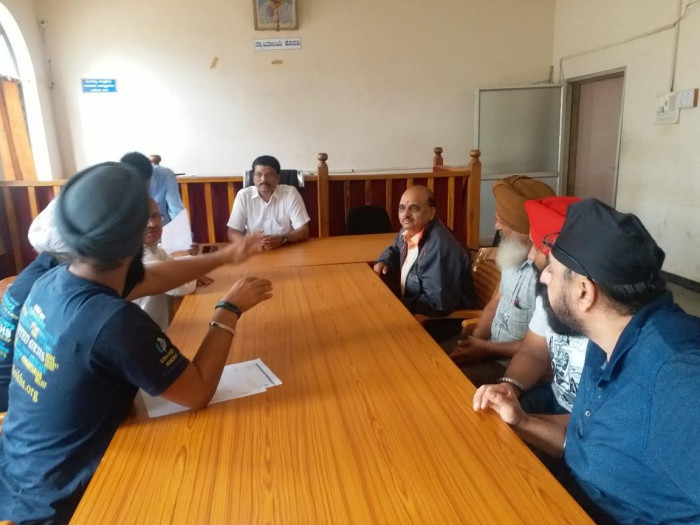 UNITED SIKHS and Hubli Sikh Sangat representatives meeting with Tahsildar of Gokak
For the latest updates on the ground situation, please follow UNITED SIKHS on Facebook, Twitter and Instagram. All relief efforts are made possible due to the generous contributions of our donors and supporters. To donate, please visit: https://unitedsikhs.org/donate-in-india/.
Media Contact:
UNITED SIKHS Media Dept.
Email: [email protected]