Ethnic Diaspora is created by either voluntary migration or as result of expulsion from homeland, and settlement into a or more host countries. Since the foundation of Sikh religion, Sikhs have been migrating to Afghanistan, Iran, and other parts of India. In the middle of 1820s, they began to go further afield, as far as Australia, Shanghai and East Africa. However, among the earliest countries, in 1800s, were the far eastern countries. One of these was Indonesia, then a Dutch colony. An Indonesian, PUTRI FITRIA, a correspondent, in one of her articles says "most of them came as traders, cattle farmers and businessmen and settled in the area and slowly dispersed throughout Sumatra."
Ethnic Diaspora is created by either voluntary migration or as result of expulsion from the homeland, and settlement into one or more host countries.The Sikhs are a "people on the move" and continue to play a significant role in the contemporary phenomenon of global migration. They are historically connected to the Punjab region, a small part of what is today the Indian state of Punjab, which they consider their HOMELAND—a real or imaginary, in a concept. Sikhs are  a "mobile people" with a history and culture marked by the willingness to travel, adventurousness, and adjustability. 
It is not surprising that Sikh settlements have existed in Sumatra from about the 1880s when the Malay archipelago began to be policed by Sikhs, even though the origins of the Sumatran Sikhs is not from the early police, like it was in neighboring countries of Singapore or Malaysia. The history of Sikh existence in North Sumatra can be traced back to Amritsar and Jalandhar in Punjab initially - the Majha and Doaba geographical tracts. Sikhs first arrived in northern Sumatra in the 19th century through Aceh, possibly through the Andaman Islands, but mostly via the Malayan post of Penang. Many of them would rest there, at the main Gurduara on the to and fro journeys.
A research of the achives of The Lanfang Republic (Chinese: 蘭芳共和國; pinyin: Lánfāng Gònghéguó, Pha̍k-fa-sṳ: Làn-fông Khiung-fò-koet), a Chinese state and kongsi federation in Western Borneo. It was established by a Hakka Chinese named Luo Fangbo  (羅芳伯) in 1777, until it was ended by Dutch occupation in 1884, show an interesting passage that says "two turbanned and black-bearded Indians - Nancha Singh and Mika Singh were in consultations with the republic's army chief to recruit from India for their army to fight the encroaching Dutch. This encounter is said to take place in 1828. Another interesting entry is a Mr MCoy. He is said to have recruited 50 Sikhs for his sugar cane plantations in Australia when he passed through the region in 1836, stopped at Batavia, now Jakarta.
Other records show Sikh migration began in earnest around 1880s. Most of the Sikhs came as traders and settled in the area. Medan, the largest city in Sumatra was the an attractive area where Sikhs settled in larger numbers. They were mostly into dairy farming.
The next wave of Sikhs came with the local Medan Indian National Army chapter. A few thousand Sikhs arrived in Medan, remnants of the British Indian Army, who had crossed over to the INA. There was a INA garrison set up at the Medan Aerodrome.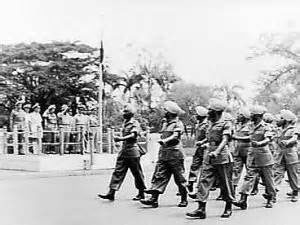 General Mohan Singh was interned for a few months in one of the Islands off Sumatra, Selat Panjang or Bengkalis, it is not clear which exactly. Just after the war, some Sikh regiments arrived with the liberation forces and were stationed around Sumatra for a year. Thousands of European people were freed and rescued by the Sikh soldiers in Indonesia during the war. One of the Dutch survivors narrated his story to Sr Bhupinder Singh, who is from Holland, of how he was saved by the Sikh soldiers in Java.
As this accounts for one of the first attempts to collate Sikh history in Indonesia, there may be areas, that would need greater in-depth exploration locally later.
Only five religions are recognised within the Indonesian Constitution, Sikhism is not one of them. Sikhs are grouped as part of the Hindu population. Thus, such has created certain difficulties, for Sikhs and their ambiguous identity. Given their small number, Sikhs have knitted very closely with the Smaller Sindhi community, who as part of the Hindu religion, also believe in the Guru Granth Sahib, and the Sikh Gurus. But Punjabi Sikhs, having accommodated the Sindhis, go on to retain their own national identity and distinctive aspects of their religio-culture.
The largest number of Sikh settlers are to be found In North Sumatra, especially around Medan, but can also in Binjai, Sibolga, Tadjung Balai, Permantang Siantar and some in Tebing Tinggi.
It is estimated about 23,000 Sikhs live in Sumatra. Further 5,000 were to be found in rest of Indonesia, with largest concentration in Jakarta. As said, because Sikhs are regarded as part of the Hindu religion in Indonesia, real Sikh numbers may have been misrepresented.
Sikhs in Indonesia have been erroneously referred to as Bengalis too, just as in Malaya and Singapore. Many pre-war publications place Sikhs in significant numbers in Sumatra, to merit a mention. A traveler in 1903, mentions..."The Bengalis, policemen and Guards..".
Another handbook says ..."they are conspicuous owing to their height, heavy growth of beard and large colourful turbans. Their women folk too migrate in rather large numbers wear characteristic clothing and the typical nose rings [Reitsan,1930,p 42]
Apart from Sumatra, Sikhs also migrated in numbers to Surabaya, in Central Java, as this was the commercial capital of Java. Many Sikh business were set up alongside the Sindhi business around the Tadjung Priok harbour area. Many Sikhs were attracted to job opportunities as Security Guards in the Harbour; and labourers for British Shipping firms.
But Medan remained the larger Sikh community settlement area. In North Sumatra the Sikhs replicated the rural life of the Punjab, by having families, rearing cattle and engaging in dairy farming to sell milk to urban Indians and Europeans.
Between middle of 19th century and the war, at least 3 different Sikh communities evolved in Indonesia. There was substantial migration of Sikhs, as families, to North Sumatra. Most of these went there via Penang, or the Andaman Islands; while Sikh labourers went to Tandjung Priok and Surabaya from Singapore, Deli, in North Sumatra. It was understood among Sikhs migrants, as a place where "money grew on trees". Some also came and set up sports shops, other goods related shops.
While the Sikhs in North Sumatra got their wives to join them, the Sikhs migration to Surabaya and Tandjung Priok consisted largely of men. When the first Gurduara in Tandjung Priok was established in 1925, it is said it was the Sindhi housewives who read the Guru Granth Sahib during all festive events.
On the island of Java, the earliest Sikh settlement developed at Tandjung Priok. Two British firms brought over many Sikhs as security men and watchmen. The Number of Sikhs increased sizebly by 1925. In the same year, a Sr Prasant Singh, Sr Partap Singh, Sr Dasunder Singh and Sr Ajura Singh founded the the Tandjung Priok Gurduara Sahib. A Giani was also brought over from Punjab. The Sindhi women took active role in the services along with the men.
It is interesting to note, that most Sikhs to North Sumatra were from Northern Punjab, those that came to Batavia, were from Eastern Punjab. By 1925, there were almost 80 Sikh families in the Tandjung area. The men worked as watchmen at night, and as money lenders during the day. Many also kept horse carts which they rented to local pribumi Indonesians, for use as taxis on daily basis.
Others came as clerks and salesmen to work in Sikh shops. The Durch need for sports good had encouraged companies such as Rose & Co to establish branches in Batavia and Surabaya. Other Sikhs sports companies were Bir & Co; Nahar Sports and Hari Brothers. These sports companies played a pivotal role in helping bring families to Batavia and Surabaya. Rose & Co was alone responsible for bringing in 20 Sikhs families.
The workers later migrated to other parts of Jakarta and set up their own companies. By 1950s, five Sikh sports companies remained famous-Bir & Co; Rose & Co.; Rattan Sports; Sporting House; and Seth & Co. These companies continued to employ young Sikhs from Punjab. Many of these companies have become larger and are now household names in Indonesia, some growing to be regional companies.
The war brought many changes to the Sikh community in Batavia, later Jakarta. Before the war they went about prospering and setting up their own business, caring out their religious activities along with the Sindhi community. The Sikhs prospered under he Japanese rule, getting contracts for the Japanese navy etc.
But the end of Japanese rule brought new fears to the Sikh community. Many moved to other parts for security. In West java, 25 Indians, along with Sikhs were killed as part of revenge acts. It is believed that Muslim soldiers who deserted the British Indian Army were responsible. Most Sikh families moved to the Pasar Baru area-where the British Indian Army had established secure zones for the Dutch community.
In that period though some left, Java, many Sikhs and Sindhis were prevented from leaving because of the partition in India. As Jakarta became the capital of Indonesia, many Sikhs migrated to Jakarta from other parts of Indonesia. As the Dutch community was leaving Pasar baru, the Sikhs and Sindhis bought many of their properties cheaply. Shop houses were bought. As a result, Pasar Baru area became "little India"as Sindhi shops and Sikh sports shops increased in the area.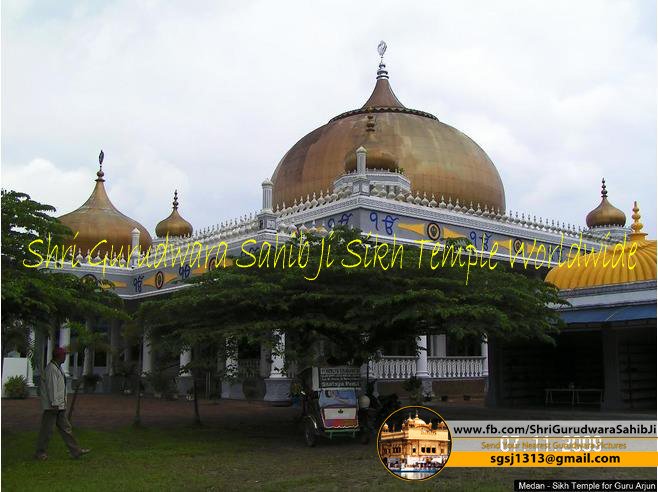 As the community grew in this area, it was felt the Gurduara at Tandjung Priok was inconveniently placed for Sunday prayers. They felt a modern Gurduara be built in Pasar Baru area, where most of Jakartas' Sikhs lived. The Yayasan Sikh Gurduara Mission was established in 1954.
SRs. Pritam Singh,Karam Singh, Avtar Singh, Shiv Singh, Ajit Singh,Tarlok Singh, Partap Singh, Kulwant Singh, Harchand Singh, Bhai RL Seth and Bhai GL Vohra were founder members of the Gurduara at Pasar Baru.
The Gurduara at Tandjung Priok too donated IndoRuppiah-50,000 towards the new Gurduara. The local Sindhi and Sikhs donated liberally.
However, during later Sukarno years, the relations between Indonesia and India deteriorated, the Kesadhari Sikhs kept a low profile. Sr Pritam Singh provided valuable leadership to the entire Indian community by liasing with the Indonesian Military and government officials in averting misunderstandings. Most Sikhs gradually applied for Indonesian citizenship. By 1965, the community was well established in Jakarta, marked by the two Gurduaras.

......End of Part One.