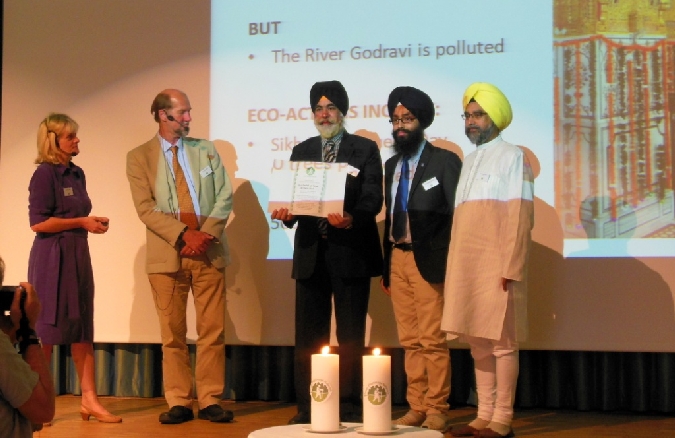 (L to R:) Director Green Pilgrimage Network Alison Hilliard and ARC Secretary General Martin Palmer, DP Singh Chawla of Hazur Sahib receiving certificate, Ravneet Singh EcoSikh Project Manager and EcoSikh President Dr. Rajwant Singh

July 28, 2013: Trondheim, Norway; Nanded, a Southern Indian city considered holy by the Sikhs, represented by the Takhat Hazoor Sahib committee, joined the Green Pilgrimage Network, making a commitment towards becoming eco-friendly. The meeting, held in the pilgrim city of Trondheim in Norway, brought together delegates from all over the world and several cities belonging to various faiths took a pledge towards greening. Hazur Sahib, located in Nanded, is where the Sikh scriptures, Guru Granth Sahib, was declared the eternal Guru of the Sikhs by the last human Guru of the Sikhs, Guru Gobind Singh, in 1708 and Hazur Sahib is one of the five seats of authority (Takhat) in Sikhism. 25,000 pilgrims and devotees visit the city to pay respects to the holy shrine which is central to city's economic and social structure.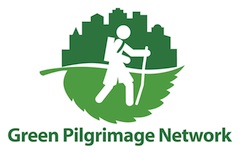 Mayor of Trondheim Rita Ottervik and Secretary General of Council of Europe and Former Prime Minister of Norway, Mr Thorbjorn Jagland welcomed 90 religious leaders, city officials and various environmental experts who had come together to explore ideas and share plans towards making their religious cities environmentally friendly. The Alliance of Religions and Conservation (ARC) had launched GPN in November 2011 in Assisi, Italy, bringing together 8 faith cities to become the founding members which included Amritsar, the Sikh holy city. EcoSikh USA, which spearheaded Amritsar's presence in the network, has now facilitated Nanded to be a part of GPN. Nanded would focus on the five point agenda which would include: sewage and waste management, saving river Godawrari and water conservation, green energy (solar and bio-gas), green transport/ pollution control, and organic agriculture/tree plantation.
EcoSikh also aims to create key partnerships between Nanded Municipality and various international NGOs working on the issues of sustainability and city planning.
"Hazur Sahib Committee has always welcomed all that is good for the sacred city and we promise to put all our efforts towards the greening and eco-friendliness of Nanded city." Said, DP Singh Chawla, CEO Sri Hazur Sahib Gurdwara Board.
"It is a high honor for us to bring the city of Takhat Hazur Sahib in this green network and offer our services to provide best sustainable resources to the devotees coming to the city to pay respects and to promote environmental awareness as propagated Guru Granth Sahib", said D.P Singh.
Dr. Rajwant Singh, President of EcoSikh, who offered Sikh prayers at the meet, said, "We are excited to see Hazur Sahib, a revered site of the Sikhs, on the way of becoming international spot working towards Earth preservation.
"After Amritsar, the joining of Takhat Hazur Sahib, Nanded, in the Green Pilgrimage Network, will create enormous compassion for nature in the Sikh community. We are looking forward to working with Sri Hazur Sahib Committee to initiate eco-projects in the entire city", said EcoSikh India Manager, Ravneet Singh.
Martin Palmer, Secretary General of ARC, said, "Sikhs are showing their commitment towards nature preservation by bringing Amritsar and now Nanded to GPN."
In early July this year, EcoSikh through its Eco Amritsar initiative, launched the Amritsar Foundation day with an environment angle and this move received a city wide support. In addition to Nanded, Hindu cities of Rishikesh, Varanasi, Ujjain and Jagannath Puri also joined the GPN which was represented by the City Commissioner and temple head of Puri, Arvind Padhee IAS.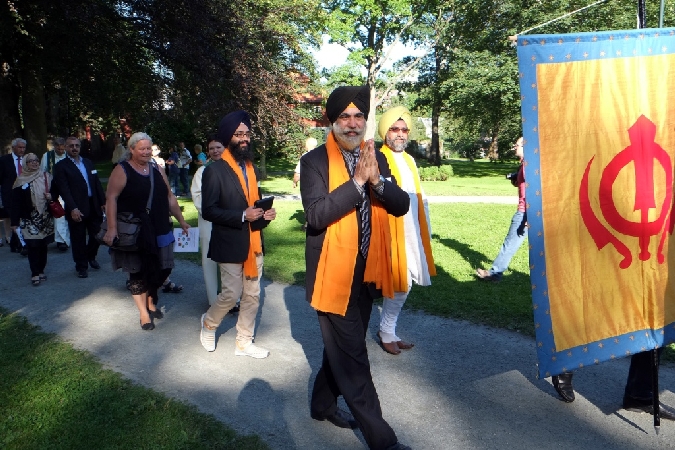 Sikhs in Interfaith Procession towards St. Olav's Cathedral in Trondheim, Norway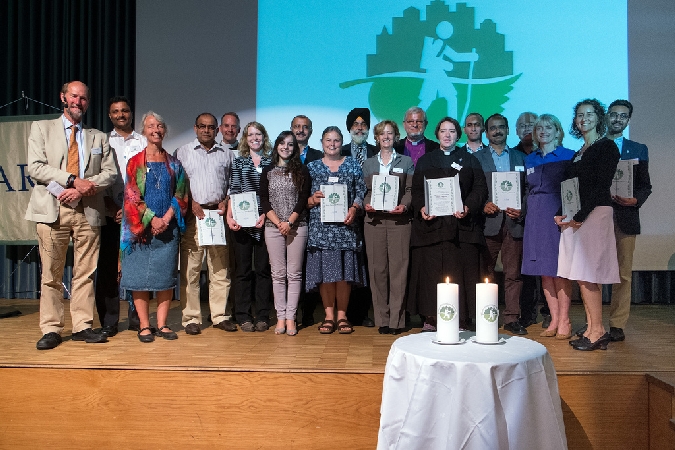 Delegations from various world cities receiving the certificates