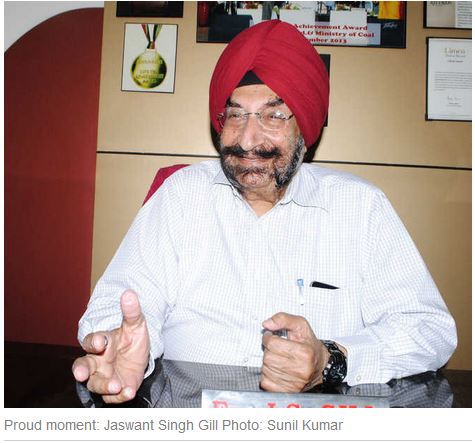 Amritsar: The only living recipient of India's highest civilian gallantry award, Sarvottam Jeevan Raksha Padak, from the President of India, Jaswant Singh Gill (69), who is considered a hero in Bengal for scripting a "saga of co
urage" by rescuing 65 coal miners trapped in a colliery to safety, has been living as an ordinary person in his hometown, Amritsar.
After retiring from Coal India (govt of India undertaking) as executive director in 1998, he settled in Amritsar. Since its inception in 1961, all 23 SJRP awards were conferred posthumously. However, neither the Punjab government nor the local administration has cared to recognise his bravery.
Gill claims that books for higher secondary in Bengal have a chapter titled "Sahasi Log" (courageous people) which narrates the tale of the rescue operation with Gill depicted as a hero and role model.
On November 13, 1989, which was also the birth anniversary of Guru Nanak Dev ji, Gill was on his way to his office with a thought of paying obeisance at the gurdwara there when he got information of a major accident in Mahabir Colliery (WB) and several miners trapped in a flooded mine. He being trained in rescuing reached the site of the disaster.
He was informed that 220 miners had gone underground when an abandoned pit broke and water from the upper stream gushed into the 110-ft-deep pit. Nearly 149 miners were able to return to the surface in the lift leaving 71 of them trapped underground. The challenge was to locate these miners in the underground cave 110 ft below surrounded by water on one side and wall of unbreakable coal on the other. Next was to bring them out.
Gill volunteered to go down in the steel capsule and rescue the trapped miners since pumping the water out using the maximum number of pumps was proving futile with the water level steadily rising. This method was unique and never tried anywhere in the world before.
Initially this move was opposed by top officers, including the chairman of the CIL, as he was reluctant to risk the life of a senior officer. As the capsule landed in the muddy and watery patch, he opened the latch come out, picked up the first person he saw, put him in the capsule and gave the signal for the capsule to be hoisted.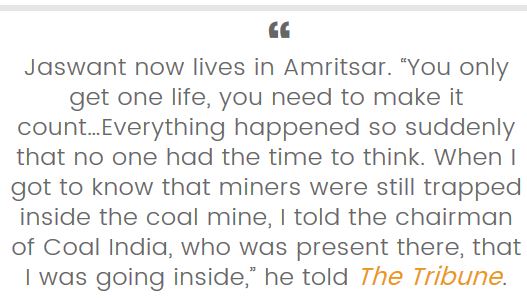 This gave him 20 minutes to organise the remaining 64 trapped miners.


Image for representation only. Source: Biswarup Ganguly [GFDL, CC BY 3.0, GFDL or CC BY 3.0], via Wikimedia Commons