400 YOUNG PEOPLE ATTEND SIKH FUN DAY DURING HALF TERM


19 February 2014 - A special fun day was held this week for almost 400 children at a Sikh place of worship in Birmingham.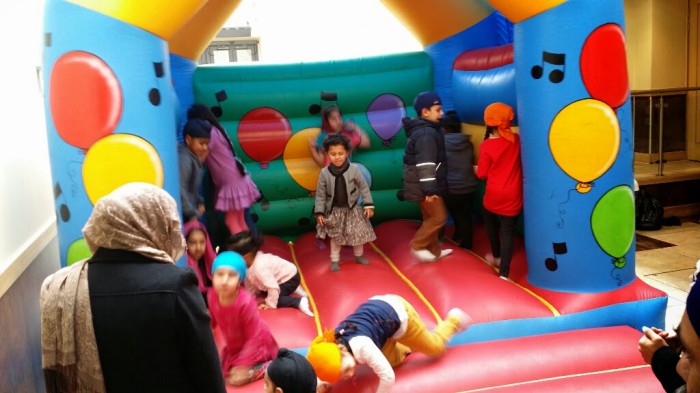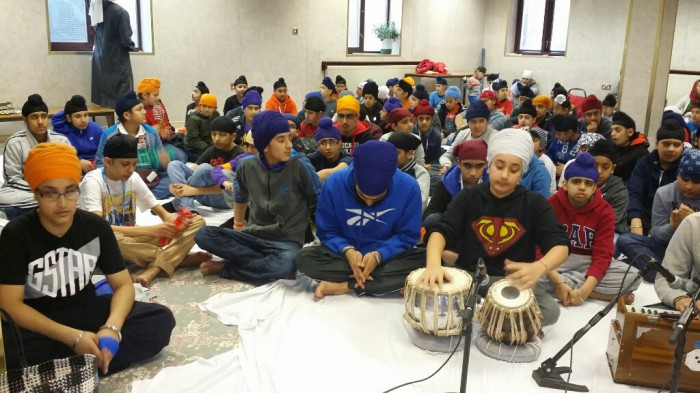 Children aged from 2 to young people aged 16 attended the free fun day hosted at Guru Nanak Gurdwara in Smethwick.
Activities included a nerf wars, gigantic bouncy castle, obstacle course, story-telling, learning about Sikh articles of faith, decorating cupcakes, art lessons and Simran (meditation). A creche faciltiy was provided for the younger children.
Local volunteers also called Sevadaars coordinated the special event to ensure everyone had a fun packed day.
Coordinator Kuldeep Singh Deol from Birmingham, said: " One of the main aims is to give the children a taster of Sikhism, whom may not otherwise know much about it. We want to make the Gurdwara a fun place for our children to come to, and at the same time, we want to bring children off the streets and keep them out of trouble. Alongside all of this, we want to help children deal with issues like bullying. It's important children are taught confidence and discipline; we have started Gatka (Sikh Martial Arts) and Thai Boxing recently, along with youth club facilities for young people."
Taran Singh, aged 11 from Birmingham, said: "This is the way forward to bring kids like myself into the Gurdwara and engage us more into Sikhi. We all enjoyed today, and can't wait for the next event."
Sarina Kaur, aged 8 from Wolverhampton said: "This was the first time I attended. I really enjoyed the day, especially the massive bouncy castle. It was nice to meet new friends."
Arjan Singh, aged 6 from Walsall said: "I had fun, the best part was the stories."
President Gurdwara Management Committee Malkit Singh Tehang, said: "We would like to say a big thank you to all the volunteers (Sevadaars) who took time out of their day to day lives and gave up their work to organise this event, the parents who brought their children along and supported the Fun Day, the children who are our future and were very well behaved; most of all thank you to Sri Guru Granth Sahib Maharaj with your blessing it all became possible please continue to shower your congregations and your Sevadaars with the blessings so steadfast to your service."
Read what parents had to say:
"A really fantastic, well organised fun day! This is how to engage young people."
"My two sons enjoyed the fun day and are looking forward to the next one."
"Our two year old, had a brilliant time."


Kuldeep Singh Deol
Volunteer (Sevadaar)
Guru Nanak Gurdwara Smethwick, Birmingham UK
#####
Some Photos from GNG FUNDAY 180214