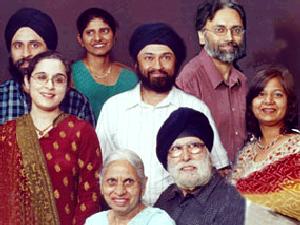 Dr. Sant Singh and his wife Dr. Basant Kaur both studied at the same medical college in Amritsar. After serving for nearly 30 years, they both retired as Chief Medical Officer with a unique pride that they were leaving a rich legacy of an entire family of doctors. They produced three sons and made all of them doctors. They found three worthy daugters-in-law who are also doctors. The entire family of eight is comprised all doctors. All the eight have one thing in common - serving and curing the humanity.
Their eldest son, Dr. Gurkirpal Singh did M.D. from the prestigious All India Institute of Medical Sciences (AIIMS), New Delhi. Presently, he is a professor of Rheumatology at Stanford University and presents research papers at international conferences all over the world. His wife Alka Sehgal did M.D from the A.I.I.M.S, New Delhi. Currently, she practices family medicine at San Francisco.
 
Their middle son, Arunpal Singh did M.D. from the A.I.I.M.S, New Delhi. Worked at Jersey Shore Medical Center, New Jersey and Fellowship from Ceedar Sinai Medical Center, Los Angeles and Allegeny University Hospital, Philedelphia. He is now practicing as a Pulmonolist in Downey/Long Beach area. His wife Paramjot Kaur Mann did M.D. from Govt Medical College, Baroda. She worked at Kern Medical Center at Bakersfield. Currently she is Medical Director of Med Spa and anti aging clinic-summit Medical Institute in Pasadena.
 
The youngest son, Dr. Harminder Singh did M.D. from the A.I.I.M.S New Delhi. He worked at Albert Einstein Center in New York. Practiced internal medicine in U.S. for a few years. Presently, he is an Associate Professor of Gastroenterology in Manitoba University, Winnipeg. His wife Dr. Geetinder Kaur did M.D. from Winnipeg (Canada). She worked at Albert Einstein Medical Center in New York. She is currently practicing family medicine at Winnipeg, Canada.