The Sikh Chaplain - Part V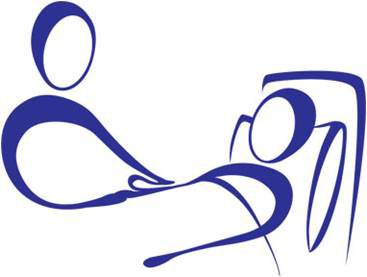 I was filled with doubt through much of my training that a Punjabi born, turban and bana wearing Sikh man would be accepted into this field and into patient rooms. It has been deeply successful and I am honored to share I have been invited in. The journey was nothing what I expected and gratefully so. I am grateful to Sangeet Ji in her guidance and support.
This hospital, Banner University Medical Center - Phoenix, is one of the major hospitals here in Phoenix, AZ and the flagship of the Banner Hospital system. It's 650+ bed hospital in inner city Phoenix and also a Trauma-1 Location. It is a rare opportunity for new students to receive such a position from just finishing their training and even more unique that a non-Christian receives this kind of opportunity. It's a unicorn of an opportunity.
This new position offers the role to specialize in Palliative Care helping the emotional and spiritual needs of those who are terminal and in their end of life and Behavioral Health (the psych unit) where I have the potential to lead meditation and breathing exercises as a way of supporting people's healing. It allows for the gifts and skills I've gained in my Acupuncture practice and my background as a Kundalini Yoga teacher to be offered to more people in dynamic ways.
The trajectory of growth and professional development in Spiritual Care and Chaplaincy is endless. This position allows for me to develop deeply as a Chaplain in a changing time of our medical system and in new ways we think of healing. There are opportunities to grow in leadership and even be trained as a Chaplain educator, one who grows deeper into the world of Spiritual Care to teach and train others how to be Chaplains. My Acupuncture practice will continue to be in my life outside the Chaplaincy work with the hope one day we see integrative therapies like Acupuncture and relaxation techniques offered bedside in the hospital setting.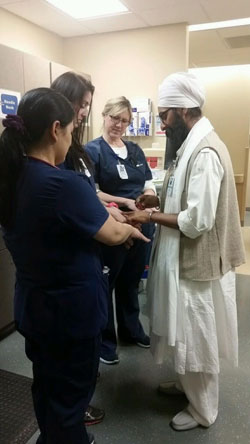 This is a huge victory on so many levels. For me personally, it fulfills a calling in my heart and my original intention in healing. I have the opportunity to be with people in crisis at the most vulnerable times in their life, and support them in their inner journey of personal discovery and spirituality. I'm privileged to do this while also being who I am without compromise. Even more so, I am invited to share my spirituality, thought, perspective, and world view in this work.
And the best part is it's a win for Sikhi! Outreach and education are so important for us in this time. Not only are there families and patients, but a huge medical system of nurses, doctors and staff that I have the opportunity to be with and support- and everyone wants to know who is the 'man in white!' It is nothing short of remarkable that a Sikh man has been trained and hired as Chaplain to support the emotional and spiritual needs of people in crisis and respected to do so, sought out even at times, in the same city where Balbir Singh Sodhi was killed in a hate-crime tragedy after 9/11. I'm so grateful to God and Guru that the universal values, heritage, and spirituality of Sikhi are present and seen in this major city's busy hospital setting.
Thank you, dear Sangat, for the support and prayers for this unfolding. May Guru continue to guide us as we journey to serve those in need, caring for the emotionally and spiritually wounded, and helping humanity. May Guru always be with us, be through us, and be around us offering the light of enlightenment to all we come across. Sarbat Da Palla, Prosperity for All.
Waheguru Ji Ka Khalsa, Waheguru Ji Ki Fateh!
Singh Sahib Amar Atma Singh Khalsa
| | |
| --- | --- |
| SS Amar Atma Singh Khalsa is currently a Chaplain at Banner University Medical Center in Phoenix, Arizona. This series of five articles describes his journey and experience to becoming a Hospital Chaplain. Amar Atma Singh has a Master's degree in Traditional Chinese Medicine, and is a minister through Sikh Dharma International. He can be contacted at: [email protected] | |
-----------------------------------------
Related Articles:

Searching for a Path ~ Sikh Chaplain Part I

The Doorway to Chaplaincy ~ Part II
Finding Spirit in the Trauma ~ Part III
The Art To Be With The Heart ~ Part IV