Shinderpal Kaur Emerges As Beacon for Others, joins Self Help Group To Become Self Reliant
SWATI WALIA
August 02, 2020: Shinderpal Kaur- one of the members of "Mata Gujri Self Help Group", Mavi Sappan village in district Patiala of Punjab which was formed in December 2015 under the National Rural Livelihood Mission, has emerged as a beacon for others.
 Narrating her success story, ADC (D) Dr. Preeti Yadav said that Shinderpal Kaur (42) a house wife had a tough life to take care of the family since her husband was a daily wage labourer with the meagre income and the whole family including two minors, was dependent on him for every basic need. She used to support her family by stitching and doing embroidery on suits. Sometimes she manages to support her family by working on farms on daily wage.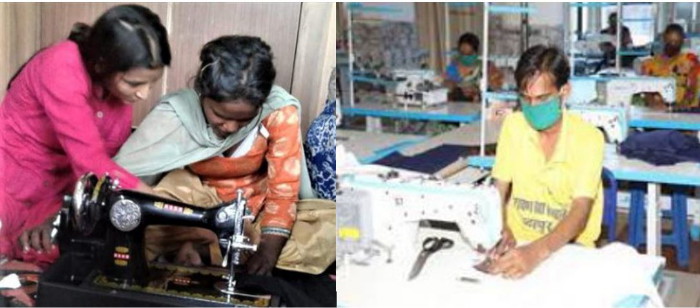 She was deprived of further study having passed middle class. After joining Self Help Group, She completed her matriculation after joining Self help groups under Punjab State Rural Livelihood Mission...
...For the first time, Shinderpal Kaur took a loan of Rs. 4000/- in the month of March 2017 for purchasing of Chaff Cutter Machine. She was so scared if it's not her capacity to repay back. But situation forced her to take loan from the group. She was able to pay the loan in due time. This builds her confidence level and decided take some more money as a loan for purchasing a second hand three wheeler.
By the passage of time, being a SHG member she became active woman and received a 17 days training on SHG-VO-CLF management and book-keeping, after which she started imparting trainings to other new cadres and  office bearers's of SHGs of various villages. She formed a village organisation in the  name of "Suchha Moti Mahila Gram Sangathan" in December 2017. She has been elected as President of her village organisation moreover already serving her own SHG as a President. Moving further gets promoted to I-CRP. Going outside the block & district being I-CRP formed more than 66 SHGs and 5 VOs. Her present income as a CRP is Rs. 100/- + T.A. (on actual basis) per day and Rs. 400/day in case of CRP rounds in other districts or blocks.
Aajeevika Mission gives wings to her dreams to be self-reliant. By getting soft toy and phulkari work training from RSETI, she started her own phulkari and soft toys work. Her earning was Rs 50 for Phulkari work, she started her own phulkari work by taking loan of Rs 50, 000/- from her SHG. In this way, she started going in SARAS fairs to sell her handmade products, which increased her income 3 times and confidence level as well. This makes her to start her studies and completed her Matriculation under Punjab State Education Board.
Slowly and steadily her SHG attains a valuable image in the bank by following "Panchsutra", puts a loan file for Rs. 70, 000/- which was disbursed on 08.04.2018. She took Rs 30, 000/- loan to purchase a piece of land for agriculture purpose total amounting to Rs. 3 lakh. She took loan in the month of July 2019 of Rs. 10, 000/- from SHG and 40, 000/- to get agricultural land on rent...
...Her passion to do things with perfection gets new assignment i.e. Punjabi food stall in the Patiala Heritage Fair, Patiala held in the month of February 2020 . Moreover, District administration Patiala purchased pleasant, nutritious, hygienic and neatly cooked food for their official and volunteers in the fair. Administration pay an amount of Rs 1, 25, 592 and her total sale in this fair was approximately Rs. 2, 00, 000,   out of which around Rs. 60, 000 was the pure profit amount. She gathered a team of five women to avoid any mesh and make the things happen on time. In this way, standing for the other women success, she provides livelihood to other members of various SHGs by involving them in the task.
During sowing of paddy season, she took a loan of Rs. 50, 000 from her Village Organisation and started sowing paddy by taking a piece of agricultural land to increase her family earnings. As per her calculation, this season will make her a pure profit of Rs 50, 000.
Shinderpal Kaur talks confidently about her success story in a function held at Rural Haat, Village Riwas Brahmna, Block Patiala, whose chief guest was Joint Development Commissioner, Punjab. She also got a chance to attend State Level Banker's Committee (Punjab) meeting held at Hotel Mount View, sector 10, Chandigarh in November last year where she deliver excellent lecture on women empowerment, SHGs and their working.
Her journey not ends here and still going on, she is working very hard to make women of other villages aware to join the SHGs confidently. She says that the mission makes me socially active, gives me opportunities to secure my future. Mission helps poor women of rural areas become self-employed through SHGs.