Chicago Restauranteurs Celebrate Gurpurb with Free Meals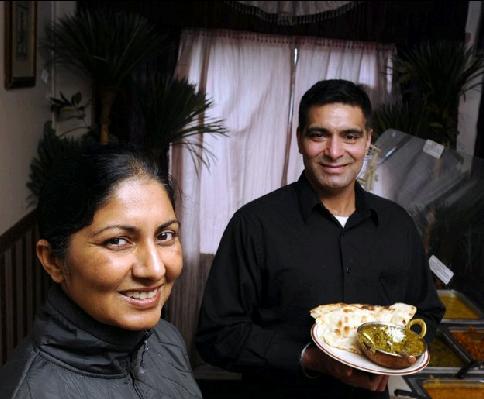 It was standing room only on Nov. 13 last year at the Top of India Restaurant in Spokane Valley.

"They were sitting over here, standing up, going outside," said owner Manjit Kaur.

More than 1,400 people enjoyed steaming curries, crispy naan and sweet rice kheer.

"But only on paper plates," added Chef Hira Singh. "That's too many dishes to wash."

And the check? The meals were served free to anyone who came to dine that day, in celebration of the birthday of Guru Nanak Dev Ji, founder of Sikhism.

This year, Nov. 2 marks the birthday celebration of Guru Nanak, born in 1469 in Western Punjab, India. Spokane Sikh Temple's spiritual master Gurjeet Singh Aujla explains Guru Nanak's three main teachings: "work hard and honestly, remember God all the time, and share your food with those around you."

It is this third teaching that inspires Chef Singh to open his doors and invite the public to a free meal. "Our God always feeds us, so we feed other people," he explained.
Langar – the free kitchen

"When Guru Nanak was a young man, his father gave him 20 rupees and told him to go and make a profit for the family business. Instead, he used the 20 rupees to feed the hungry saints he met along the way," explained Aujla, also known as Babaji. Guru Nanak's parents were continually disappointed in their son, who used all of the money they gave him to feed the poor. His followers, however, were inspired by his example, and established the institution of langar, or free kitchen. Every Sikh temple has an area for storing and preparing food, which is offered free to anyone who comes.

Every Saturday, families gather in the Spokane temple to prepare food for the next day. "From morning until night, we serve tea, snacks, lunch, sodas, sweets … to anyone who comes, without any distinction," said Babaji. The food is served on Sundays, free of charge, and congregants take turns donating the food, cooking and cleaning up.

In larger Sikh temples, free meals are provided every day, not just on Sundays. Worshippers are fed as they sit together, cross-legged in rows, regardless of color or economic status. These communal meals served both to break down the caste system by uniting diners and to provide an opportunity for service, a key element in the Sikh faith.

In the Golden Temple in Amritsar, India, gallons of lentil soup, vegetables, and 50,000 roti (flat bread) are prepared each day to feed the tens of thousands of visitors. The meals are free, and expenses are covered by donations from the temple's members.

Only vegetarian meals are served. "If you are spiritual, you should try to purify your body," explains Babaji. "Killing animals to eat is not very spiritual."

Preparing for the feast

Top of India diners will be treated to a free meal on Nov. 2. In order to honor the founder of his religion, Chef Singh is gearing up to serve 15 or 16 different vegetarian dishes, including a rich lentil curry (dahl makhani), chickpeas with tomatoes (chana masala) and potatoes and peas cooked with garlic and ginger (aloo mutter). "I make all of the food myself. I have lots of experience," says Singh. "I prepare 400 servings at once, then I do it again and again," he said, explaining how he will single-handedly prepare food for the hundreds of diners he expects at the restaurant.

At the Sikh temple, Babaji expects between 200 and 250 people to come for Guru Nanak's birthday celebration, which will be held Nov. 13 through 15. By holding the celebration on a weekend, Babaji can accommodate worshippers traveling from Colfax, Wenatchee, Pullman and the Tri-cities. The ceremony will include scripture readings, songs and prayer, concluded by a lunch on Sunday.

On Nov. 13, a crew of seven to 10 men and women from the congregation will begin preparing the curries, chapattis, puris and lentils that will be served at the all-vegetarian meal. "Beans, potatoes, cauliflower … we will have so many kinds of vegetables," says Babaji of the six to seven different dishes that will be served. Many sweet dishes will be served as well, including rice pudding (kheer) and sweet raita, a yogurt based side dish that balances out the heat from the curries.

As they work in the kitchen, the cooks will sing softly together or chant "waheguru" or "sat naam," the traditional mantras Sikhs chant to remember God.
Sacred Pudding

During the weekend-long celebration, congregants in the temple will also be served a special pudding called Karah Prashad made of ghee (clarified butter), flour, sugar and water. The person who prepares the prashad continually recites scripture during its preparation in the langar. "This is the blessing of God given to the congregants," explained Babaji of the light brown, dough-like pudding that will be handed out at the start, middle and end of the ceremony.

Baigan Bartha – Eggplant with Tomatoes

Courtesy of Chef Hira Singh, Top of India Restaurant, Spokane Valley

3-4 medium eggplants

1 onion, chopped

4 ounces ginger, minced

4 ounces garlic, minced

1-2 tomatoes, chopped

Salt and pepper

½ teaspoon chili powder

1 teaspoon cumin seeds

1 tablespoon of vegetable oil

Cilantro for garnish

Preheat oven to 375 degrees. Wash and dry eggplants. Prick each eggplant once or twice with a fork and place on baking sheet. Bake for 40-50 minutes or until skin is crackly and eggplant is soft. Remove from oven, cool and cut in half. Scoop out the eggplant, discarding the skin. Mash and set aside.

Heat vegetable oil in sauté pan to medium heat and add cumin seeds and chili powder. Cook for one minute or until spices become fragrant. Add ginger, onion and garlic. Cook for 20 minutes. Add mashed eggplant and chopped tomatoes. Cook for 20 minutes. Season to taste with salt and pepper. Garnish with cilantro before serving. Serve with rice.

Yield: 2-4 servings.

Palak Paneer – Spinach with Cheese

Courtesy of Chef Hira Singh

For the spinach (palak):

1 pound of spinach (can also use some mustard greens for flavor)

1 onion, chopped

4 ounces ginger, minced

4 ounces garlic, minced

1 teaspoon cumin seeds

½ teaspoon chili powder

Salt and pepper

1 tablespoon vegetable oil

Clean the spinach and then bring it to a boil in medium saucepan with a little water. Simmer for 20 minutes. Drain the spinach, mash it and set aside. Heat oil in sauté pan, cook cumin seeds and chili powder for 1 minute or until spices become fragrant. Add onions, ginger and garlic, cook for 20 minutes. Add mashed spinach and cook for 4-5 minutes, adding a little water if necessary. Add cubed paneer to spinach and heat through.

For the cheese (paneer):

1 quart of whole milk

3-4 tablespoons vinegar (or lemon juice)

Slowly bring the milk to just under a boil, stirring so the milk doesn't burn. Add the vinegar (or lemon juice) 1 teaspoon at a time, stirring after each addition until the solid milk curds separate from the green, watery whey. Remove from heat and cool for 30 minutes. Drain into a cheesecloth-lined strainer. Gather and twist the cheesecloth, squeezing as much liquid out of the paneer as possible. While still in the cheesecloth, shape the paneer into a block. Press the paneer by placing a heavy water-filled cooking pot on top of the paneer for about 30 minutes or until firm. Unwrap and cut into small cubes. Add paneer to spinach and heat through. Season Palak Paneer to taste with salt and pepper. Serve with rice.

Yield: 2 servings

Kheer – Rice Pudding

Courtesy of Manjit Kaur, Top of India Restaurant

1 gallon milk

½ cup rice

2-3 tablespoons sugar – to taste

2 cardamom pods or ½ teaspoon ground cardamom

1-2 tablespoon raisins (optional)

1-2 tablespoon almond or pistachio pieces (optional)

Pour the milk into a large stockpot. Add rice and cardamom and bring to a boil. Simmer on low heat, stirring frequently so rice doesn't stick to the bottom of pot. Continue cooking until the mixture thickens, about one hour. Add 2 tablespoons sugar, 1 tablespoon each raisins and nuts if desired. Stir and cook 1-2 minutes more. Taste and adjust sugar to desired degree of sweetness. If using cardamom pods, remove before serving. Garnish with chopped nuts and raisins. Serve chilled.

Yield: 8 servings.